Video
Communications

Live Video
Production

Live
Streaming
A PTZ camera is a pan, tilt, and zoom robotic video camera that can be controlled by a remote operator. A PTZ camera can pan horizontally, tilt vertically and zoom in on a subject to enhance the image quality without digital pixelation. These cameras are designed to make broadcast quality affordable because they allow for an easy, automated production workflow with other software technologies for recording and live streaming.
HOW ARE THEY USED?
Camera Line Basics
Features and Benefits
Affordable Video Production - Quality made easy
Easy to install and operate
Compact, discreet and portable
Easy to connect with HDMI, SDI, USB, NDI, or IP video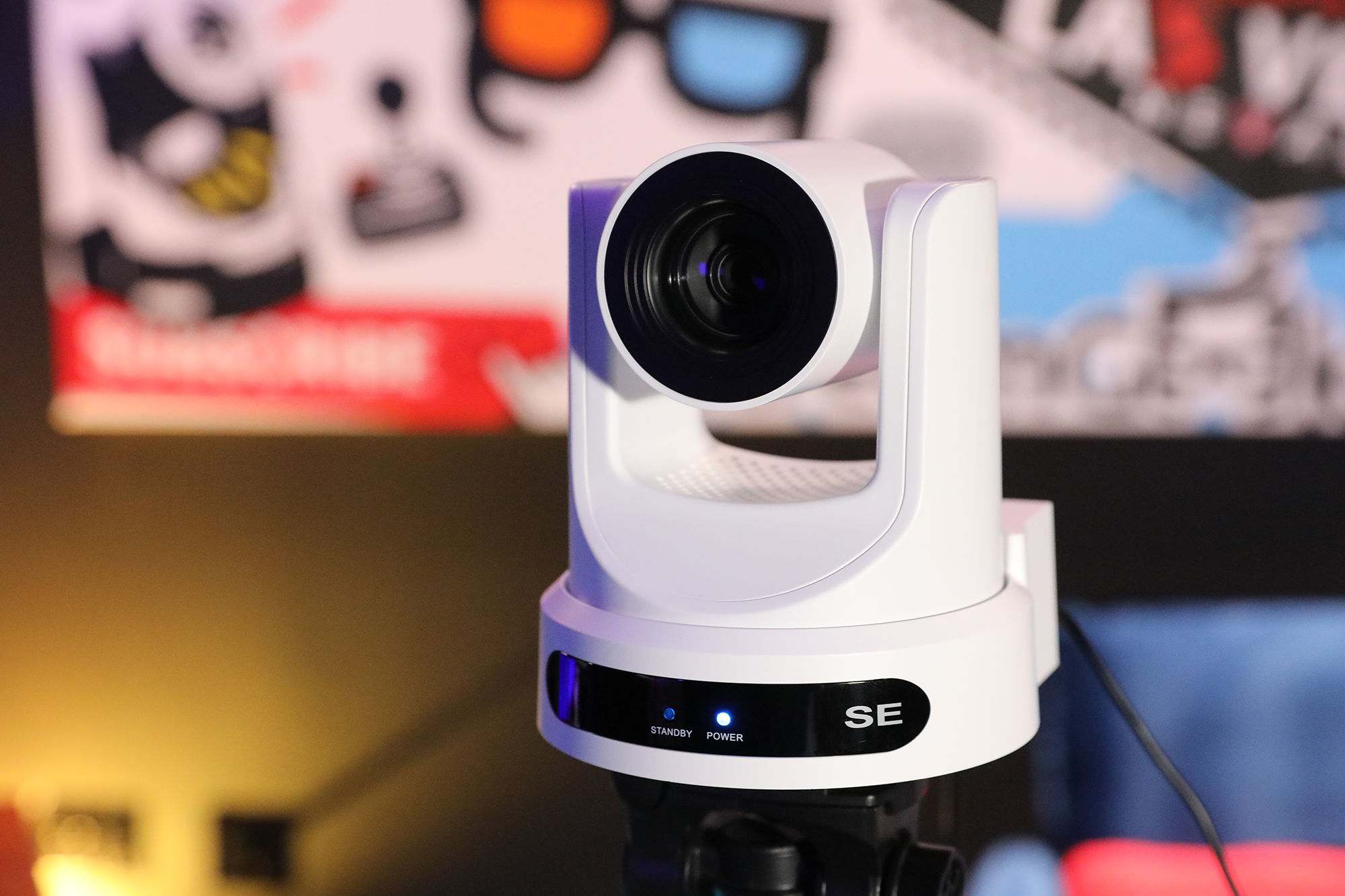 Contact the PTZOptics Team using this form, and we'll help you get connected with the right reseller.
Future Proof
Your Technology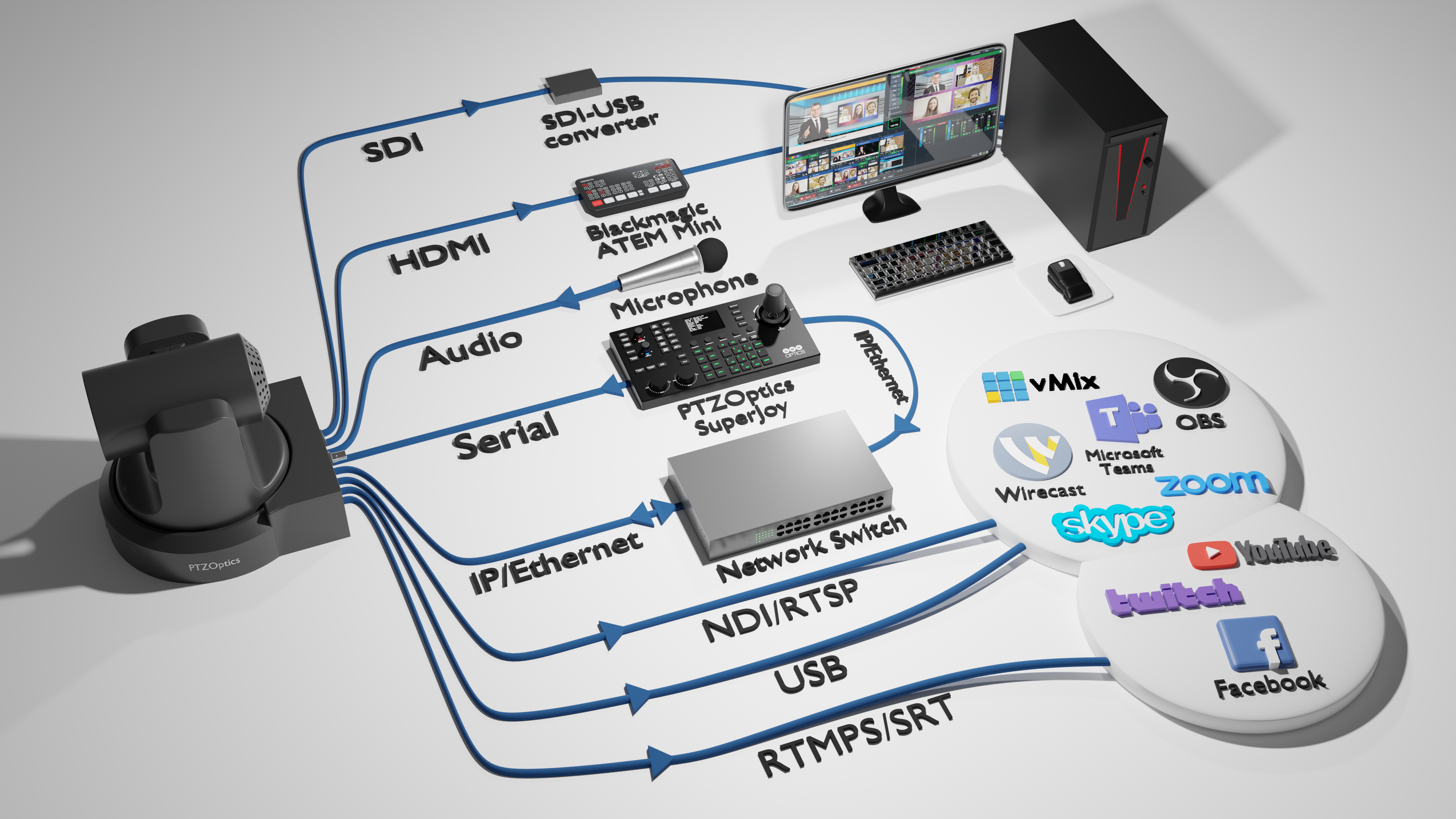 SDI is popular for professional installations because it features locking connectors and long cable distances. Also, USB to SDI converters can be used to bring the SDI video stream into a computer.
HDMI video is supported with embedded audio for PTZOptics cameras. Audio can be embedded into the HDMI video using the 3.5 mm audio input using a line level audio source.
The 3.5 mm audio input can be used with line level audio sources and embedded onto RTSP, RTMP, HDMI and USB video feeds. Audio adjustments can be made in the camera's web interface.
Serial control ports are available for RS-232 and RS-485 camera controls.
NDI enabled PTZOptics cameras provide NDI high efficiency connectivity with any NDI software or hardware systems. RTSP is a real time streaming protocol used to send video and audio over your network. RTSP video can be used with OBS, the SuperJoy or even the free PTZOptics apps.
PTZOptics USB cameras can be used with any software that supports plug and play webcams. The USB connection on PTZOptics cameras also supports UVC camera control.
RTMP(S) live streaming is available directly from any PTZOptics camera. At least two RTMPS streams can be sent to content delivery networks such as Facebook or YouTube. SRT is also available with all PTZOptics cameras for sending video over the public internet.
Ethernet connectivity is available for camera control and configuration, as well as streaming. SDI and NDI camera models feature PoE (Power Over Ethernet) support.
PTZOptics cameras are able to accommodate a wide range of use cases so our customers can remain flexible as their technology requirements evolve. New innovations are regularly delivered to our customers via free and convenient product updates. Whether you are setting up a live stream or a video conference space, PTZOptics cameras are able to deliver on your project specifications for today and tomorrow.
Camera Solutions
for all your needs
Looking to learn more about live streaming, compatible software, hosting an online event, or increasing your personal and professional productivity? We've got the resources for you...
Camera Applications

For Advanced Controls
Advanced PTZOptics camera controls with live video preview and panoramic preset support.
PTZOptics is Committed
to Sustainability
At PTZOptics, we've been expanding our use of eco-friendly packaging across our products. All of the packaging included with your product – including the box, packing material, and bags – are made with recycled and eco-friendly materials. We encourage you to recycle your PTZOptics product packaging using your local laws and guidance.