Small Businesses Live Streaming
In this video, we present three different small businesses taking advantage of live streaming to help market their businesses. Facebook Live was the choice destination for all three of our case studies. Each small business was helped by the local Business Improvement District who helped subsidize the cost of the social media marketing. Once the live stream was set up, each business used the video content as a core marketing item for their business.
Live streaming and social media may have the power to help defend our country's small businesses against tech giants like Amazon and Walmart! Here at PTZOptics we love small businesses and we just finished producing a beautiful, television quality, Facebook Live broadcast for a local retail store. Most small businesses, especially those in the boutique retail space, do not have time to think about producing videos, much less broadcasting live. In fact, the owner of Old Soul Decor, Krystal Reinhard, pictured below, did not even have a YouTube account when I first asked her about doing a free pro-bono broadcast for her company.
Retail Business using Facebook Live
Old Soul Decor is a retail business specializing in home decor furniture, jewelry, and accessories. Krystal Reinhard, the owner of Old Soul Decor, used live streaming in her small boutique located in downtown West Chester, Pennsylvania. Reinhard selected Facebook Live to introduce customers to her new Spring line of jewelry and home decor items. The live stream generated over 1,600 views, 43 engagements, and 3 sales. Reinhard designed a "Television Style" show using two PTZOptics cameras, a HuddleCamHD Joystick and a regular Windows laptop.
Simple & Affordable: The two camera setup creates a "television style" production controlled from a single PTZ joystick with just one video producer.

Large Audience Reach: Old Soul Decor was able to work with the West Chester Business Improvement District to help subsidize Facebook advertising costs

Live Audience Engagement: During the broadcast, Krystal was able to engage her live audience. Krystal offers home design service. Krystal received multiple service requests during the live broadcast she was able to follow up with on Facebook.

Krystal was able to use the free PTZOptics video jump start kit to create brand-specific imagery. One sidebar displayed item descriptions and pricing. The lower third bar provides contact information such as her phone number and location. Using two cameras gave the producer 100's of camera angle options during the broadcast. Once the camera would be used for a wide angle shot and the next would be ready to transition into a close-up.
Bar/Restaurant using Facebook Live
The second small business in our case study is a restaurant/bar using Facebook Live to introduce their seasonal cocktail offerings. The Split Rail Tavern is a restaurant located in West Chester, Pennsylvania. The Tavern has won the best restaurant of the year for two years running (2017 and 2018). The Tavern has over 1,500 Facebook Likes and generated 1,700 views on their live broadcast. The broadcast also generated 33 engagements on Facebook. The Split Rail Tavern was able to leverage their membership with the local Business Improvement District dedicated to helping local businesses like this by subsidizing advertising costs.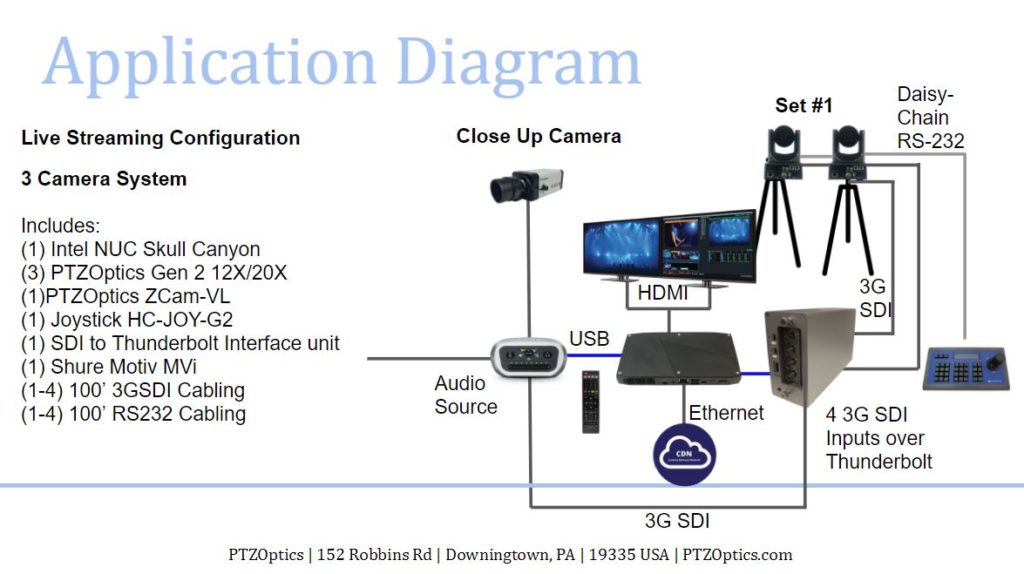 3 Camera Live Streaming System Wiring Diagram
Using PTZOptics cameras, Split Rail Tavern was able to have two PTZ cameras operated by a single production person.

They also used HD-SDI cabling for video and RS-232 Serial cabling for camera control so there were no network requirements or IP addresses necessary.

Each PTZOptics camera was powered over ethernet using a PoE Switch. This was the ideal way to power cameras without knowing where our closest power source would be.
USA Manufacturer live streams her leather making process
In our third case study, Brit Reed owner of Tesoro Leather used Facebook Live to demonstrate her leather making process online. In this case study, Reed used four cameras to transition between two live streaming sets. Set #1 was Reed's office where she used the space to tell her story about Tesoro Leather. This area was used to announce the live giveaway where a lucky winner would be sent a leather bag Brit would make live during the broadcast. Set #2 was Brit's leather making shop. She used a PTZOptics 20X-SDI camera to zoom in and show close up details of her leather making. She also used a PTZOptics ZCam-VL to show a wide angle close up shot of her sewing machine.
As you can see in the case study video above, the lighting was set up to really make the video "pop". Tesoro Leather used Broadcast LED lights to enhance the picture quality throughout her Facebook Live broadcast. Good lighting is ideal for any live streaming setup. The PTZOptics ZCam-VL placed on the table next to Britt was used to show close up video during the live fashion manufacturing. Britt was able to manufacture a leather handbag during the Facebook Live broadcast and make the production interesting for viewers tuning in.
Multiple Live Sets: Four cameras allowed this live stream to have two lively production areas.

Live Giveaway: Tesoro was able to use a contest service called Gleam.io. In order to enter the live giveaway users left positive Google & Facebook reviews for the business.

Spring Fashion Collection Launch: This Facebook Live stream helped Tesoro Leather launch their Spring Fashion Collection. Tesoro is another Small Business using live streaming quarterly to introduce their latest products and services to the world.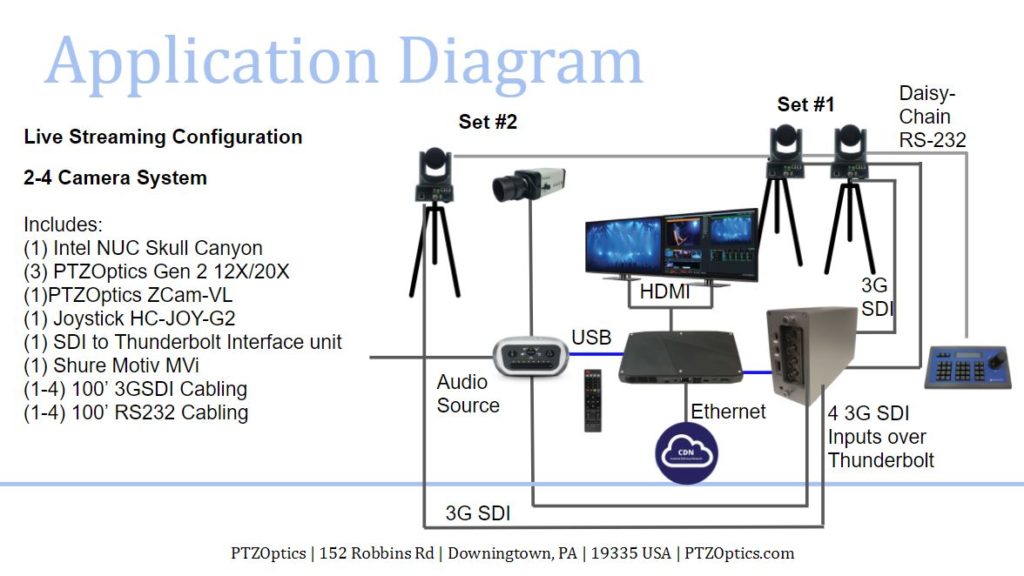 4 Camera Live Streaming System Wiring Diagram
© Copyright 2023 | PTZOptics | All Rights Reserved.