Open Broadcast Software (OBS) Plugin & Dockable Controllers
Download our camera control applications for Mac or PC here to enjoy unparalleled control with our stand-alone PTZ applications! (also available for Windows machines). 
A PTZ Preset is a focus point (for example, at a podium, or a doorway) stored inside a PTZ camera. Presets can be used to quickly move a robotic camera to a designated location. In response to the need of our OBS community, we've added improvements to the plugin including support for hotkeys. Now, fully control all your Ethernet-networked, PTZOptics robotic cameras with a USB-connected joystick or Xbox controller.
Once the plugin is installed, go to the main menu on the OBS dashboard and click TOOLS. Click the PTZOptics Controller feature to display the PTZOptics Control Panel; complete control for up to eight cameras. To set up Xbox up on OBS, click the Settings tab at the top of the PTZOptics Control Panel and select Joystick Settings. A dialog box opens and if you have an Xbox Joystick connected it displays in the box. Check the square for Use Joystick and click Ok to connect the Joystick to OBS and your PTZOptics cameras.
Also on the PTZOptics Control Panel are buttons to store your camera presets. Some OBS users have reported that it is easier to build PTZ camera controls into each scene using a "Browser" input. To do this, use our HTTP-CGI Command Sheet to select a command and build it into your OBS scene via browser. Download the HTTP-CGI Command Sheet here PTZOptics.com/Downloads to get started on extending the power of OBS with a video production plugin.
About Our Dockable Controllers
With versions of OBS 24.0 and newer you can easily set up dockable PTZ camera controls inside of your OBS interface. 
 Download the latest 24.0 (or greater) version of OBS and install it. Custom Browser Docks is found under the main "View" dropdown menu nested in the Docks area. Download our pre-designed PTZ camera control modules for OBS or customize your own with additional downloads on this page.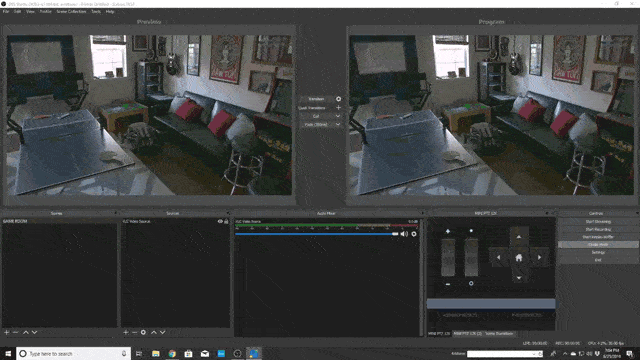 Note: Make sure you have the most up to date firmware to use these apps.