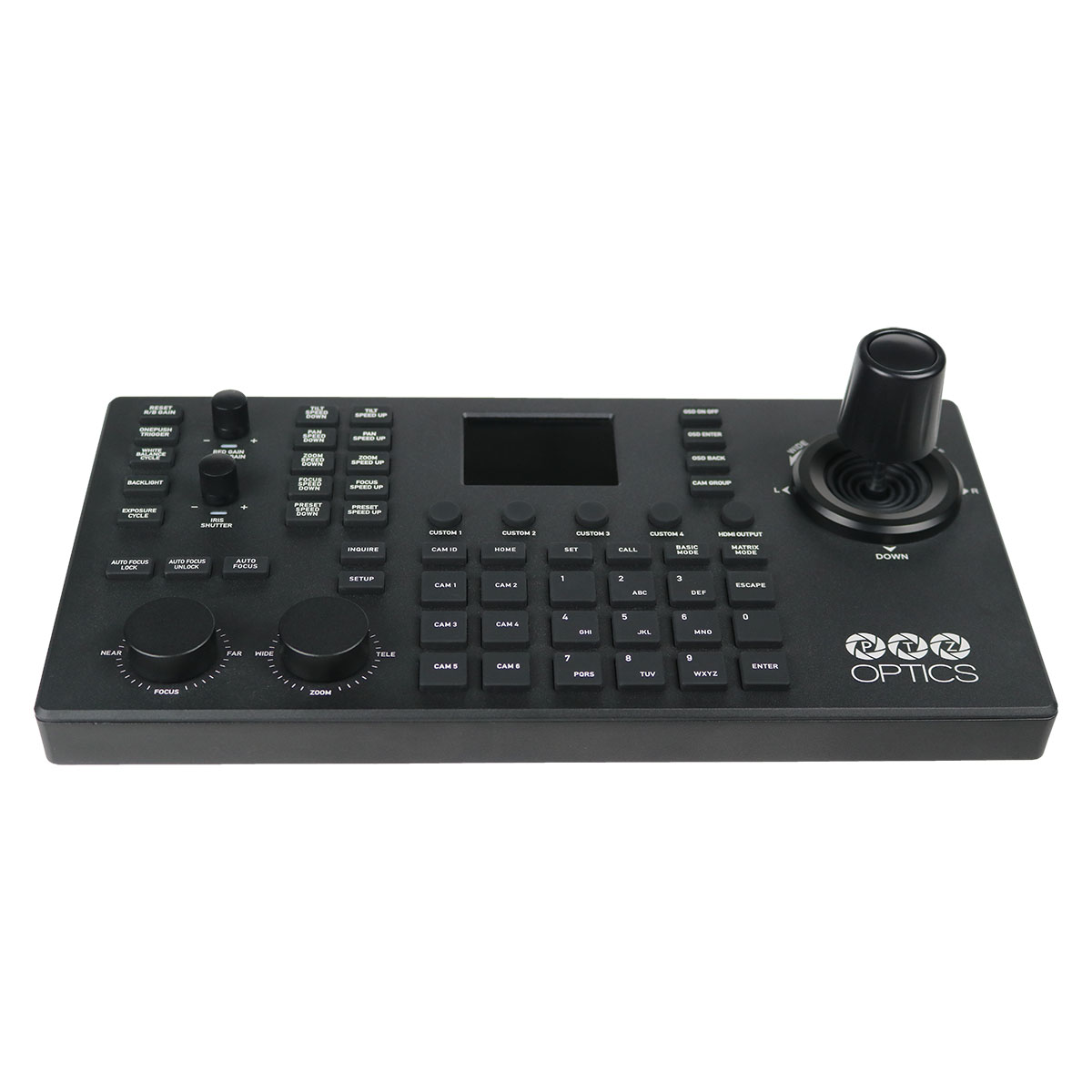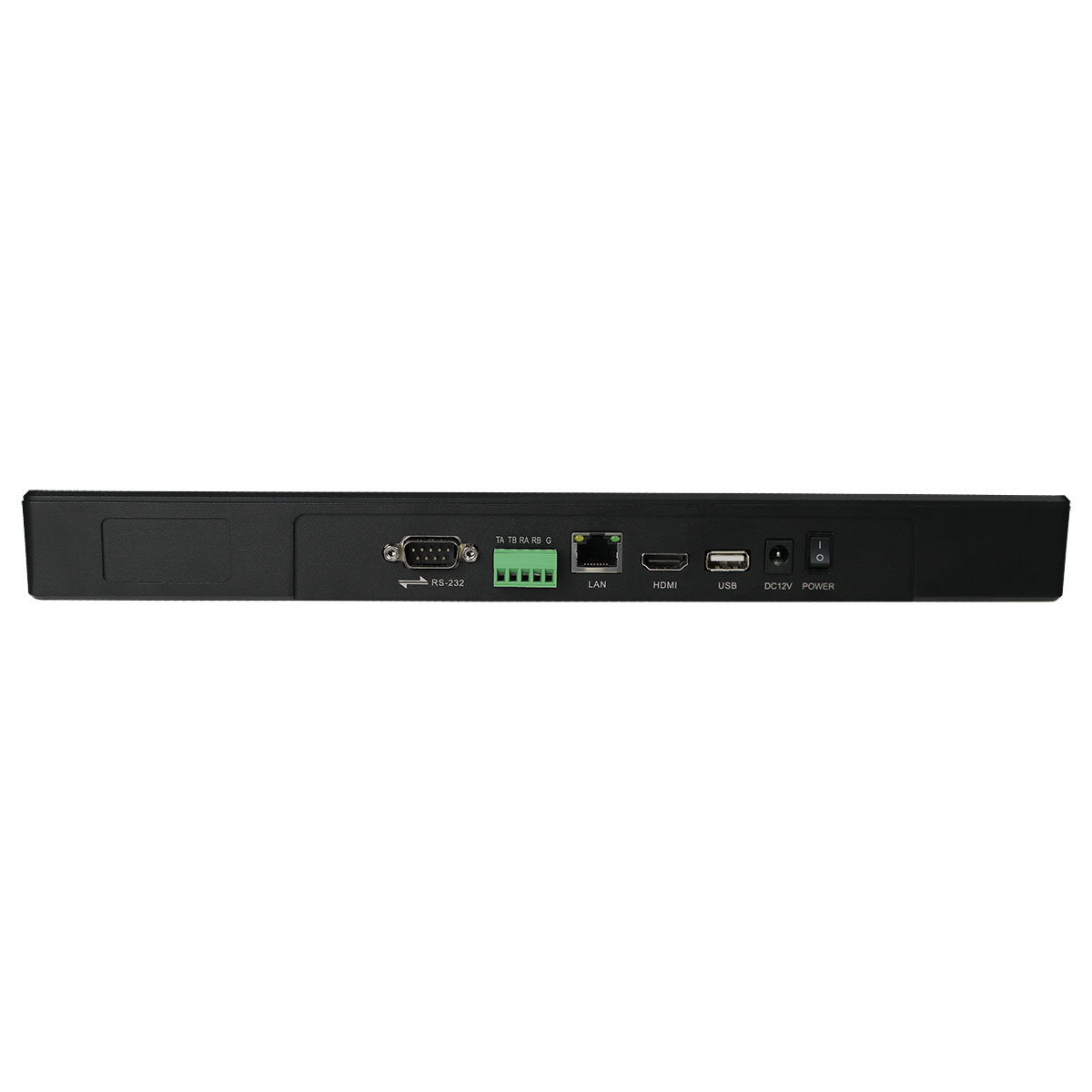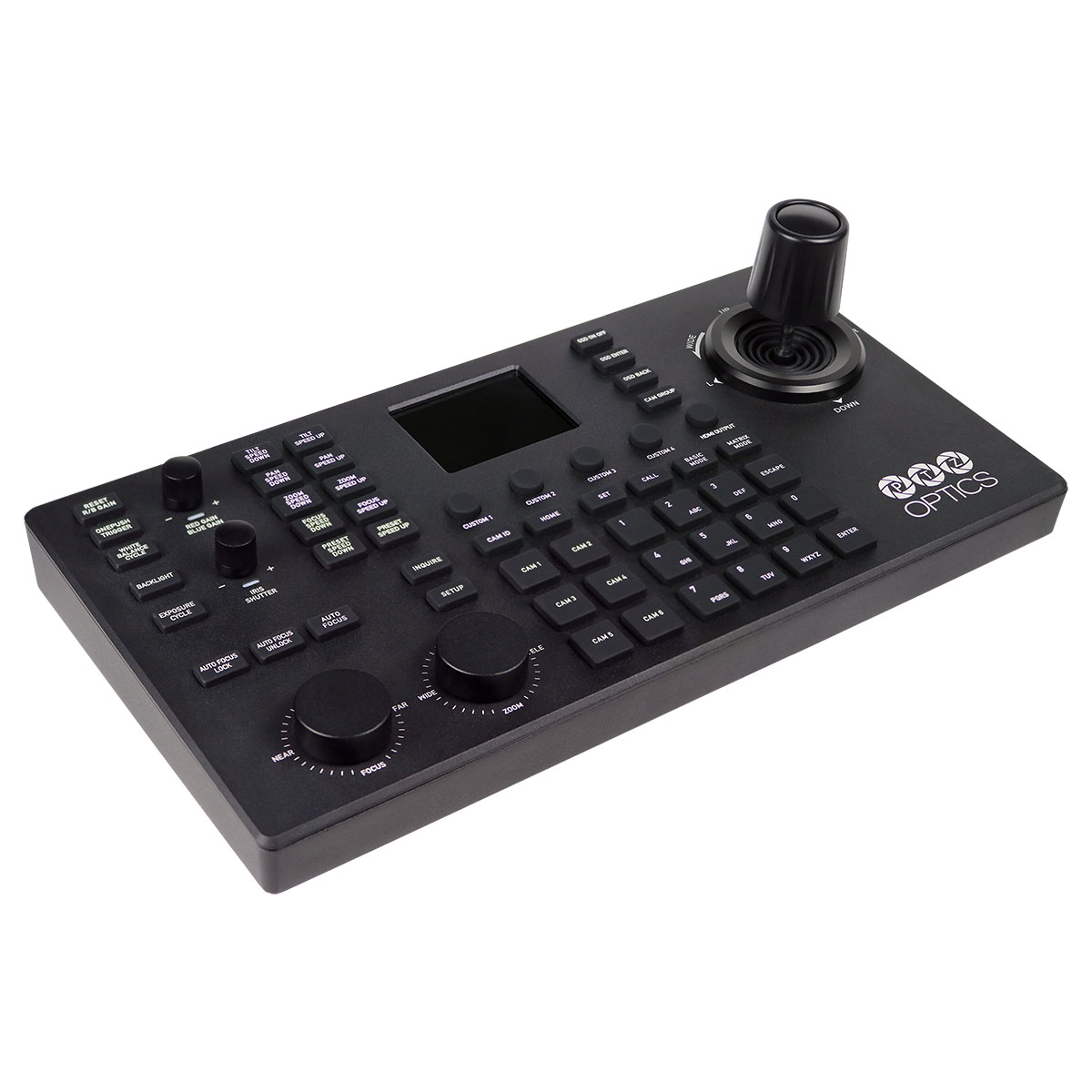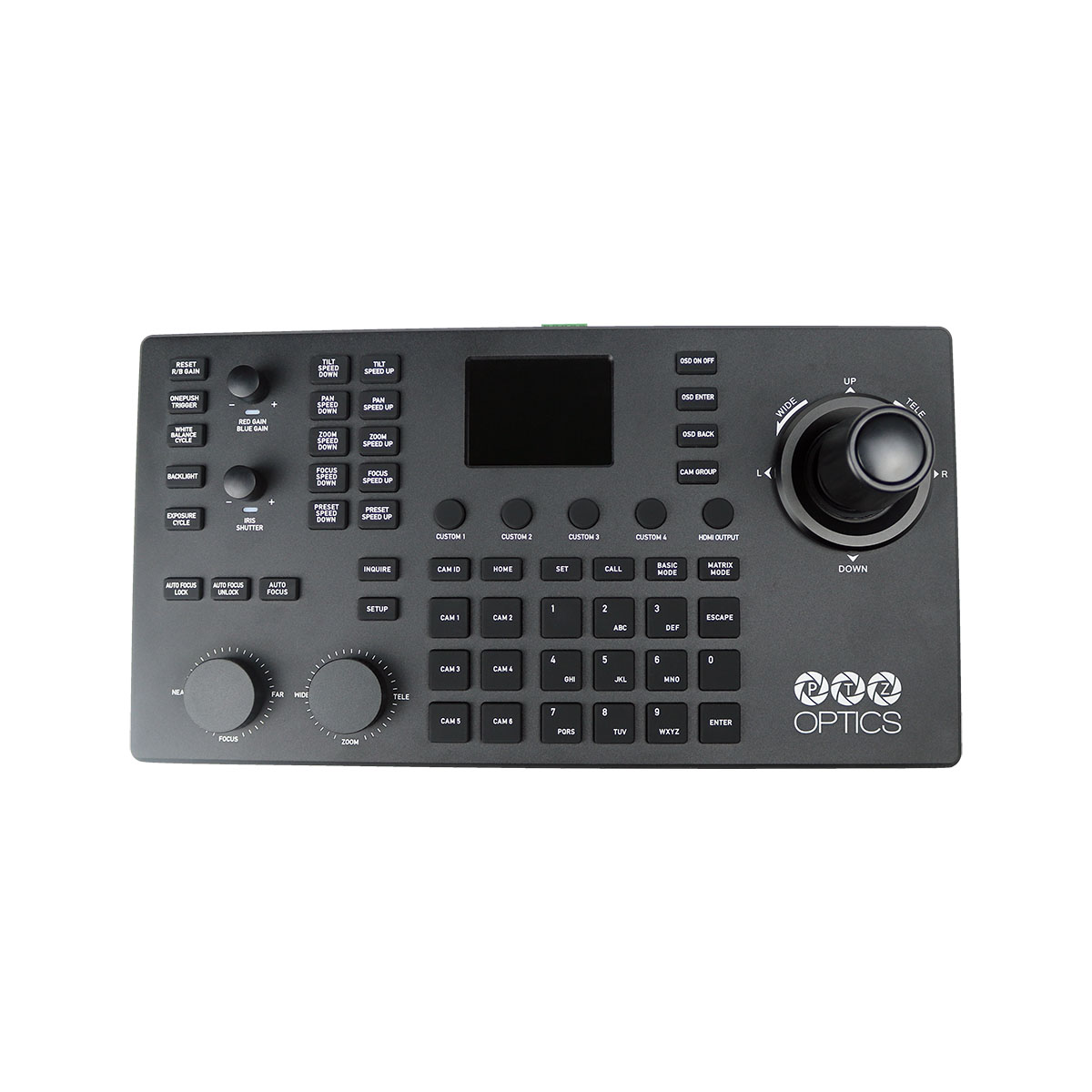 Create a Powerful, Precise and Versatile
Production Experience
Introducing the PTZOptics SuperJoy, a PTZ camera joystick controller designed for smooth, efficient production workflows. The SuperJoy takes remote pan, tilt, and zoom camera operations to the next level in a simplified user interface with advanced controls for power users.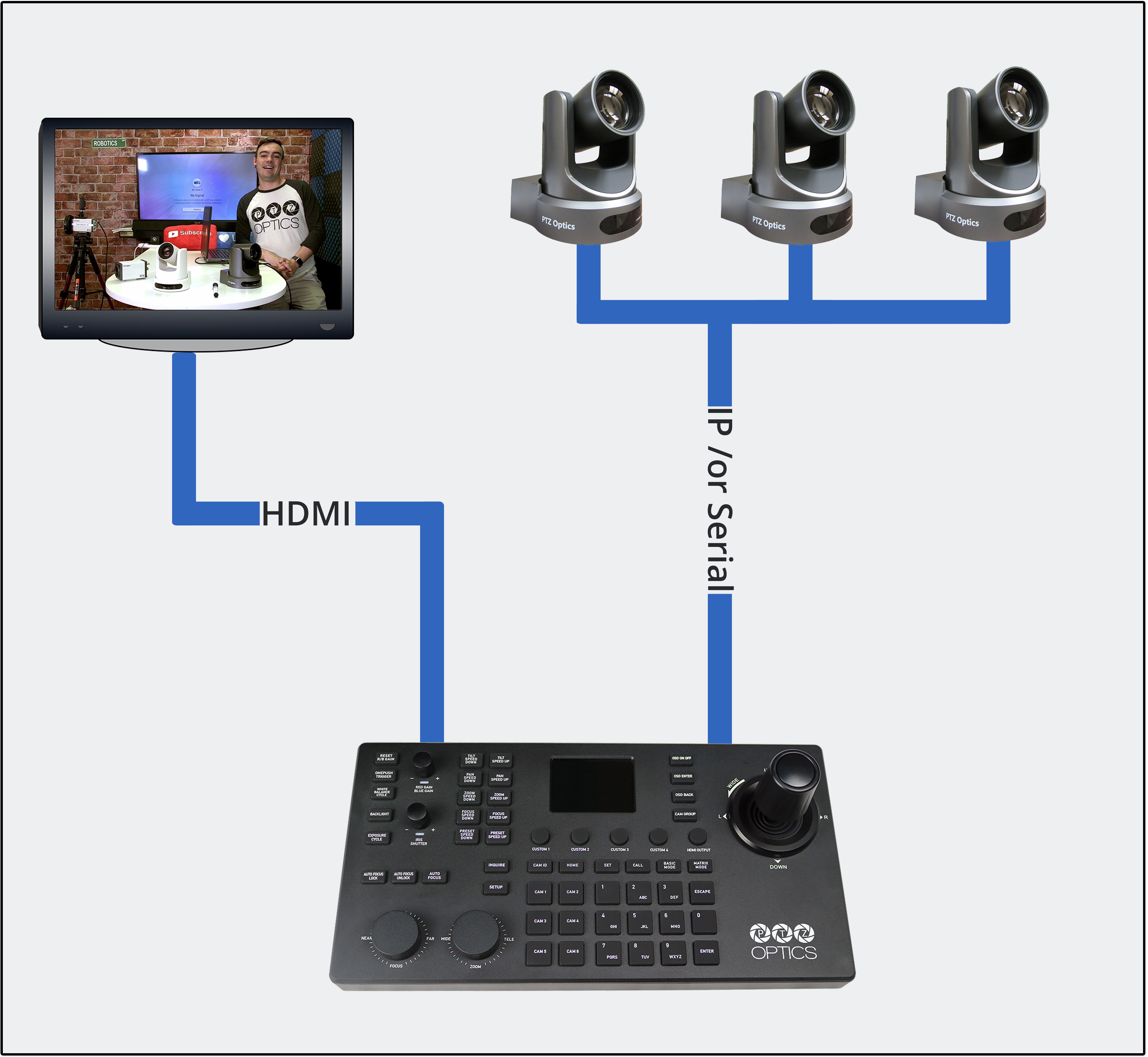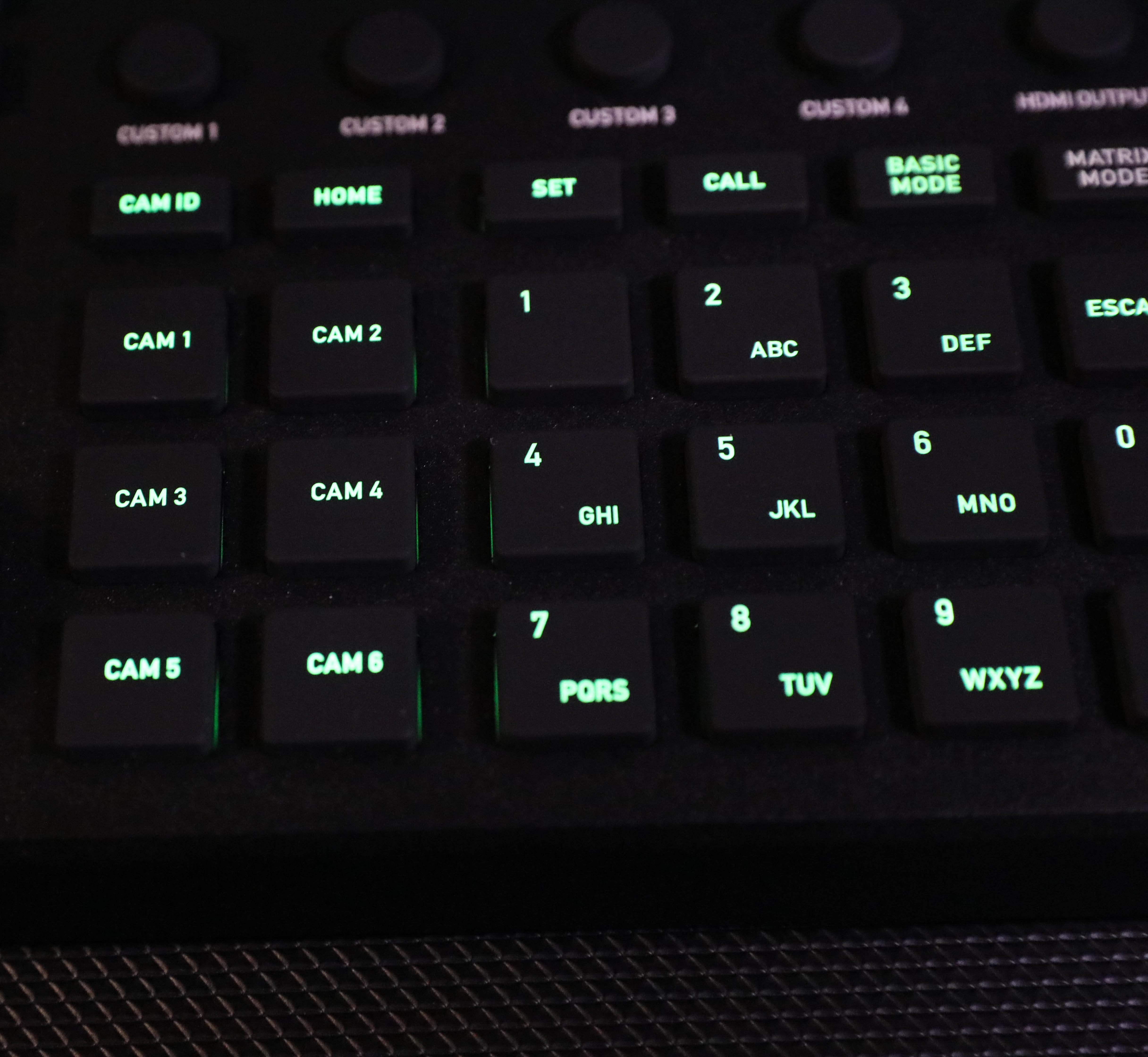 Streamlined, Real-Time
Production
The SuperJoy offers an intuitive, tactile interface, simplifying and streamlining even the most complex production setups.
SuperJoy's HDMI video output provides a 1080p video preview for any camera connected to the SuperJoy that has an RTSP video feed available for use. This HDMI video output is ideal for viewing cameras over a local area network. In this way, a SuperJoy controller can be set up anywhere on a network to gain PTZ camera controls with a low-latency, live video preview.
Ergonomic, rubberized controls and pressure-sensitive dials for precise, on-the-fly-tuning, with no OSD adjustments required
Status-responsive backlit buttons and knobs indicate available camera modes, while optional tablet/computer control can allow for remote monitoring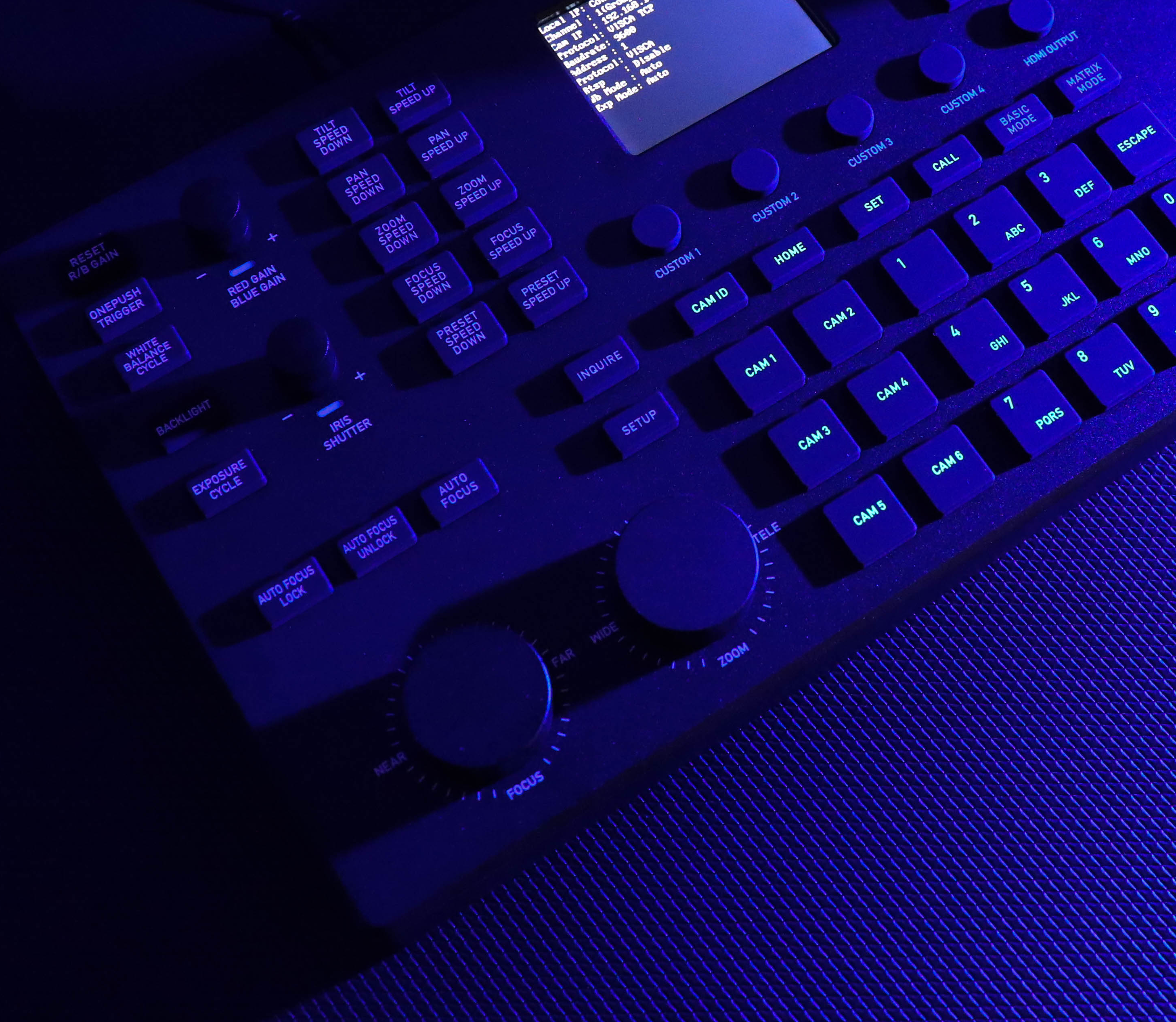 Custom Control Across a Variety of
Cameras and Devices
The PTZOptics SuperJoy Joystick Controller is a comprehensive solution supporting mix-and-match serial and network-based control for PTZ cameras of any generation.
Simultaneous pan, tilt and zoom control across IP, NDI® and serial cameras from multiple brands including PTZOptics, HuddleCamHD, Sony, BirdDog, and NewTek
If it's IP-controlled, chances are the SuperJoy can control it – cameras, lights, projector screens and more – using four customizable buttons
Powerful Super-Preset buttons are programmable to trigger synchronized multi-preset commands across up to five unique camera groups with up to eight cameras each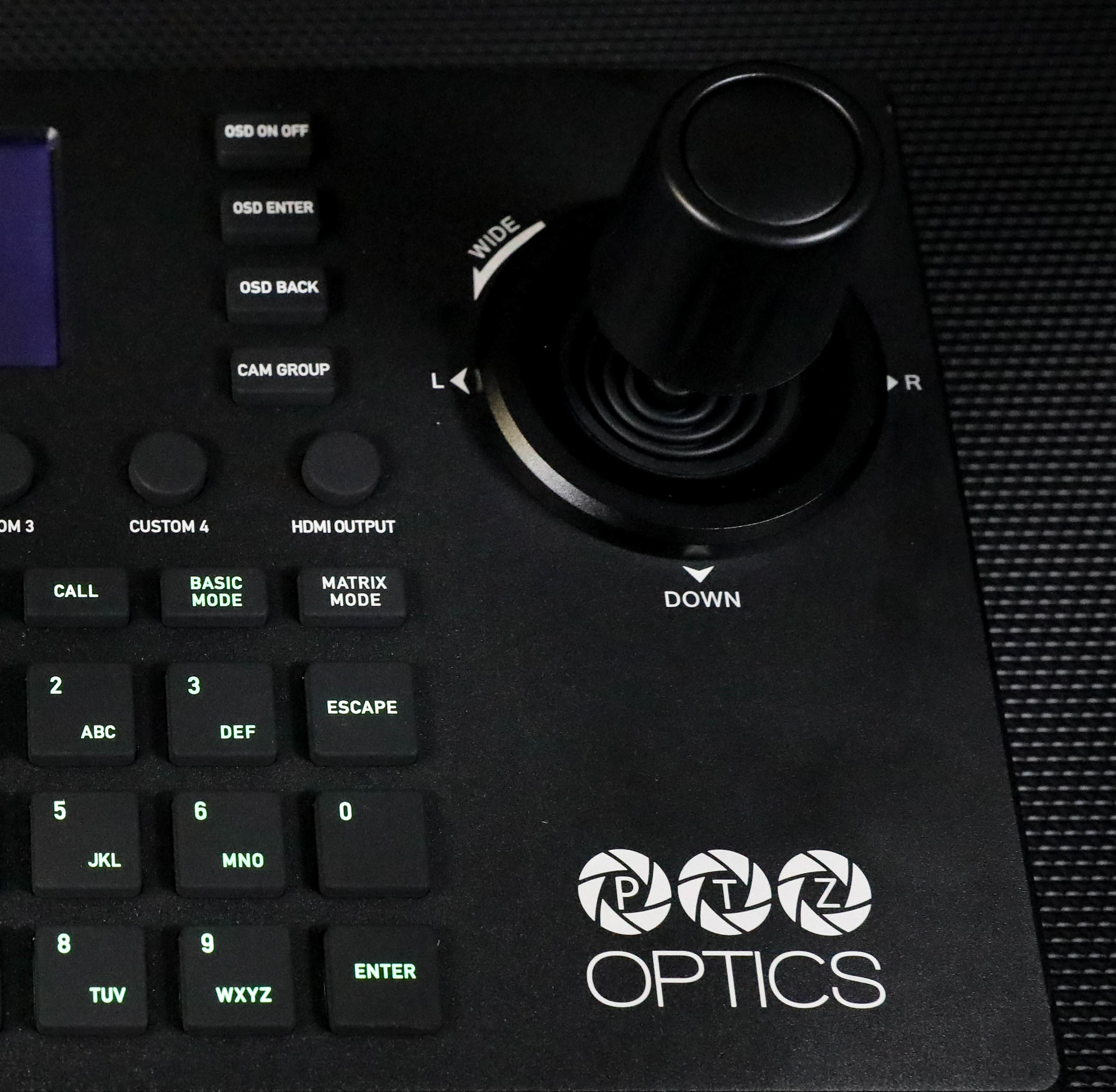 From Power Users to Novices,
a Controller for Everyone
With three user-centered control modes designed to accommodate varying skill levels, the SuperJoy offers unparalleled flexibility for production teams of all backgrounds and experiences.
Use Basic and Basic Plus mode to limit functions to presets and single-camera control
Matrix mode enables operators to call presets across up to three cameras
Expert users can program custom buttons for production automation
Simultaneous NDI®, IP & Serial Control for a Range of PTZ Cameras
Create 5 Camera Control Groups with Up to 7 Devices Each
Multi-Brand Compatibility, including Sony, BirdDog, NewTek & More
Large LCD Screen with Controller Status and built-in decoder with HDMI output
Basic, Basic Plus & Matrix Modes for Users of All Skill Levels
Up to 255 PTZ Camera Presets, 9 Quick Presets, and 4 Super-Presets
Future Proof
Your Technology
Cabling: RS-232, RS-485, RS-422
Max Cable Distance: 3,937' (1200m) using 24 gauge twisted pair (

for RS-485 only)

Power: DC12V
Control Protocol: VISCA or PELCO
Maximum Cameras: 255 cameras
Design Notes: Works with any PELCO camera
USB
Cabling: Ethernet
Max Cable Distance:328 Ft. (100 meters)
Power: DC12V or PoE
Control Protocol: VISCA over IP
Maximum Cameras: 253 cameras
Design Notes: Designed specifically for PTZOptics cameras
USB
Cabling: RS-232, RS-485, RS-422, RJ-45
Max Cable Distance: 3,937' (1200m) using 24 gauge twisted pair (

for RS-485 only)

Power: 6W|12VDC/PoE (802.3af) (Only use one power source at a time)
Control Protocols: VISCA, VISCA over IP, PELCO-D,
PELCO-P, Sony, & NDI®
Maximum Cameras: 28 cameras total (5 groups of 7 channels)
Design Notes: Limited NDI® & Sony control
USB
Superior Performance, Flexibility and Support – All for Less Than You Might Think
Backed by PTZOptics' 2-year warranty, plus full support from PTZOptics' technical team, the SuperJoy is an ideal choice for video production crews looking to improve their workflows and streamline their production processes.  
And starting at only $899, a better production experience is more accessible than ever.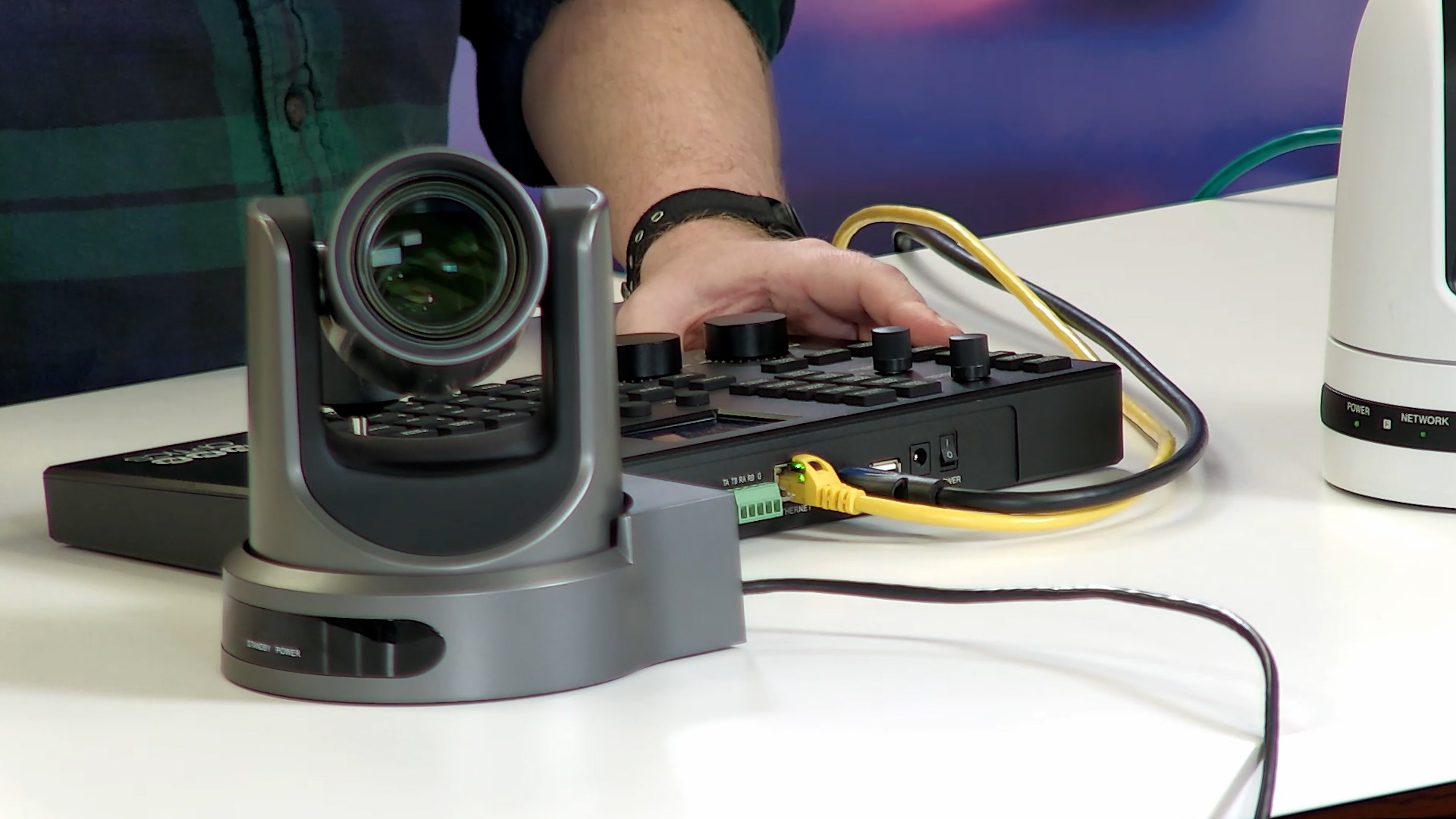 Unlock the Power Network Control
Take full control of your robotic PTZ camera with these resources…
Technical Specifications
Connections
RS-232, RS-485, RS-422, RJ-45
Control Protocols
VISCA, VISCA over IP, PELCO-D, PELCO-P, Sony, & NDI®
Max Cameras
28 cameras total (5 groups of 7 channels)
Recommended Max Distance
RS-232 / RS-422: 50 ft | 15m
RS-485: 3,937 ft | 1200m
Ethernet: 328 ft | 100m
Baud rate
1200 -19200 bps
Operation Specifications
Power
6W112VDC / PoE (802.3af)
(Only use one (1) power source at a time.)
Working Temp
14° F -122° F | -10° C +50°C
Working Humidity
10% ~ 90% (non-condensation)
Weight
3.75 lbs | 1.70 kg
Dimensions (in.)
13.94 W x 7.05 D x 3.98 H
Dimensions (mm.)
370 W x 180 D x 101 H
***Please make sure the HDMI cable on your SuperJoy is unplugged before attempting a firmware update.***
Easy pan, tilt & zoom controls for your PTZOptics camera! Controls pan & tilt with variable speeds to match every option inside PTZOptics cameras. Use a 2 & 3-dimensional joystick with "twist" control of focus and zoom! Easily set up pan and tilt limits using the latest version of the PTZOptics camera firmware.
Tip: Setup pan limits to restrict camera operators from moving outside a given area. Set up boundaries limits for fast-moving sports games like Basketball and Hockey. This way, your camera operators can quickly move left or right without ever "overshooting" the game space boundaries.
Tip: Lower tilt limits when tracking presenters on stage. If your camera operators are mainly concerned with left to right movement, avoid accidentally tilting the camera up or down by reducing the camera's motor speeds for this action.