PTZOptics is a leader in the live streaming and broadcast market. PTZOptics cameras include the video outputs needed for live broadcast and streaming, along with support for the industry's top control protocols including: VISCA over IP, RS-232, RS-485 and ONVIF. With support for digital video outputs such as USB 3.0, HDMI and 3G SDI, PTZOptics products interface with the industry's top broadcast equipment manufacturers such as: BlackMagic, Epiphan, Roland, NewTek, Sony and Panasonic.
Broadcast Beat Builds Modern Production Facility
When Broadcast Beat decided to update their studios in 2020, they went with
PTZOptics NDI® cameras
for a multitude of reasons. Broadcast Beat has been using pan, tilt, and zoom cameras in their productions for quite some time. But after using older analog cameras, they decided it was time to upgrade to full HD. Their studio uses a TriCaster system which allows multiple production team members to work together. The team manages three separate
teleprompters
which each feature a PTZOptics 20X-NDI camera inside to capture video through the reflective glass. This setup allows the on-screen talent to stay informed and feel confident on camera.
As you can see, each teleprompter system is ceiling-mounted and suspended using steel piping. The system design allows the broadcast team to display notes for on-screen talent and control the PTZ camera inside of each teleprompter. With this system, there is no need for on-set camera operators. Therefore, each PTZOptics camera can be controlled remotely from the production desk. Some cameras are set up to automatically move to specific PTZ camera presets allocated in the room, and other cameras are used for manual control with a PTZ joystick controller. This set also serves a dual purpose allowing the teleprompters and cameras to swing around for a full stand up infinity set.  
When it comes to live streaming, everybody knows Wirecast! Wirecast is the most popular live streaming and video mixing software because it's powerful and easy to use. The PTZOptics camera line is being used with Wirecast in many different ways, from a direct USB connection to digital video such as HDMI and HD-SDI through 3rd party video switchers. So it was important for PTZOptics to partner with TeleStream & Wirecast to ensure seamless compatibility and support.
The easiest way to use a PTZOptics camera (or multiple PTZOptics cameras) with Wirecast is to use a USB connection for video. Since Wirecast runs on any Mac or PC you can simply pull in a PTZOptics camera as an "input" using the USB 3.0 connection from the camera to your computer.
Another popular way to use PTZOptics cameras with Wirecast is using RTSP or RTMP streaming protocols. Wirecast can accept the PTZOptics audio and video from a stream over your network. This can be ideal for customers with easy access to a Cat-5 connection to their network. Wirecast then pulls all the necessary video mixing and streaming capabilities into one powerful interface. In this instance you PTZOptics can provide the live video/audio feed and PTZ control over your network at the same time.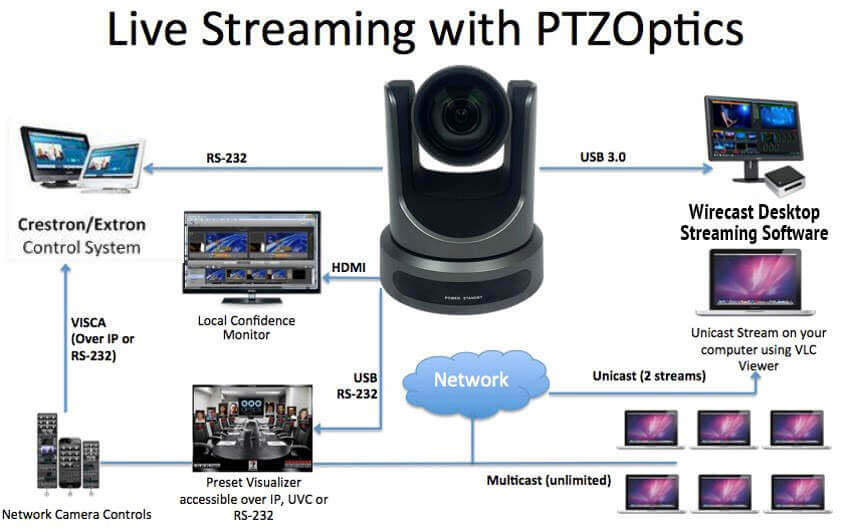 © Copyright 2023 | PTZOptics | All Rights Reserved.