PTZOptics has worked with houses of worship from around the world to help integrate video production and live streaming equipment into sanctuaries. PTZOptics live streaming cameras are ideal for worship sanctuaries because they are small, discreet and remotely controllable. On this page, you will learn about various houses of worship that have set up live streaming equipment in their churches with a variety of goals in mind. Many churches are now live streaming to places such as Facebook and YouTube in order to bring members of their church live videos from their services who cannot attend in person. Paul Richards, the Chief Streaming Officer for PTZOptics, is the author of "Helping Your Church Live Stream" which can be downloaded for free here.
Below you will find a list of related articles available on PTZ Cameras in Church Production followed by various case studies from churches around the world.
Within a large, historical building, Central Moravian Church wanted to update its AV technologies while creating systems that will remain relevant for years to come. The church's architecture required cameras with a significant optical zoom in order to capture close-up views from long distances. The integration team was asked to maintain the aesthetic look of the space and hide cabling wherever possible.
Victory House Church Chooses
PTZOptics for Live Streaming
Live streaming is an effective way to spread the life-changing message of Jesus beyond the walls of the church. Live stream video is a fantastic service for church members who need to be away due to travel or illness. It is also an amazing evangelism tool that allows potential guests an opportunity to experience your church before visiting in person. For some churches, the idea of starting a live streaming ministry can feel overwhelming. Fortunately, using PTZOptics equipment can reduce complexity and make it easy for any church to get started.
Victory House Church in Northern Virginia is on a mission to spread the message of Jesus. To spread that message even further, the church saw the importance of sharing their services via live stream. To make this as impactful as possible, Pastor Nick Koopalethes made the decision to use a system from PTZOptics. A creator himself with over 100 videos posted to YouTube, Pastor Koopalethes understands the importance of capturing and sharing the highest quality videos and doing it in the most efficient way possible. He chose PTZOptics for three reasons.
Recruiting, training, and retaining volunteers is a challenge, no matter the size of the church. This is especially true in more technical ministry roles like video and live streaming. With a PTZOptics system, one volunteer can control up to four cameras from a central location, significantly reducing the amount of training and personnel needed.
When sharing such an important message through live streaming, the quality of the video image is an essential consideration. Crisp, clear video can enhance the delivery of the message. Low-quality images, on the other hand, can distract from the message and cause viewers to turn off the stream. PTZOptics cameras offer broadcast-quality video as opposed to some others that may look like webcams or show the service through a fisheye lens. They also come with 12X, 20X, and 30X optical zoom, which means high-quality close-ups even from a distance.
3. Installation Flexibility
Some live stream video installations require a lot of space for cameras. Often they need to be positioned within the worship space reducing the seating room and causing distractions. PTZOptics cameras can go nearly anywhere. They can be mounted on a tripod, a shelf, a wall, and even on the ceiling. Installation is made even easier with innovative cabling options like the ability to stream video, control the camera, and also provide power over one ethernet cable.
The Olivet United Methodist Church
After just two months of live streaming, the Olivet United Methodist Church in Coatesville, Pennsylvania, has been able to connect with church members from all around the world, including some who have moved away, some who were temporarily home-bound, and others who were on vacation. The new live streaming system was in place just before Christmas in 2018. In that time, the church media team has been able to live stream a candlelight service, the 2018 Christmas service, and a special baptism. The live streaming system has connected housebound parishioners like Tori Parker who commented "Glad I can be here, even from my couch as I recover from surgery."
The system has also connected members of the church who have moved away from the area, like Agnes Miner who says "What a blessing to happen (though I'm not convinced things just "happen") to check my Facebook feed just a few minutes before 10 this morning and discover the first live feed of your service! And then to discover Pastor Spiegelhalder was participating, and the service included the baptism of his great-granddaughter! It's been 40 years since our family lived in Coatesville and were active at Olivet. What a joy to participate in the service remotely!" It's comments like these that remind us why we live stream church services.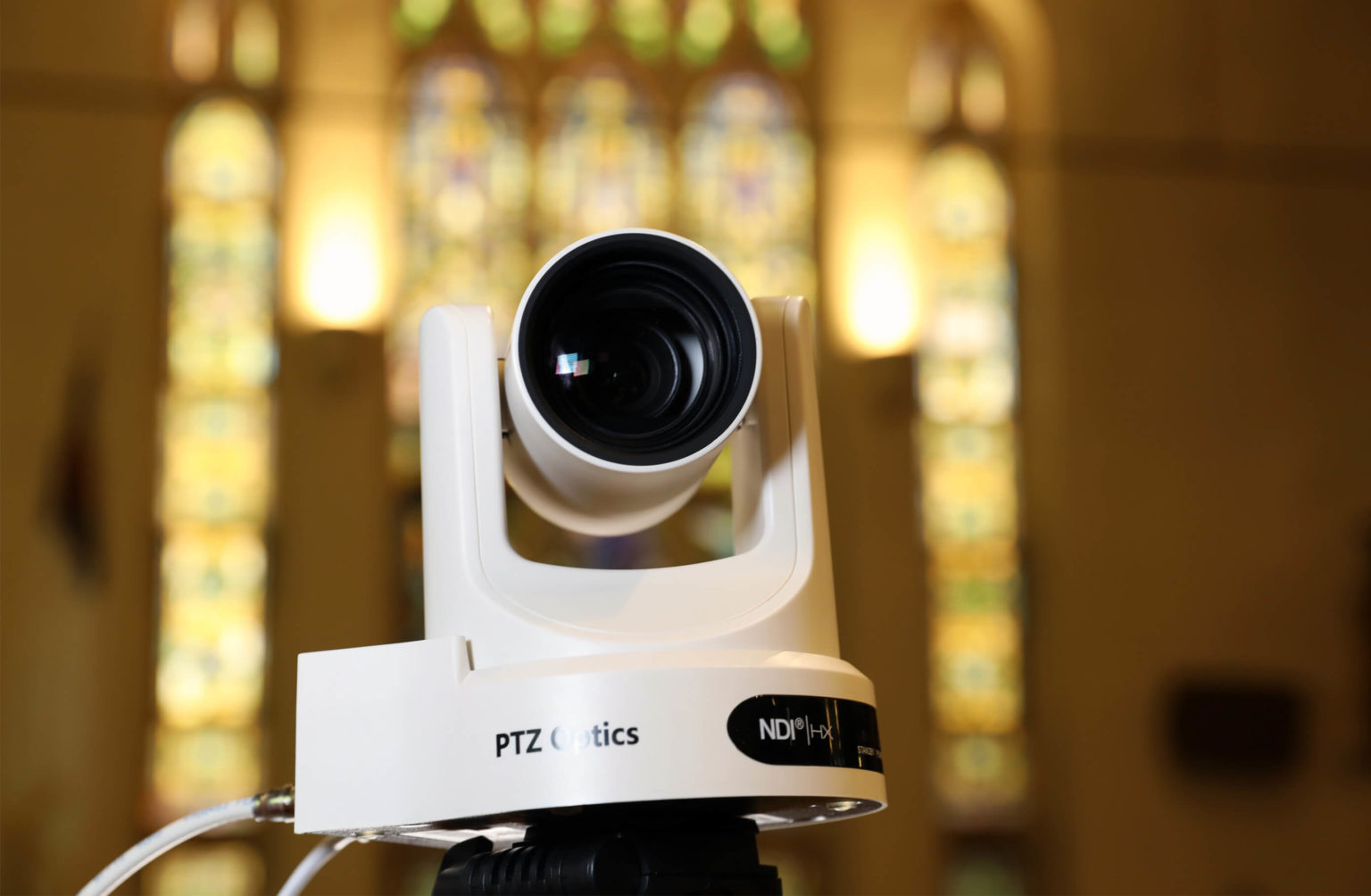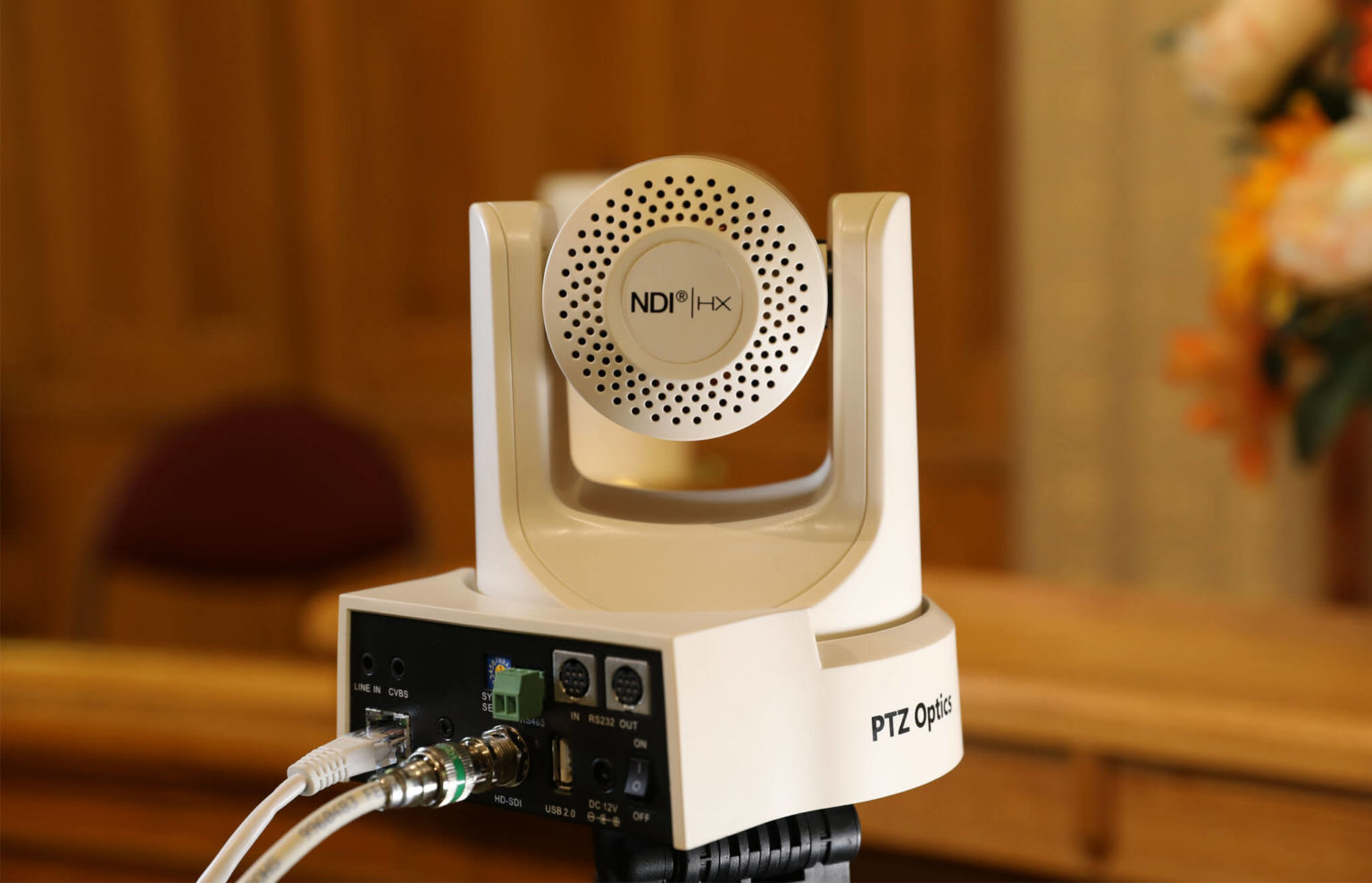 In the included video above, you will get the chance to see a behind the scenes look at the new church video production system installed in the Olivet United Methodist Church. Their core live streaming and video production system was powered by the superfast Intel NUC Skull Canyon computer. As you can see, the cameras are each connected to an SDI capture card which plugs into the computer via USB 3.0. The computer is connected to three monitors. One monitor is displaying the video production software, one monitor is showing a full screen camera preview, and the third monitor is dedicated to PowerPoint.

Monitor Setup Church Streaming System
The monitors are laid out in a way that is intuitive for the volunteers that the church relies on every Sunday. To make things easier for the volunteers, the church also has a "little cheat sheet" right next to the joystick controller to show the PTZ presets assigned to each camera. In this way, volunteers can simply click a single button to have the cameras move to a specific area like the podium or baptismal area. Finally, all of the volunteers know that whatever is being displayed on monitor 3 will also be going out to the projection and LCD system. Therefore, if they want to switch between the PowerPoint presentation and the live camera feeds they simply need to toggle on or off the "full screen" button inside vMix which is the live streaming software they have selected.
As you can see the Olivet United Methodist Church is using an HDMI distribution system to extend the video from their live streaming computer to two projectors and four television displays located throughout the church. The projectors are used to provide image magnification inside the church. This gives the entire church larger than life views of the pastor and members of the choir. Two of the LCD monitors are used in overflow spaces showing the presentation and live camera feeds in areas that couldn't otherwise see. Two of the LCD monitors are used to give the folks on either side of the stage a better view of the subject material from PowerPoint or the live cameras.
Lights, Cameras, Lyrics and Ableton Live
This case study shares a behind the scenes look at the Keys Vineyard Community Church live streaming and video production setup. This setup uses Ableton to synchronize all of the church song and performances with Pro Presenter to manage the lower thirds musical lyrics overlaid on top of the live video. Using Ableton with a touch screen control software called TouchOSC, Doug Lawes the church media coordinator is able to automate the entire church video production system which includes: Ableton, Blackmagic Video Switcher, Chauvet DJ Lights, PTZOptics Cameras, Pro Presentor and OBS. We promise to release more details on this setup because many churches are interested in learning more.
There is so much that Doug Lawes, the church media coordinator, has done to make this house of worship audio visual system shine. We are already planning a follow up webinar for Friday July 13th, 2018 at 2PM. Doug has agreed to answer questions for our live audience and explain how his system uses OBS, Blackmagic Design Video Switchers, Behringer Audio Mixers, Projectors, PTZOptics cameras and much more.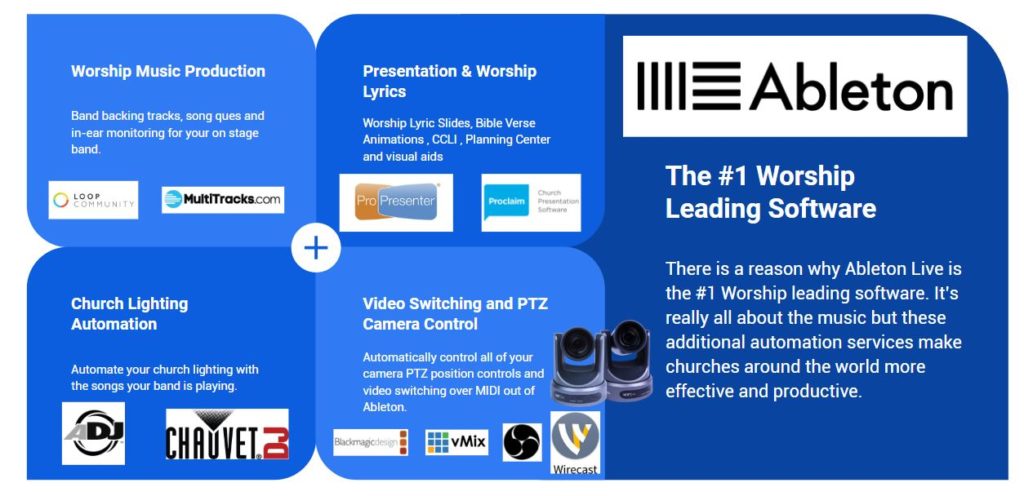 Ableton Church Video System Automation
Let's start by looking at the laptop running Ableton which is located on stage in the Keys Vineyard Church. As you can see, this Macbook Pro is connected to the LAN (Local Area Network). The networking in place allows the Macbook Pro running Ableton to connect to multiple control systems which can operate the lights, turn on a live stream, transition to OBS (Open Broadcaster Software) and much more. Furthermore, each song is set up in Ableton to work with ProPresenter which keeps the entire band in sync with the music but also displays the song lyrics over the live cameras that are being displayed on large projector screens inside the church.
In years past, Doug explains that keeping everything in sync with multiple software components was difficult to get the timing right on stage during the church service. Using Ableton Live provides churches with a single solution which we will explain in more detail throughout the blog post. Ableton Live has the ability to send MIDI notes to other programs. These programs can be running on the same Windows or Mac computer using Ableton or on another computer on the church LAN. Essentially you will need to use a MIDI loop or a MIDI network which can be different depending on whether you are using a Mac or a PC computer. These MIDI loops and MIDI networks are used to connect Ableton to other systems which could be running the lights, PTZ cameras, switching video on the Blackmagic Switcher or even starting a live stream on OBS.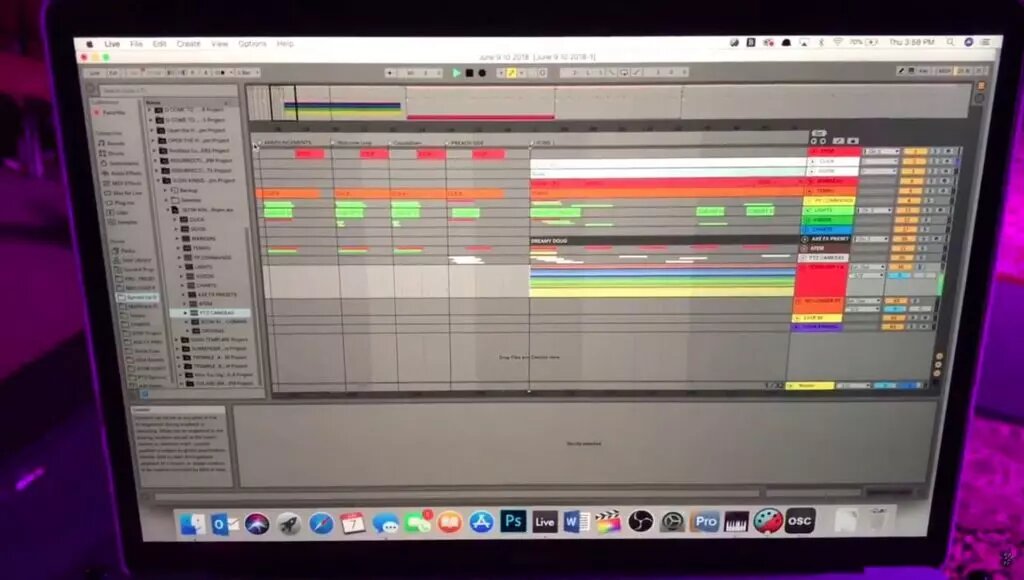 Ableton Church Video System Automation
Using TouchOSC and Blackmagic Video Switchers
An important part of this church video production system is the TouchOSC control using an iPad. This iPad is connected to the LAN over WiFi and therefore has access to the entire network. The TouchOSC system can send commands to Ableton to start and stop songs during the church service. As you can see the TouchOSC iPad has a custom interface designed for the Keys Vineyard Church which can start and stop various songs easily. The iPad also allows the church to play a welcome video and operate the Blackmagic Video Switcher. Operating the Blackmagic Video switcher from TouchOSC is done through a software called atemOSC. AtemOSC is a software bridge that allows touchOSC to switch the video sources inside the Blackmagic switcher using MIDI which is ideal since everything is being handled through Ableton Live which can output MIDI easily.
The Blackmagic Production Studio 4k shown above is rack mounted inside the church video production booth. This video switch has five HD-SDI PTZOptics cameras connected which are also controllable via MIDI. Therefore throughout the Ableton live songs being played on stage, the church can decide where they want the cameras to zoom into and which time AND decide which camera they would like to be on the output of the Blackmagic Production Studio. The Blackmagic Production Studio video switcher is connected to a computer running OBS with a capture card. This capture card takes the output of the BMD video switcher and converts it to USB 3.0 for easy video ingestion into OBS.
MIDI Camera Control & Video Switching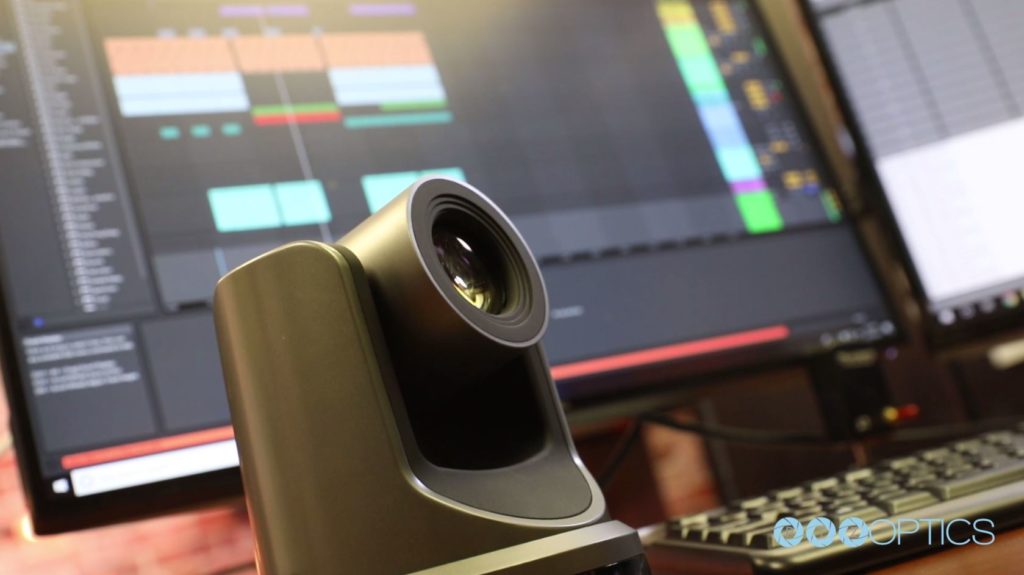 Ableton PTZ Camera Integration
PTZOptics has recently designed a PTZ camera MIDI control application which will take the MIDI output notes from any DAW (Digital Audio Workstation) like Ableton and convert that into VISCA over IP for camera control.
This software allows churches to control exactly where the camera will move during a song simply by dropping up to 10 camera PTZ preset positions inside the song timeline.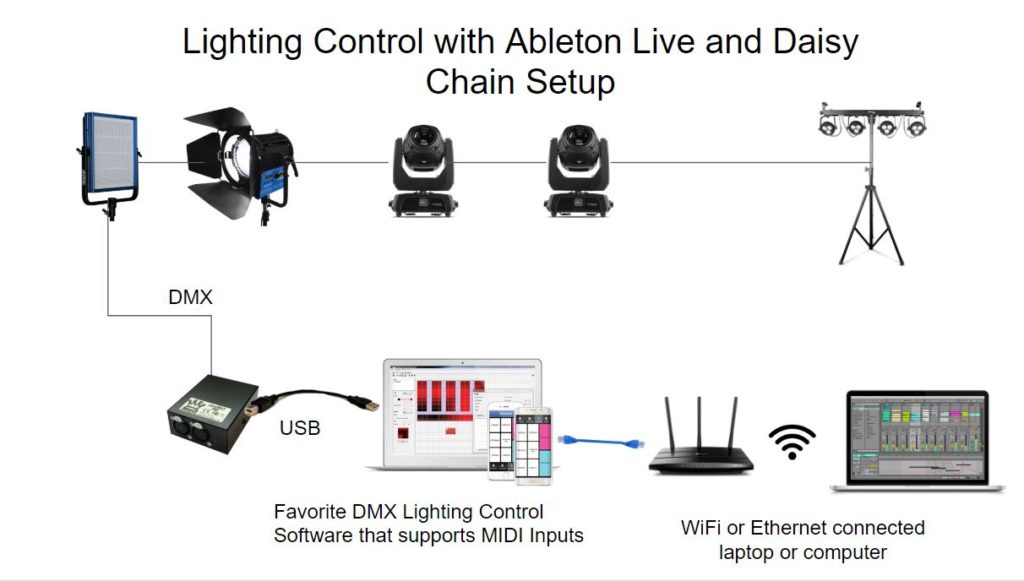 Including lighting control in Ableton Live
One of the most advanced parts of this system beside the PTZ camera controls and Blackmagic video switchers is the Chauvet DJ lighting control. The Chauvet DJ lights are controlled over DMX which is a lighting control protocol. Keys Vineyard church has used multiple lighting control solutions with their Chauvet DJ lights and ultimately decided to use Vista Software by Choma-Q to control the lights and automate everything with Ableton. There are now multiple plugins for Ableton which allow easy lighting control triggered directly through the Ableton Live software timeline. This further simplifies the church video production setup because as TouchOSC starts a song it can now handle all the programmed lighting.
ProPresentor and Church Lyrics Chomra Keying
Finally, we can forget about the amazing lyrics that are being displayed on the projector screens throughout the church service. ProPresenter is a great tool for controlling projectors and even chroma keying on top of the video being sent out of the Blackmagic video switcher. So as ProPresenter is triggered in sync with Ableton Live the lyrics are displayed over the live PTZOptics video cameras that are displayed on the projectors.
Top 10 Ways to use PTZ Cameras in Churches
In this video, Paul Schmutzler of Streaming Media Magazine reviews the top 10 ways houses of worship are using PTZOptics cameras to live stream church services! Churches are starting to live streaming their services more and more. They often have to rely on volunteers to produce the live shows. PTZ cameras make live streaming easier especially for volunteers by providing remote camera control and camera presets.
Here is a list of PTZ Camera Benefits
Easy Camera Control Options – Control Multiple Cameras from a single location. Easy Joystick Controllers

Ideal Camera Installation Options – Wall Mount, Flush Ceiling Mount, Pole Mount Options

Open Source Control Software for Churches – One Button Click Control

Using Camera Presets – Fading between multiple cameras with preset positions for professional production

Advanced Camera Control Software – With Preset Visualization

Variable Speed Control

Easy Daisy-Chain Camera Controls

Easy IP Controls

Camera Control Integration with vMix and NewTek TriCasters

Easy ONVIF Controls for Wirecast Users
New Covenant Church of Malone New York Case Study
In this video the New Covenant Church of Malone, NY and DVeStore Inc come together to build a great new live streaming system! The multi-camera live streaming system includes Blackmagic, PTZOptics, MimoLive and Presonus sound board. The system has multiple confidence monitors and feeds LCDs over the stage. Enjoy an in-depth review of an advanced house of worship video production.
New Hope Baptist Church of Orange, New Jersey Case Study
In this video, Howard Jones of USALiveStream shows us a multiple PTZ camera live streaming setup he installed for the New Hope Baptist Church of East Orange, New Jersey. Many churches are live streaming Sunday services and want to bring viewers into their space in a professional way. Jones reviews how he uses the PTZOptics cameras with an IP joystick and the open source control software to simplify the user setup.
Many churches rely on volunteers to produce the audio and video booth which sends out a live stream to Facebook or YouTube. In this live streaming video camera installation Howard Jones has done a great job simplifying the end user experience with a joystick controller and a customized open source control software instance. Howard shows a user with access to easy button controls for PTZ camera presets using the open source control software. Each camera can have it's own camera control presets programmed and operated inside a web browser.
Latest House of Worship Topics
PTZOptics is quickly becoming a House of Worship favorite for its "swiss-army knife" features and affordability. Because PTZOptics cameras offer simultaneous video outputs for the industries top connection types (HDMI, HD-SDI, USB, IP Streaming) they become a ideal choice for the house of worship market. PTZOptics cameras are used for live streaming church events and because they have multiple video outputs the additional video signals are used locally to enhance the experience. For example, many churches use the RTSP/RTMP streaming of audio and video to live stream their sunday services using a service like ChurchStreaming.TV or Wirecast. Then they can use the HDMI video signal to power a local monitor in a common room or hallway and still use the USB or IP signal for a local preview for the camera operator. With multiple simultaneous video outputs PTZOptics provides multiple solutions for the house of worship market that doesn't break the budget.
VSee is the TeleMedicine industry's most talked about new service. They provide "The World's Largest Telemedicine Platform" to thousands of patients around the world. VSee has become so popular they are now the first TeleMedicine software being used at the international space station by NASA!
© Copyright 2023 | PTZOptics | All Rights Reserved.