Download Esports EDU
Free PDF Version
See how esports is transforming education!
The intersection between esports and education is a place where innovation and excitement flourish. Author Paul Richards takes us inside the world of esports in order to understand the new challenges and opportunities that are helping to change modern education. From a perspective of acceptance and encouragement, parents and educators have the chance to find common ground that can help students excel in a sport that they are passionate about.
Competitive video gaming today already holds the power to create heroes. Richards examines why athletes who are admired for their determination and excellence are no different whether they are playing on a field or in a computer lab. The tremendous growth in esports is being fueled by the internet, live streaming, and global economic demand. The need for a strong educational system that can support positive student development in esports is imperative.
This book reviews the history of video gaming and sports to uncover how esports has evolved from a Teenage pass time to the international stage. Richards brings to light opportunities for technology-related career paths that students and educators are finding in the growing Esports industry. Richards explains in plain English how modern esports games require players to manage multiple economies, respond with split-second reaction times, and communicate with groups of players like a team of navy seals.
Learn about Esports Specator Display Rule Here
Live Streaming Resources
Helping Your Church Live Stream
Helping Your Church Live Stream just got a whole lot easier! A Guide for Pastors, Volunteers and Church Media Professionals with an included online course.
Esports in Education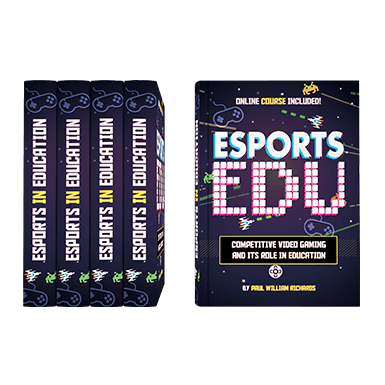 Exploring Educational Value in Esports Clubs, Tournaments and Live Video Productions. Written for students, parents, and educators who want to explore the intersection between esports and education.
The Online Meeting Survival Guide
Survive and thrive in shared online work environments with the Online Meeting Survival Guide by Paul Richards. This book will bring you up to speed on the latest online communication and collaboration technologies available to increase your personal and professional productivity.
OBS Guidebook
Open Broadcaster Software is the world's most popular live streaming software. Download this guide book for free and take the included online course as well.
Accelerated Broadcast Club Curriculum
Accelerate learning inside your broadcast club with this book, audio version, and online course. Download the free PDF here.
The Virtual Ticket
The Virtual Ticket is for anyone who wants to host next-level engaging experiences for online attendees. This book is full of detailed case studies from innovative event planners who are diversifying their revenue streams with virtual ticket sales.
one_half_last]