Latest Government Video Case Study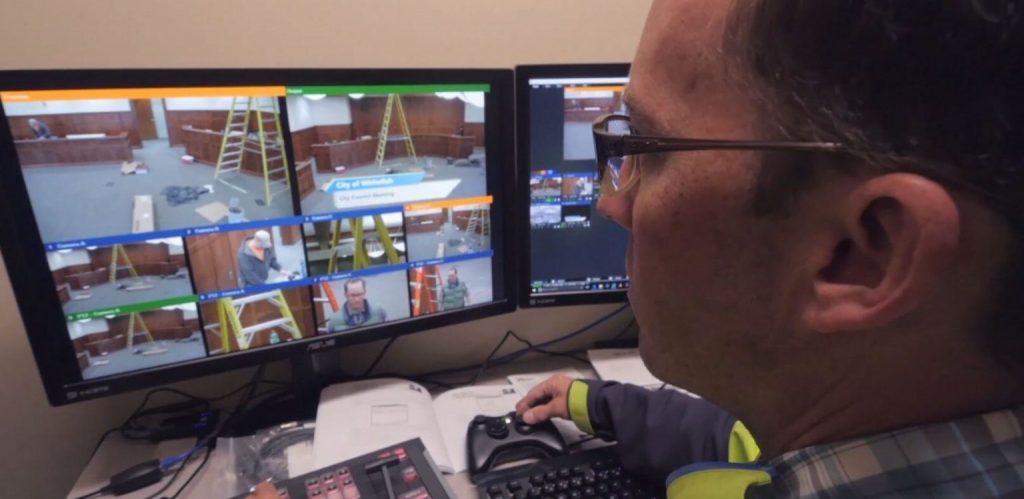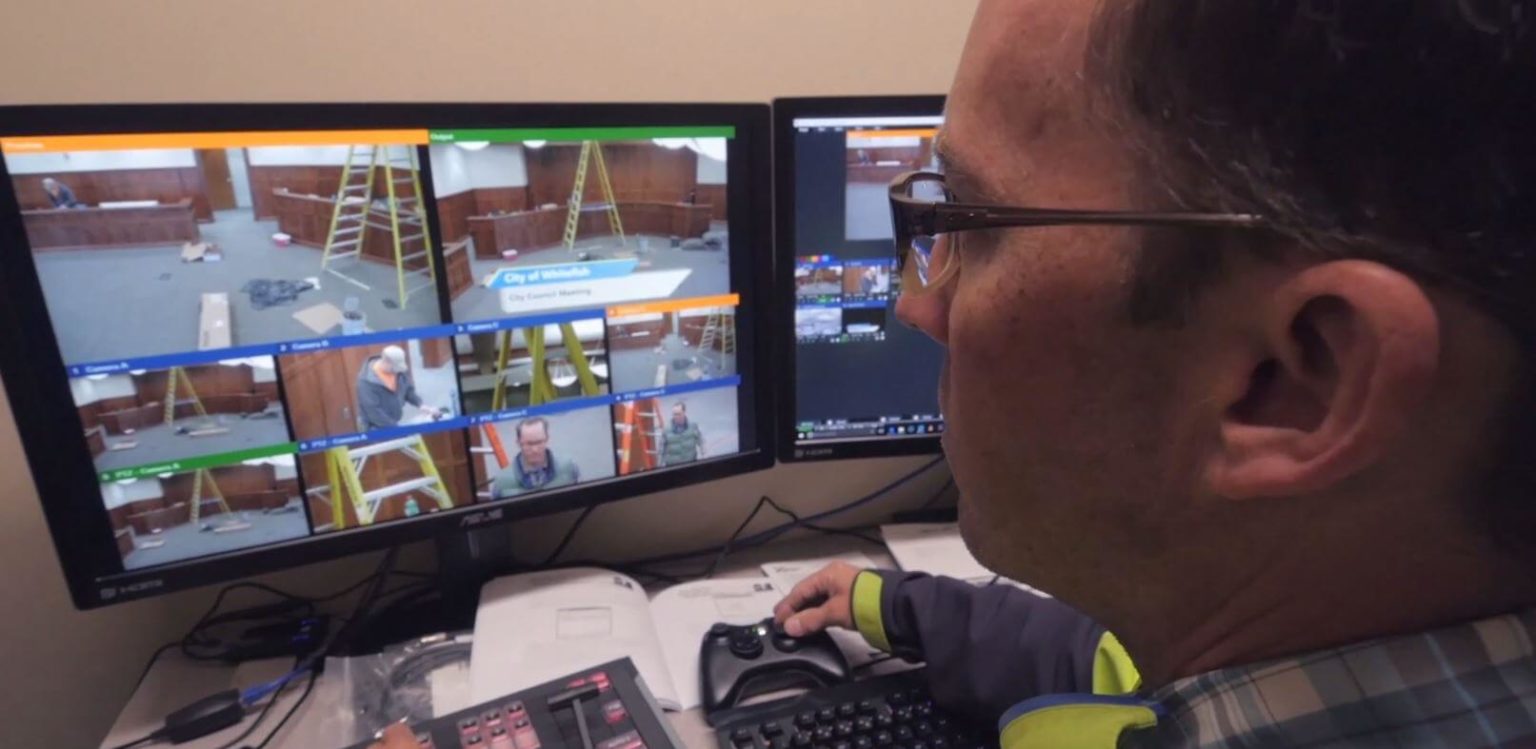 PTZOptics cameras are often chosen for Government applications such as the courtroom because the areas are large and they can benefit from the remote control and optical zoom features. In this case study, the city of Whitefish, Montana approved the installation for four PTZOptics 20X-SDI cameras to be used with a vMix video switching system. The cameras are installed in remote locations to the video production studio allowing a single camera operator to remotely control the pan, tilt and zoom of each camera. Each camera is set up with camera presets that are assigned to various areas of interest inside the courtroom.
City Hall Video Production System overview:
The city of Whitefish, Montana upgraded their facility in 2017 to include a four camera video production system in the new courtroom. The system is used to improve recording and video streaming. The multi-camera switching system has been designed to allow a single operator to monitor and control all cameras to simplify the process of producing high quality video recordings. The video production system includes four ceiling mounted PTZOptics 20X-SDI-GY-G2 second generation cameras connected to a vMix video switching system. Each camera can be used to zoom in to specific people of interest during the video recordings from the remote video production station. Also included in the system is a fully programmable xKeys control surface with 124 programmable buttons to recall camera presets and other easy to access functions such as overlays.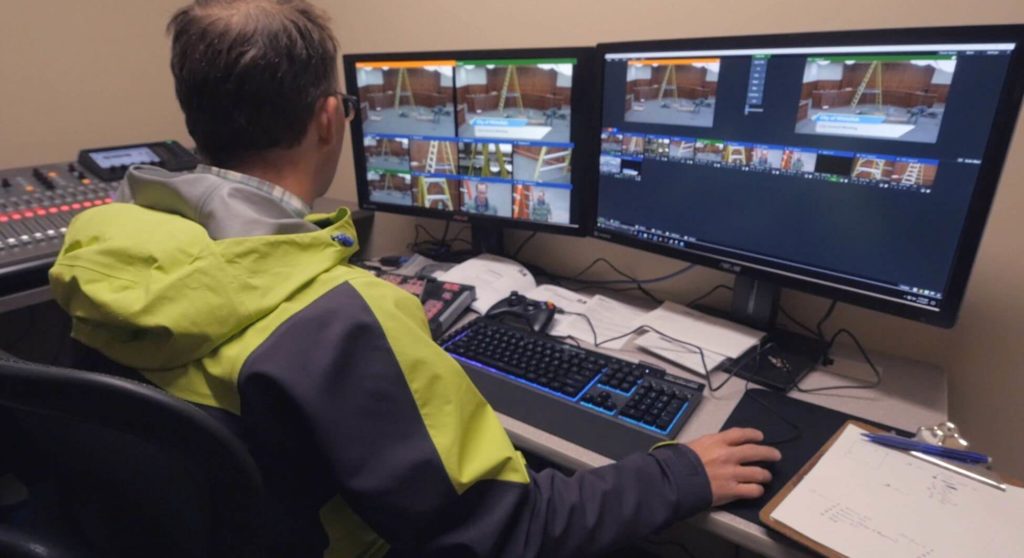 City Hall Video Production 2
In many cases, the government agency may only have a single employee responsible for video production. The vMix system installed allows the camera operations and video switching to be done in a single software platform. This allows the government to save money by employing a single video production specialist and it allows the technology to be optimized with various camera presets and easy to use control methods. From the video producers point of view they have complete control over various cameras over an IP network which also provide PoE (Power Over Ethernet) to each camera. The video producer can simply click a button inside vMix with a thumbnail displaying the area they would like the camera to zoom into. It's that easy!
Courtroom camera installation
As you can see each camera is installed discretely out of sight from the courtroom workflow. The mount shown to the left is SKU: HCM-1-BK which is a wall mount installed upside down. This mount allows the city hall to install the camera on the lip of a ceiling beam. The City Hall uses HD-SDI camera models for long and reliable cable runs which they connect into a custom vMix system using an AJA Corvid PCIe capture card. The cameras can then be controlled with an xBox controller, an xKeys pad and even via vMix with various options. Don't miss the full behind the scenes video of this installation available below.
The above pictures show just how easy the system is to set up and operate. You can see the PTZ (pan, tilt and zoom) controls setup inside vMix to control the PTZOptics cameras. We also have a picture showing the PoE (Power Over Ethernet) network switch providing camera control and power to each camera. We also have the fully programmable xKeys controllers with 124 programmable keys. This is setup to call camera preset positions, so that each camera can individually preset locations all re-callable with a single button push. As you can see each camera is labeled and found inside vMix with the click of your mouse.
Live Streaming with Elected Officials
As election cycles seem to occur with more frequency, we're excited to share how candidates for public office and elected officials can utilize live streaming to promote campaign messages or proposed legislation. Recently, we had the opportunity to interview State Sen. Daylin Leach, a Democrat representing Pennsylvania's 17th district who is proposing a bill to legalize the adult use of cannabis. Traditional broadcast outlets, including television and radio, usually demand high advertising rates to reach intended audiences. Live streaming offers a sought-after alternative that's both cost-effective and engaging for online audiences on channels such as Facebook and YouTube.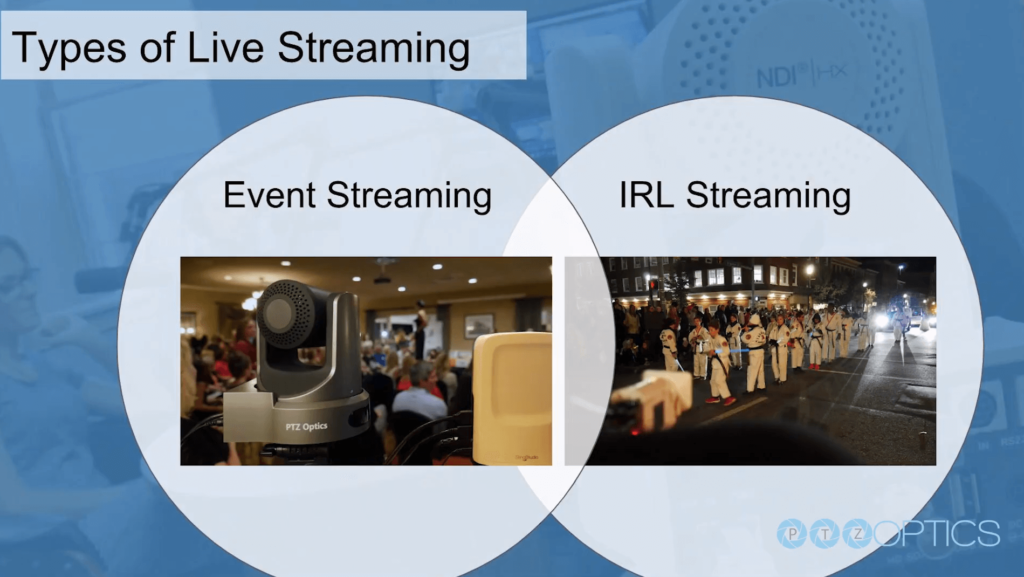 Event Streaming vs IRL Streaming
To get started with a live stream, a professional-level studio is essential. We recommend setting up a small studio with several LED lighting sources and cameras to capture your host and interviewee in a flattering light. Set up two chairs for both your host and interviewee to create a relaxed, engaging feel for your live stream.
PTZOptics cameras provide high-quality pan-tilt-zoom shots, which are easily controlled through the kit's accompanying joysticks. We used both front and side-angle shots to capture both speakers while making the live stream interesting for our audiences.
© Copyright 2023 | PTZOptics | All Rights Reserved.