PTZOptics has a significant presence in the Healthcare sector, providing high-definition pan, tilt, and zoom (PTZ) cameras, and intuitive far-end camera control software. The robust features and competitive pricing of PTZOptics' offerings make it an ideal choice for Telehealth applications.
A key aspect of PTZOptics' value proposition is the use of UVC camera control protocols. These protocols provide integration into software such as Zoom, VSee, and others providing HIPAA-compliant software to facilitate direct pan, tilt, and zoom controls.
Additionally, PTZOptics offers camera management software – that allows clinicians and doctors to instruct the camera to zoom into an area of interest with a simple click. This remote camera control capability is exceptionally beneficial for more precise visual examinations in telemedicine.
Strongarm Healthcare Mounting Solutions
Interhospital communication, encompassing doctor-to-patient and inter-departmental correspondence, forms an essential backbone for telehealth operations. This crucial sector of healthcare is now being significantly enhanced by PTZOptics' state-of-the-art pan, tilt, zoom (PTZ) cameras, as well as Strongarm Healthcare's custom-designed mounting solutions. These advancements facilitate everything from comprehensive examinations to urgent conferencing calls, bolstering the accuracy of diagnoses and optimizing patient care, irrespective of geographical constraints.
A growing number of healthcare practitioners are leveraging PTZOptics PTZ cameras and StrongArm's Mounting solutions to improve telehealth consultations. They trust the stability and reliability of these systems, ensuring that the vital technology employed during such interactions remains securely anchored and operational.
The latest innovation from PTZOptics is the Move 4K PTZ camera model, setting a fresh industry standard. It offers varying levels of optical zoom—12, 20, and 30 times—to cater to diverse professional requirements.
Recognizing that each medical setting is unique, PTZOptics does not propose a one-size-fits-all solution. Instead, they offer a versatile product line equipped with NDI, SDI, HDMI, and USB signal outputs. Additionally, their cameras have varying control options depending on the model, further enabling customization to specific needs.
Telehealth, with PTZOptics' latest camera technology and Strongarm Healthcare's top-tier mounting solutions, is becoming more accessible and efficient. If these advancements pique your interest and you want to explore how they might enhance your organization, we recommend downloading the Telehealth Innovation Brief. You may also view our subsequent video in this playlist, detailing the installation process for a Strongarm Healthcare telehealth solution.
Recent evolutions in technology have enhanced the way healthcare is delivered. Today, the field of telemedicine enables physicians to treat their patients via video conferencing. Such convenience and accessibility to healthcare have helped many, including patients in rural areas without access to in-person medical facilities. In this video, we are going to take an in-depth look at a telemedicine cart designed by Howard Medical which features a PTZOptics camera used to help doctors deliver healthcare remotely.
Howard Medical is a company on the front lines of this emerging field, and their telehealth products are rapidly transforming the healthcare delivery system. Howard's telehealth equipment provides all-in-one solutions, linking physicians to their patients seamlessly. These products range from telehealth carts, software, and kits to cabinets and kiosks.
The Hi-Care telemedicine cart is an innovative solution. This mobile system has a flexible design and provides users the ability to communicate in a customized way, meeting the needs of the healthcare facility. The Hi-Care also includes remote monitoring and remote management software.
Additional Telemedicine features include:
A task light;

One-touch height adjustment for both the monitor and the work surface;

Anti-microbial touch surfaces;

A centralized control panel

Adjustable steering handles

A 270-degree wrap-around cart handle

A negative tilt keyboard tray with wrist rest and a keyboard light

Rubberized footrests

On-demand steer assist technology

Storage options; and

A PTZOptics camera, which allows a physician to remotely zoom into specific areas of interest in high definition.
This telemedicine solution is ideal for delivering healthcare services from remote specialists into almost any hospital setting. From the anti-microbial touch surfaces to the 270-degree wrap-around cart handle, this telemedicine delivery system is much more than a mobile cart.
The system allows for the integration of a remotely controlled PTZOptics video conferencing camera that doctors can operate from almost anywhere in the world. The second-generation PTZOptics camera featured here uses a USB 3.0 connection to the computer which creates a plug and play high definition video connection. The integrated 12X lens and robotic motors provide doctors with an ideal combination of a wide field of view and powerful optical zoom used for capturing areas of interest in great detail.
This camera includes a feature called UVC 1.5, which provides advanced robotic camera control functionality over a single USB connection. This feature allows doctors to control the camera directly through their favorite video communications software. This PTZOptics camera features a crisp and responsive auto-focus that can adjust quickly as doctors zoom in and out during use. The second-generation 12X and 20X cameras models from PTZOptics have become a favorite solution in telemedicine delivery for this reason.
To match the health care aesthetic, this camera has been selected in white. The complete part number is 12X-USB-WH-G2. As you can see, the camera is firmly affixed to the top of this telemedicine cart using the quarter-twenty screw connection on the camera mount. This telemedicine cart can easily fit through any standard doorway. Moving the cart around is safe and easy with rubberized brakes and multiple options for handle grips. The on-demand steer assist options make smoothly navigating busy hospital hallways breeze.
Multiple task light options are available for the storage areas, the work surface area, and the keyboard tray making work during night shifts less intrusive inpatient rooms. The centralized control panel features intuitive operations that control the cart's adjustable height options. As you can see a simple button press can turn on each task light. Another button adjusts the height of the cart, and a simple battery light indicates how much charge is left with the onboard UPS (Uninterrupted Power Supply) system. On the side of the unit, you will notice a panel for connectivity to USB 3.0 devices. USB medical devices such as an Otoscope, Pulse Oximeter, and others can easily be connected with this panel. The panel also supports hardwired ethernet connectivity and HDMI for adding additional monitors.
Telemedicine Case Study
PTZOptics Robotic Telemedicine Case Study with Pertexa
Pertexa chooses PTZOptics robotic PTZ cameras for their Telemedicine Robot deployment in rural California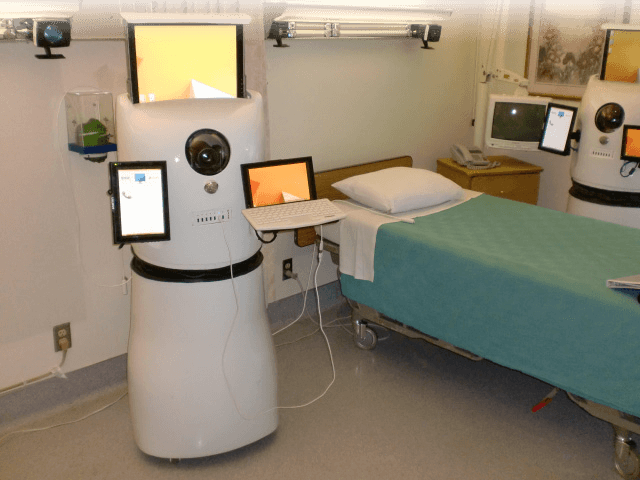 Mobile Robotic Teleheath System
Pertexa Healthcare Technologies, Inc, the California-based telemedicine company announces they have selected PTZOptics robotic PTZ cameras for their flagship product RITA (Remote Intelligent TeleHealth Assistant). These telemedicine robots will be deployed with a number of the latest, state-of-the-art technologies and allow doctors full PTZ camera control remotely from anywhere in the world. The specialties will include dermatology, cardiology, pain management, OB/GYN , orthopedic and primary care.

PTZOptics USB camera line supports absolute UVC control allowing Pertexa to control the robotic PTZ functions through a simple USB connection to RITA. This allows doctors working remotely to interact in real-time with patients while also zooming into particular areas of interest during a telemedicine consult.
RITA allows doctors to remotely evaluate the severity of an illness or injury and determine the best course of action through compatible medical devices and video consultation. Physicians control the camera to examine patients remotely and have immediate access to electronic health records, EKG results, blood pressure, and oxygen readings, and any other equipment utilized to medically diagnose an injury or illness.
Pertexa, Inc. is a next-generation medical technology company headquartered in Ridgecrest, California that creates and distributes advanced technology including R.I.T.A. (Robotic Intelligent Telemedicine Assistant) and Radekal, the nation's leading Physician's Productivity Tool. Pertexa has been recognized as one of the most innovative medical technology companies in America and works with leading medical facilities in California to improve and advance rural healthcare.
PTZOptics encourages third parties like VSee to integrate camera controls into their software by providing open-source controls, SDK's and various standard protocols. Companies such as NewTek, RocoSoft and Zoom Video Communications have already integrated similar projects for native camera control in their video communication programs. Pertexa is the first telemedicine focused software to integrate secure camera controls with PTZOptics.

Pertexa, Inc. based in Ridgecrest, California (PRNewsFoto/Pertexa, Inc.)
Pertexa, Inc. is a next-generation medical technology company headquartered in Ridgecrest, California that creates and distributes advanced technology including RITA and RADEKAL, the nation's leading Physician's Productivity Tool, which has been shown to increase productivity by 30%. By combining both hardware and app development for worldwide medical use, Pertexa is an innovative brain trust, advancing disruptive transformational technologies for an evolving healthcare environment.
TeleMedicine Case Study 2
VSee & PTZOptics have just announced new UVC compatibility integration to provide camera Pan Tilt and Zoom control directly in VSee's HIPAA compliant video conferencing software. UVC control means that VSee can control the PTZOptics camera operation using the same USB connection you use for video. This is the simplest way to deploy high quality telemedicine systems with camera control built directly into a familiar VSee interface for doctors and clinicians. The ability to see more detail be panning and zooming is crucial in telemedicine applications as doctors continue to push the boundaries of healthcare. The engineering work done by PTZOptics and VSee make the end user experience easier and more affordable to deploy.
The USB 3.0 models from PTZOptics (12X-USB and 20X-USB) are now officially compatible with VSee's UVC Control Software. The ability to provide "far end camera control" to the remote users is ideal in the telemedicine industry by design. For a TeleMedicine cart, this allows nurses and clinicians to roll the TeleMedicine video conferencing equipment up to any patient that needs an evaluation from a specialty doctor off site. The off site doctor then has Pan Tilt Zoom controls built directly into the VSee interface allowing the doctor more control over the evaluation experience. This is also ideal for simulation labs where an educational instructor can perform a "Virtual Tour" of the room without the need for expensive camera control systems or additional control cabling such as RS-232 or RS-485.
Overall UVC camera control is ideal for the TeleMedicine market for simplicity, ease of use and affordability. Because PTZOptics has UVC support built into every USB model you will see UVC control being used by more and more video conferencing software providers in the future.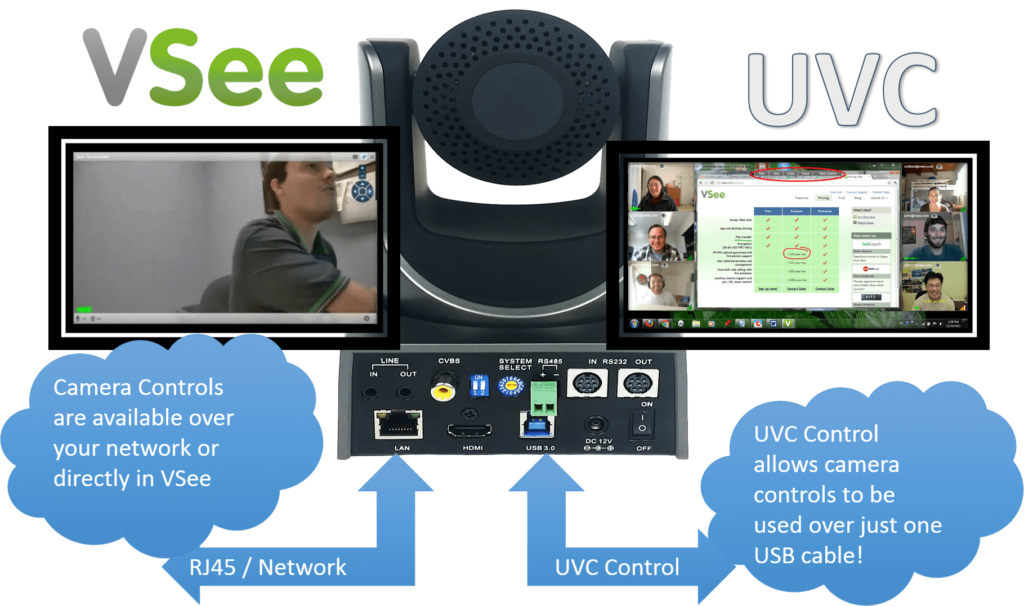 VSee is the TeleMedicine industry's most talked about new service. They provide "The World's Largest Telemedicine Platform" to thousands of patients around the world. VSee has become so popular they are now the first TeleMedicine software being used at the international space station by NASA!
© Copyright 2023 | PTZOptics | All Rights Reserved.