PTZ Camera Systems for Churches
Getting started with church live streaming can feel overwhelming. It can feel like there are endless choices when it comes to cameras, connections, and controllers. Fortunately, PTZOptics Producer Kits can provide everything you need in one package. Even better, these kits will help you quickly create a live streaming setup that will be easy to use for your volunteers. Most churches don't have the luxury of available staff to run the cameras and controllers on Sunday morning. With the PTZOptics Producer Kit, anyone can run the show with just a little training and produce a broadcast quality product every time. To make things even easier you can download "Helping Your Church Live Stream" here to get your entire team up to speed on the vocabulary and technology know-how many churches are learning about today.
The Producer Kit is everything you need to get started right away with all of the cameras, cabling, computer systems, and streaming setup your church needs. All of the systems are built around an Intel NUC Skull Canyon Micro-PC, 3G-SDI connected PTZ cameras available in 12x, 20x, or 30x zoom, and a PTZ joystick controller to operate the pan, tilt, and zoom on the cameras remotely. Now that may sound like a lot but it's the core of most church streaming systems. A super-fast computer, a camera, cables and a simple controller for your volunteers. The system also comes with an audio converter to capture the sound from your church's soundboard and embed it into your video before you send it out as a live stream. This allows you to take advantage of your church's current microphones and other audio components for quality broadcast sound.
The video above is a great example of a live streaming system installed at the Olivet Methodist Church in Coatesville, Pennsylvania. The interesting thing about this video is that you can see the PTZ camera system installed in the church and how they are using it. As you can see, the Intel NUC Skull Canyon computer is used with three monitors which are used for the video production software, powerpoint, and powerpoint viewer. The video production software is used to capture the powerpoint presentation and send it to the live stream. This system also sends the camera video feeds or powerpoint presentations to the church's projection system. You can read more about this case study here.
Professional Quality Video
PTZOptics Producer Kits come with one or two PTZOptics cameras. That means high definition 1080p video with 12X, 20X, or 30X optical zoom. Choosing the amount of optical zoom that best fits your church is actually quite easy. On every PTZOptics camera page you can see an optical zoom calculator which shows you the size of the image you will capture once you have zoom in from the distance you are from the subject. For example, a 30X optical zoom camera can capture a head and shoulders view of a pastor from 75′ away. So if your subject is only 50′ away and you want to zoom into a person, you would only need a 20X optical zoom camera. If you subjects are closer than 25-50 feet away from the subject you would only need a 12X optical zoom camera.
Easy to Train, Easy to Use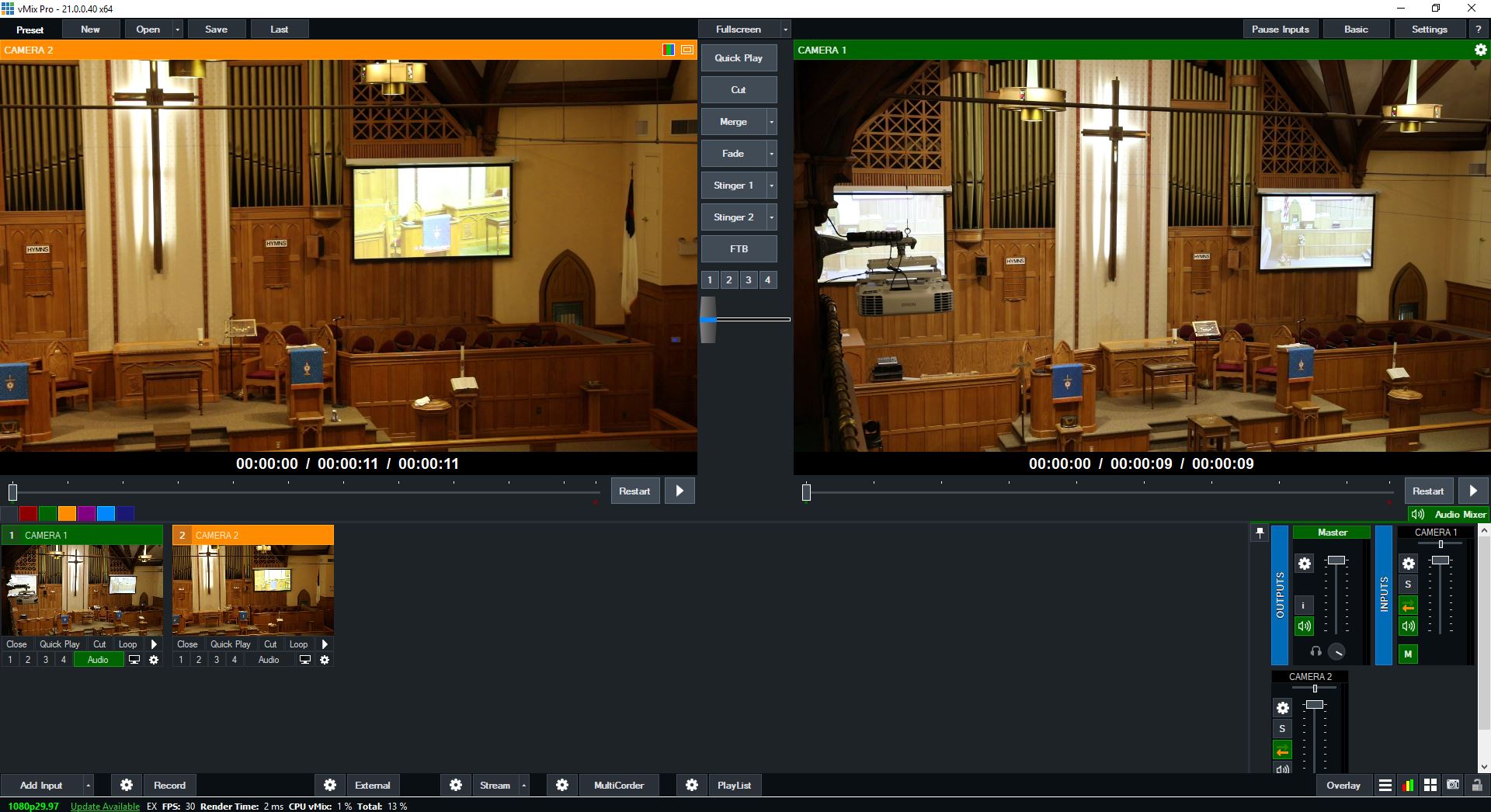 Video production can seem intimidating making it difficult to find and retain volunteers. Everything about the PTZOptics Producer Kit is designed for ease of use. The included 3D joystick controller makes easy work of controlling the cameras. Even better, it is simple to set up multiple presets. Volunteers can reposition the pan, tilt, and zoom to preset positions with just the push of a button. Quickly and easily switch the camera angles for sermons, scripture reading, baptisms, and more with one button. The included Intel Micro-PC has plenty of power to handle video production and live streaming to multiple platforms in 1080p. It comes with a 6th generation i7 processor, 32 GB Ram, 256 GB SSD, and Windows 10. This means one computer can handle camera switching, live streaming, and even presentation software like PowerPoint, ProPresenter, or EasyWorship.
While video production can take some learning, hear from Mike Givler who is a senior member of his church. Mike talks about how he is able to operate this live streaming system and how it engages the younger generation. The system actually allows for "gamers" as he says, to use a joystick in a familiar setting. The live streaming system has become a way to connect with shutins and members of the church who are traveling. But it has also been a way to connect with younger generations who are interested in operating the technology.
Compatible with Leading Software Packages
The Producer Kit works seamlessly with popular streaming and production software like OBS, xSplit, Wirecast, vMix, or the Livestream Studio. Find the right application for your needs and get your volunteers trained and ready in no time.  OBS or (Open Broadcaster Software) is one of the most popular live streaming software solutions. If you are interested in learning more about how to use OBS this free book may be of interest.
There are many routes to creating the perfect live streaming solution for your church. If you want to save the time and frustration of figuring it all out on your own and if you want a system that will make it easy for your volunteers to quickly gain confidence on Sunday mornings, consider the all in one package of the producer kit. Get everything you need for high-quality live streaming in one package.
[xyz-ihs snippet="Church-Blog"]