What is a PTZ Camera?
It's become a buzz word in the tech industry, but many people may not know what the term PTZ camera means. PTZ cameras are pan, tilt and zoom robotic video cameras that allow an operator to control the camera remotely. PTZ cameras can pan horizontally, tilt vertically and zoom in on a subject to enhance the image quality without digital pixelation. So in this article, we will answer the question: "What is a PTZ Camera?"
PTZ cameras are sought after solutions because they serve a variety of applications, including live video production, sports broadcasting, video conferencing, telemedicine and security. PTZOptics cameras, for example, can be used with SDI video production switchers, HDMI extension systems, IP video workflows or USB video conferencing.
PTZ cameras are designed for their specific applications. Many camera lines offer unique features, including the ability to pan, tilt, and zoom to a preset location, providing an easier workflow. Camera presets are generally stored on the camera and they can be recalled to robotically move the camera to a specific location. For example, preset one may be zoomed into a location on stage and preset two may be a wide-angle shot of a crowd. In this way, pan tilt zoom cameras allow camera operators to quickly recall multiple positions inside their space with ease. In this way, a single camera operator can control multiple cameras remotely. These PTZ cameras are often used in video production and educational scenarios.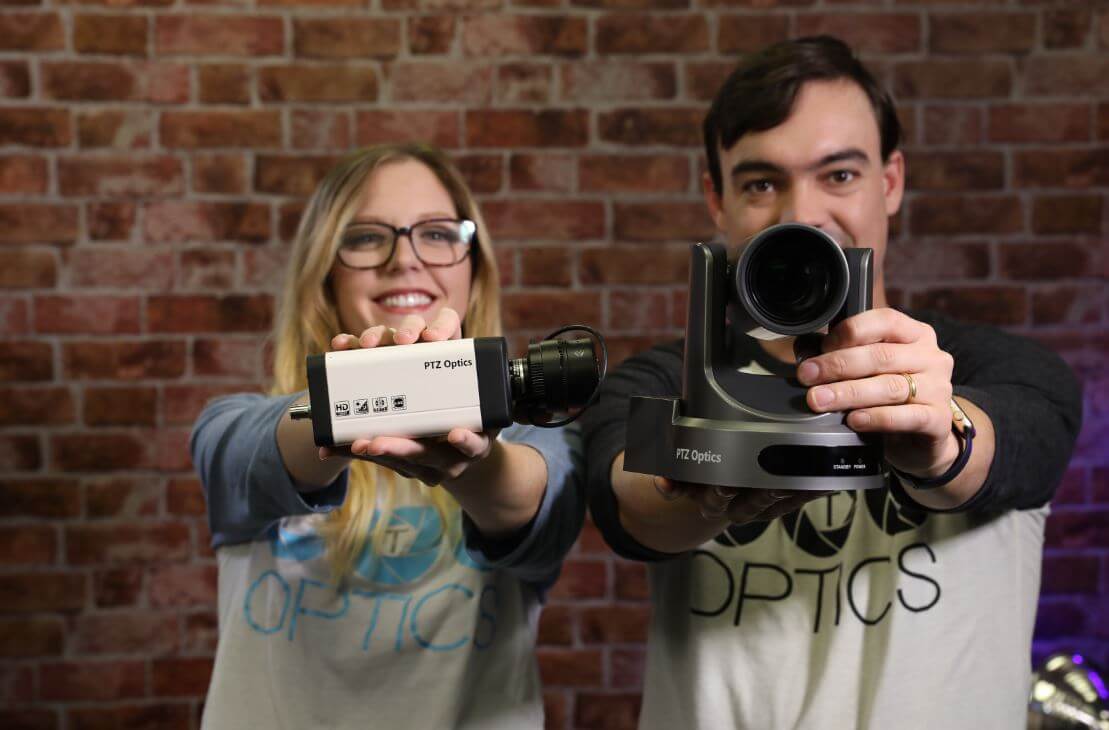 Other markets using PTZ cameras include:
Broadcast Television

Houses of Worship

Sporting and Event Production

Education: Distance Learning

Corporate Training
What about PTZ camera control? 
PTZ cameras can be controlled in a variety of ways including an IR remote, a joystick controller, and software. IR remote controls usually offer a limited set of basic features for controlling the camera and recalling presets. IR remote controls are easy to use for close-range camera control but generally do not work when the camera is mounted far away from the operator. Many PTZ cameras are mounted in locations that are far away from the camera operators such as a ceiling in a church, or across a school campus. Joystick controllers are generally connected to cameras in multiple ways include ethernet cabling and serial control cables. PTZOptics features options for joysticks with IP that can control any PTZOptics camera on a local area network or traditional serial controllers that can daisy-chain camera controls through direct connections to each camera.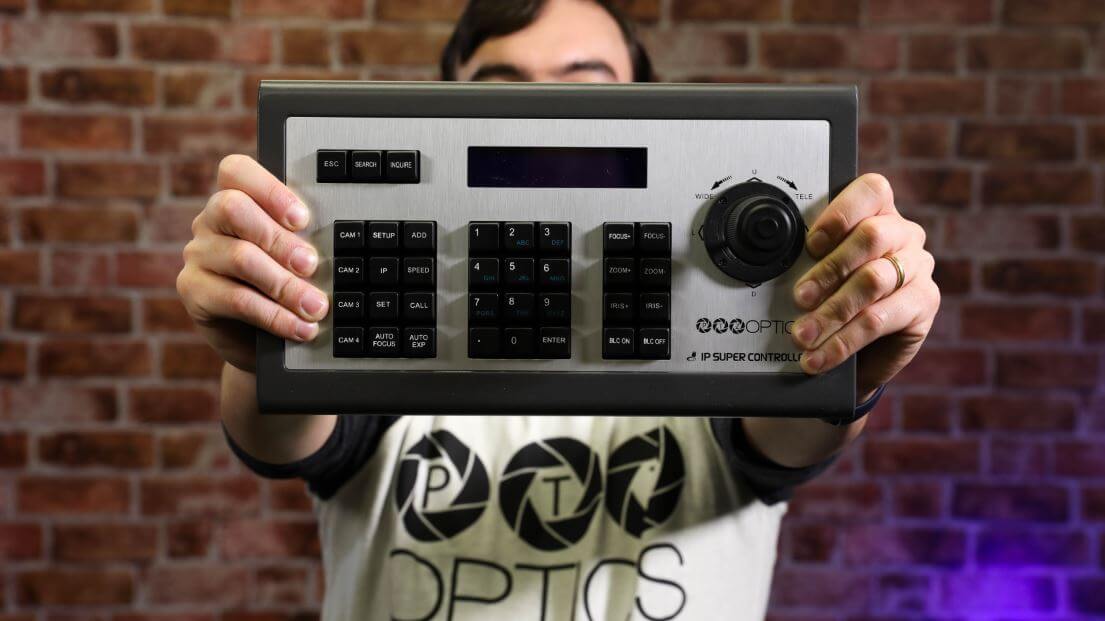 Software solutions for PTZ camera controls have certainly become much more popular in the past few years. PTZ camera can now be controlled with software such as OBS, vMix, Wirecast, TriCaster, MimoLive, and Livestream Studio. Each software solution tends to handle pan, tilt, zoom, and camera preset controls slightly differently but the benefit is generally the same. With PTZ camera controls built directly into video production software, the producer of a live stream no longer needs separate camera operators. With a couple of quick mouse clicks, PTZ cameras can be moving to known locations throughout a production space and even automated with triggers and advanced workflows. This type of camera control integration into software and hardware-based production systems allows smaller teams to produce high-quality content. 
What different types of PTZ cameras are there?
Most PTZ cameras are separated by their optical zoom and video output options. The most popular video outputs include SDI, HDMI, IP streaming, NDI, and USB. Let's review each video output and discuss their various uses. SDI is perhaps the most popular video output for PTZ cameras because of its durability, reliability and the ability to be run long distances. SDI cabling which stands for (Serial Digital Interface) features a locking connector that is used to securely connect the cable to your camera and your video production switcher or device. This cable is made of copper and uses standard BNC connectors on each end. SDI can send video and audio directly from cameras to devices and does not require any networking equipment. The plug and play nature of SDI has made this cable a favorite in video production. With the ability to send 3G (3 gigabits of data), 6G (6 gigabits of data) and even 12G (12 Gigabits of data) with these cables allow for resolutions up to 4K.
The next most popular video connection is HDMI. HDMI is popular because of its integration with almost every consumer device. HDMI is built into monitors and video switchers that are readily available almost everywhere. HDMI does support resolutions up to 4K but unlike SDI this cable can only reliably be run 50 feet without signal degradation. HDMI video production equipment is usually less expensive than SDI equipment. Therefore HDMI video switchers and systems are generally used for consumer or prosumer systems. While HDMI system cost less to purchase, they limit the length of cabling you can use between your camera and your production gear.
The next most popular cable connection for PTZ camera is Ethernet. Ethernet connectivity today can do more than just camera control. A single ethernet cable can now be used for low-latency IP video, camera control, and it can power your PTZ camera using a PoE (Power Over Ethernet) network switch. PTZOptics SDI cameras now feature PoE connectivity built-in and ethernet is generally used to replace the need for power supplies and outlets needed to be installed by electricians in remote locations. Because of IP video and ethernet technology is continuing to evolve, this cable has become the most important when it comes to innovation. A new video standard called NDI is now available in many PTZ cameras (NDI Cameras) which provides IP video connectivity with many of the most popular live-streaming solutions including Wirecast, vMix, TriCaster, Livestream Studio, MimoLive, and many more.
Finally, USB is a cable that is used for plug and play use with PTZ cameras. PTZOptics USB camera can provide video connectivity with any live streaming or video production software in the same way that you would connect a webcam to your laptop. USB can also be used for camera control using a protocol called UVC. While USB connectivity may seem like the easiest way to connect cameras to your computer, USB ports can have limited bandwidth to support high definition video. Most computers can only support one or two high definition cameras connected via USB for video production. USB cabling can also only be extended short distances. For these reasons USB cabling is only used when system only requires a small number of cameras that are located close to the source they are connected to.
What about mounting a PTZ camera?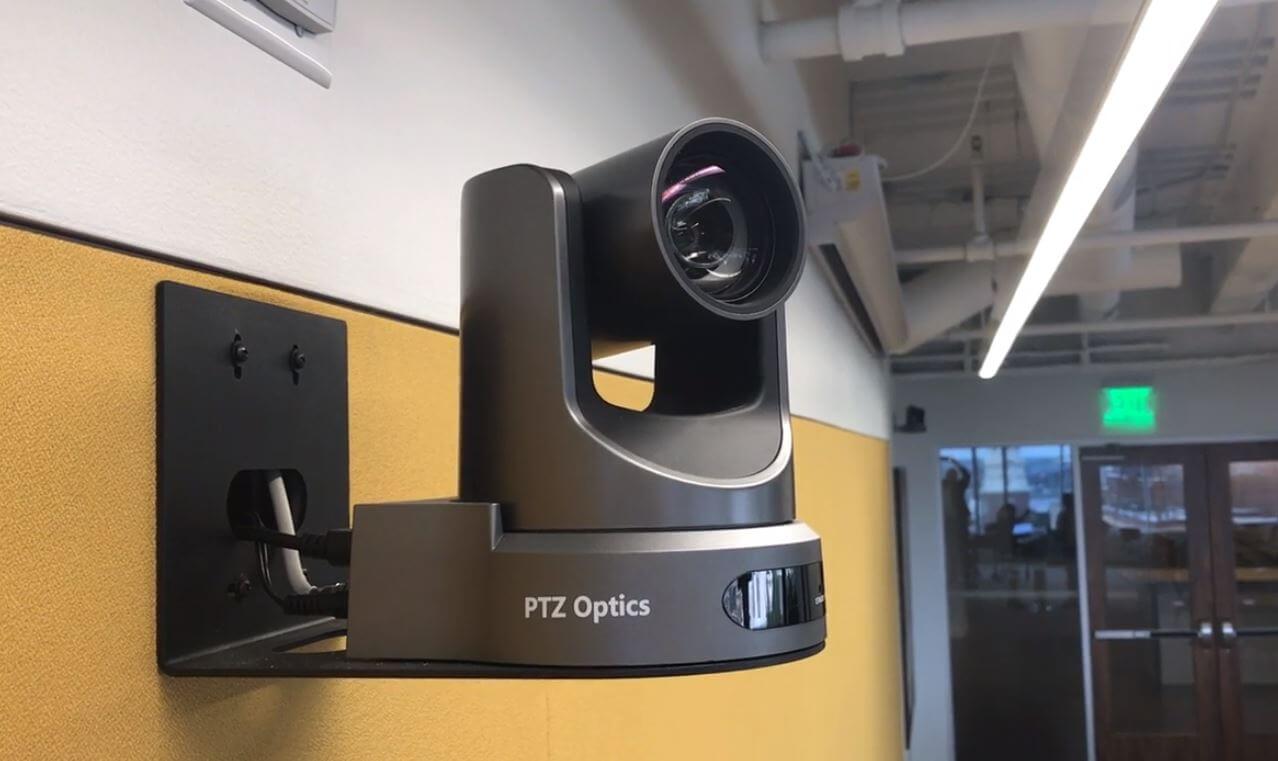 One of the big values of PTZ cameras are their size when compared to traditional over the shoulder broadcast cameras. Broadcast cameras generally require tripods and even platforms in production spaces. Each traditional broadcast camera platform not only takes up a large amount of space, but it also requires a cameraman. With PTZ cameras, a single camera operator can control multiple cameras, but more importantly, PTZ cameras can be placed in strategic locations that no camera operator could actually be safe. Here is a list of locations PTZ cameras are often installed in.
Wall Mounted

– Wall mounts can provide unique eye-level views or on positioned on a balcony to provide overviews of large spaces.

Ceiling Mounted

– Ceiling mounts can provide views from above, which can be used for showing documents or angled views of scenes.

Pole Mounted

– Pole mounts can be used to position the camera in places above crowds safely. A prime example is inside of a church with vaulted ceilings. In this scenario, a ceiling mount would be too high above but a pole mount can safely place the camera 10-15 fee below the vaulted ceilings. 
The ability to easily place PTZ cameras in unique locations is a major benefit to remote production teams who may have a central management location at the back of a church or production area. These areas can now remotely control cameras without the need for an intercom system which used to be used for communications with real cameramen. PTZ camera are also very small and discreet, so unique locations on walls, ceilings, and other balcony areas make them unobtrusive in almost any type of building.
What is ePTZ and how does ePTZ compare with true PTZ? – Read more about that here