Setting Pan and Tilt Limits for Live Streaming Sports
In this video, we are going to review how to set Pan and Tilt Limits for PTZOptics cameras. Setting Pan and Tilt limits are ideal for keeping up with moving objects where you know the boundaries your subject will stay inside. For example, fast-paced sports such as Basketball, Football, Soccer, or Volleyball can be much easier to track if you know that the camera will automatically stop panning at the end of the court or field. Other scenarios such as tracking a subject on stage, can also become much easier to perform if your PTZ camera operator is limited to stage itself. Pan, Tilt, Limits are a new feature available now enabled with the latest firmware in PTZOptics cameras. This feature eliminates camera operation mistakes and the possibility of overshooting the target you are tracking.
Note: You may need to update the firmware on your camera for this feature to work. Please reference the latest ptzoptics firmware changelog for more information.
Currently, PTZOptics cameras support Pan and Tilt Limit setup over IP. Therefore, you will need to have your camera setup on your network with a static IP address. Next, you will need to download the PTZOptics Camera Control software available on our downloads page at ptzoptics.com/downloads. Once you have downloaded and installed the PTZOptics Camera Control Software you can open it and take a look at the features. This software can control up to 8 cameras, provide images snapshots of presets for quick recall, and much more. 
Today we just need to connect to our camera and add pan/tilt limits. At the top of the application, click the settings dropdown and select Multi-Camera Settings. You simply need to enter the friendly name of your camera and a static IP address of your camera. Next click OK. Next, you can click your camera's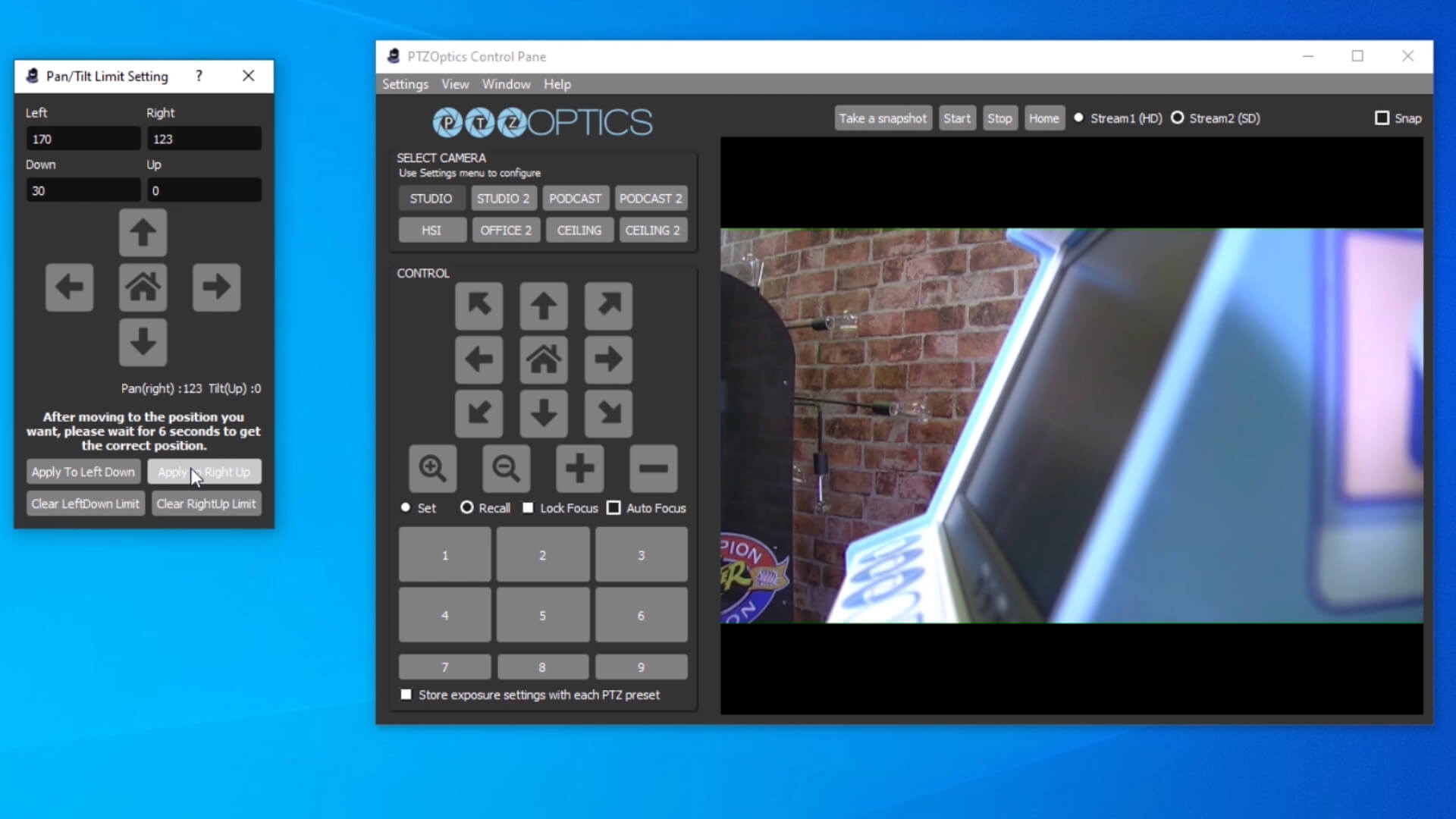 name to select it and take control with the control pad. To view, your cameras live video click the "Window" dropdown and click Preview Video. You can now click the snap option to snap this live video to the control panel or use this live video full screen on a secondary monitor. 
Now that we have full pan, tilt, and zoom controls of your camera it's time to set up the limits. Click the Settings drop-down menu and select "Pan/Tilt Limit Setting". The window that pops up will allow you to quickly set up the limits of your PTZ camera. All you have to do is pan to the limits you would like to set and click the Apply button for Left/Down or Right/Up. 
Note: After moving to the position you want, please wait for 6 seconds to get the correct position before clicking apply. If you ever want to clear your pan/tilt limits you can click the clear buttons in this application. 
That's it. We hope that you and your camera operators will benefit from this new PTZOptics camera feature. Don't forget to subscribe to our channel to learn more about remote PTZ camera operation. Nobody becomes a video production expert overnight, so follow along as we learn about the latest live streaming technique together! By