How to live stream a virtual graduation
Wow, what a time to be graduating from school. If rapid-change, a global pandemic, and social distancing weren't enough to through this year's graduating class a curve-ball, the virtual graduations certain were. On the bright-side, graduations are a time of growth, and so many students have been able to put a cap on their heads, and a short end to their online learning, to enjoy a time of celebration with a virtual graduation.
There is more than one way to live stream virtual graduation and almost none of them are easy. With that being said, this blog post should recognize the hard work volunteers, teachers, and professional companies put into producing virtual graduations. PTZOptics has recently hosted an hour-long live stream interviewing five professionals who have recently helped the schools they serve with their virtual graduations. In 2020, virtual graduations have become the "new normal." They have allowed schools to safely host graduation ceremonies while still practicing safe social distancing.

Three ways to host virtual graduation:
Live stream the entire event
Record the event and post as a premier
Record the event over multiple days, use video editing software to put it together, and post as a video
In previous years, many high school and college graduations were live streams in order to accommodate families and friends who could not make it physically to the event. This year, everyone was asked to stay home and watch the live stream. Therefore, most schools decided to record the video of their graduation ceremonies and put together a nice video they could premiere online. When you Premiere a video, it means that you upload a pre-recorded video and it is released as if it was a live stream. Therefore, there is a chat-room and a countdown timer. The event can then be viewed live in a watch-party style. A video premiere is a great option because it allows your school to edit out any dead-air or bloopers. It's also nice because the students can actually watch their graduation video happen from home.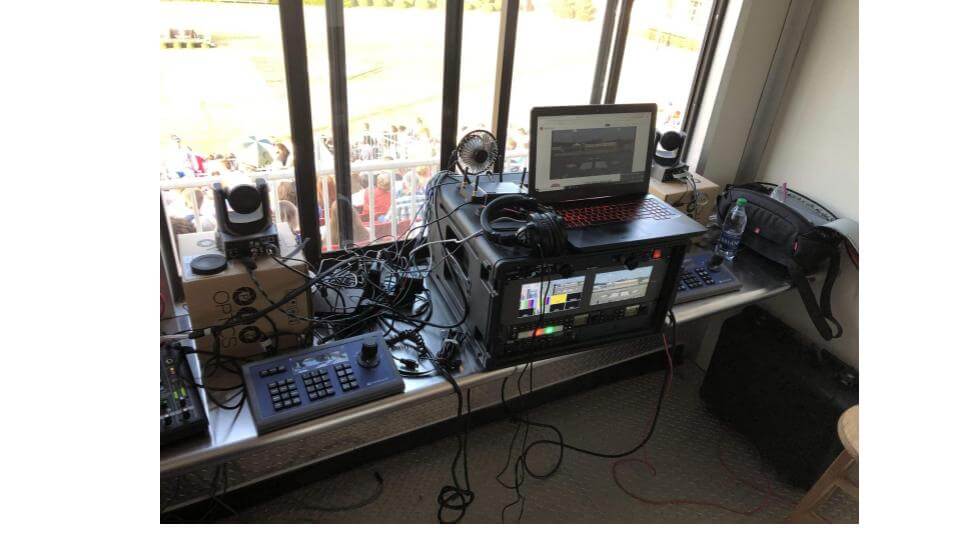 Tips for hosting a virtual graduation
Five video production experts have joined together to tell us advice on live streaming and hosting virtual graduations. The first tip is to prepare. You can actually save hundreds of hours of setup and post-production time by putting together a logical plan for your video production team. Drake and Julia Finney for example, from Havasu Online TV, spent hundreds of hours producing the videos for their virtual graduation that would eventually be premiered. This husband and wife team truly cared about the video they put together and wanted it to be a keepsake for the students to look back on in years to come. While the video production quality is superior when you spend more time, other school districts put together videos that were essentially recorded live and stitched together. Tom White from the Morgan County High School spent 16 hours setting up and recording his school's graduation ceremony over three days. The school decided to host the graduation over multiple days in order to maintain social distancing. Tom was able to stitch together the video footage from these three days into a video that would eventually be premiered on Facebook and YouTube in a little less than four hours of post-production.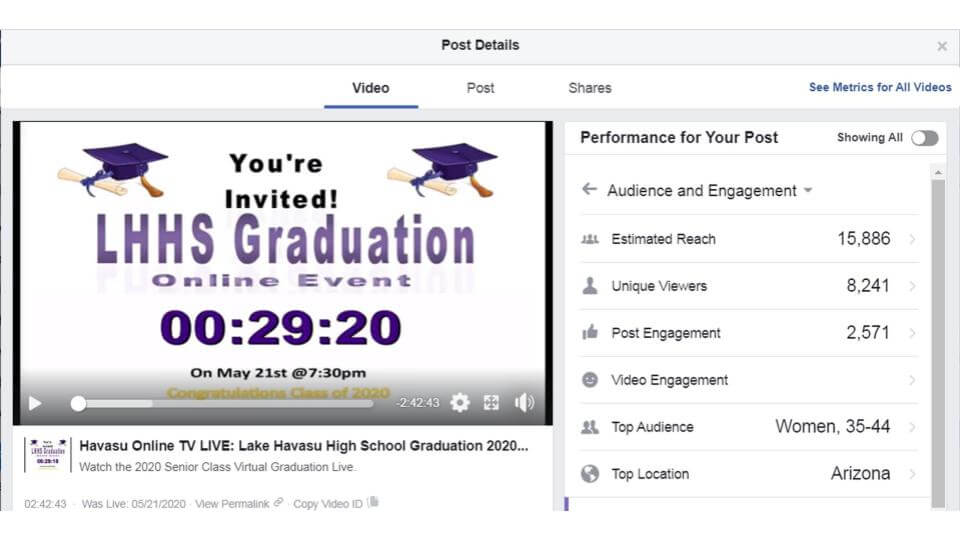 Summary
Download our free guide on how to host virtual graduations by filling out the form below. Our other experts share tips on ways to show overlays, student names, titles, and much more in ways that can save you time and create extra special videos for your next graduation. Whether your school's graduation is totally in-person or totally virtual, a live stream will help your preserve the video for years to come. Another tip shared with us by Dave Edwards of Worldwide Streaming Network is recording a high-quality video file while streaming as well. You see, the video footage can be recorded in high quality and streamed in a lower quality due to internet bandwidth restraints. With the recorded video you can edit out bloopers, add graphics, and upload the video in higher quality than your live stream. Also, if you are super-savvy you can manage all of the graphics while you are live streaming. This will save you tons of time in post-production. As always, you will get better with time. Consider taking one of our Udemy courses on video production to increase your skills in OBS, vMix, and other solutions.