In this week's live stream we reviewed how to use NDI the IP video production standard for an Esports tournament. If you haven't already heard, we are going to be hosting a Rocket Leauge Esports tournament in NYC at the StreamGeeks Summit. Esports tournaments can be complicated when it comes to audiovisuals. The entire event can be especially challenging if you are planning to live-stream the tournament to a content delivery network such as Twitch. At the StreamGeeks Summit, we will have multiple live streams going on simultaneous to our Esports tournament, so the NewTek NDI is very important in making everything work.
Here is a list of live RTMP streams we will have going on:
The Main Stage (Produced by a TriCaster TC1)
An IRL (In Real Life) stream with a LiveU Solo
The Esports Tournament (Student Run with Wirecast and OBS)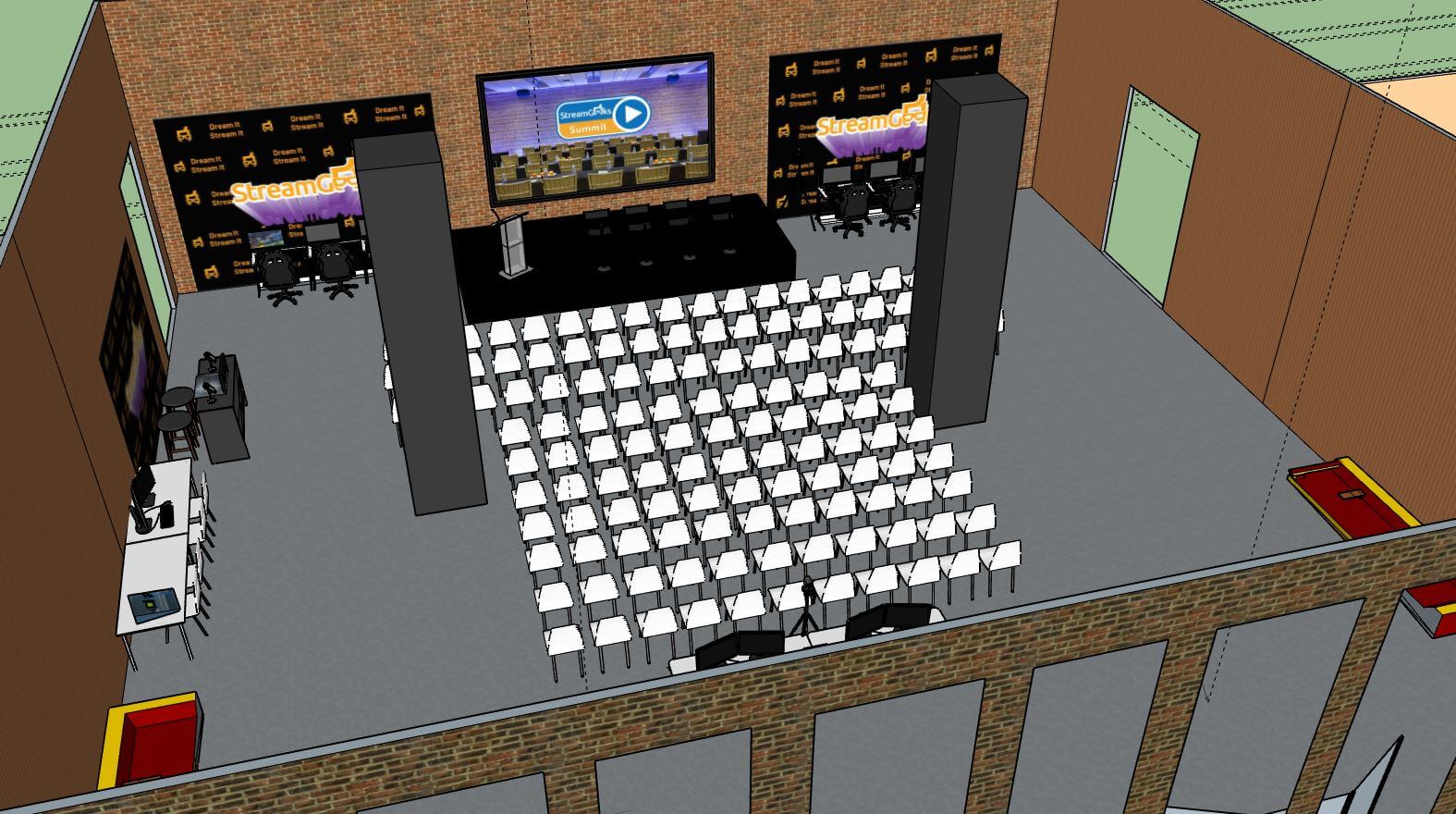 The main live stream
First of all, check out this 3D Google Sketchup drawing of the space so that you can grasp where everything is located inside our venue. As you can see there is the main stage with microphones and a projector. This area has its own live streaming setup with multiple PTZOptics NDI cameras capturing all the action on video. This setup uses a NewTek Tricaster TC1 with SDI camera connections and NDI HX video outputs as a backup. Our local area network setup (using Ubiquiti gigabit networking equipment) provides PoE (Power over Ethernet) to each camera. Each camera's ethernet connection is also used for control using pan, tilt, and zoom. This TriCaster system will be live streaming to Facebook, YouTube, and LinkedIn using a cloud-based restreaming service called EasyLive. This system will also include an IRL (In Real Life) perspective provided by a LiveU Solo that we can switch to during the presentation as needed.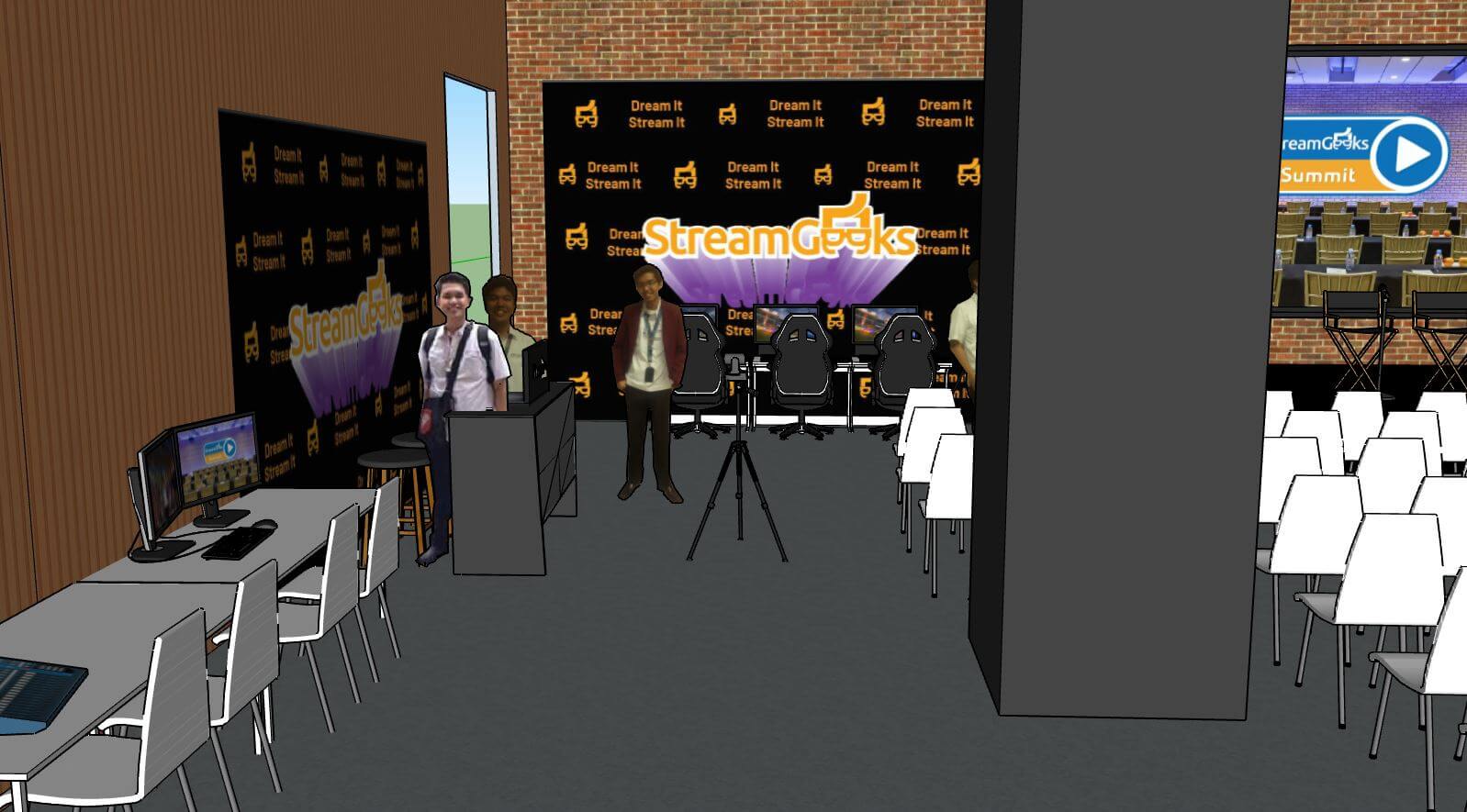 The Esports Live Stream
The next area of interest is the Student-run broadcast which is being live-streamed to Twitch. This broadcast will actually be covering the Esports tournament specifically. The Esports tournament is a 3 vs 3 Rocket League game which also includes an observer PC and an OBS (Open Broadcaster Software) video production machine. The students will be running a brand new Wirecast Gear which will be connected to multiple PTZOptics cameras via SDI and NDI. We will also have an OBS production computer which will be focused on the Esports game capture. Each Esports computer will be running OBS which will capture the gameplay screen and a PTZOptics Webcam. OBS will combine these two video sources (Gameplay + Webcam) and turn these into an NDI video stream available in 720p to any computer on our local area network. The observer PC will be able to show in-depth gameplay from any of the machines in 1080p by running the Rocket League client and joining the game as an observer. This observer PC will be connected to a Magewell Pro Capture HDMI to USB dongle which features a loop through option. This allows us to capture the observer PC directly into our OBS streaming PC as a webcam source and still provide an HDMI video source for our play by play announcers.
Note: We may also use NDI to capture the observer PC using NDI Scan Converter or OBS. The Magewell capture device can be used to reduce the network traffic coming into the Wirecast Gear as necessary. Each computer can only pull 750 megabits per second of video off the switch without congesting the overall throughput of our gigabit system.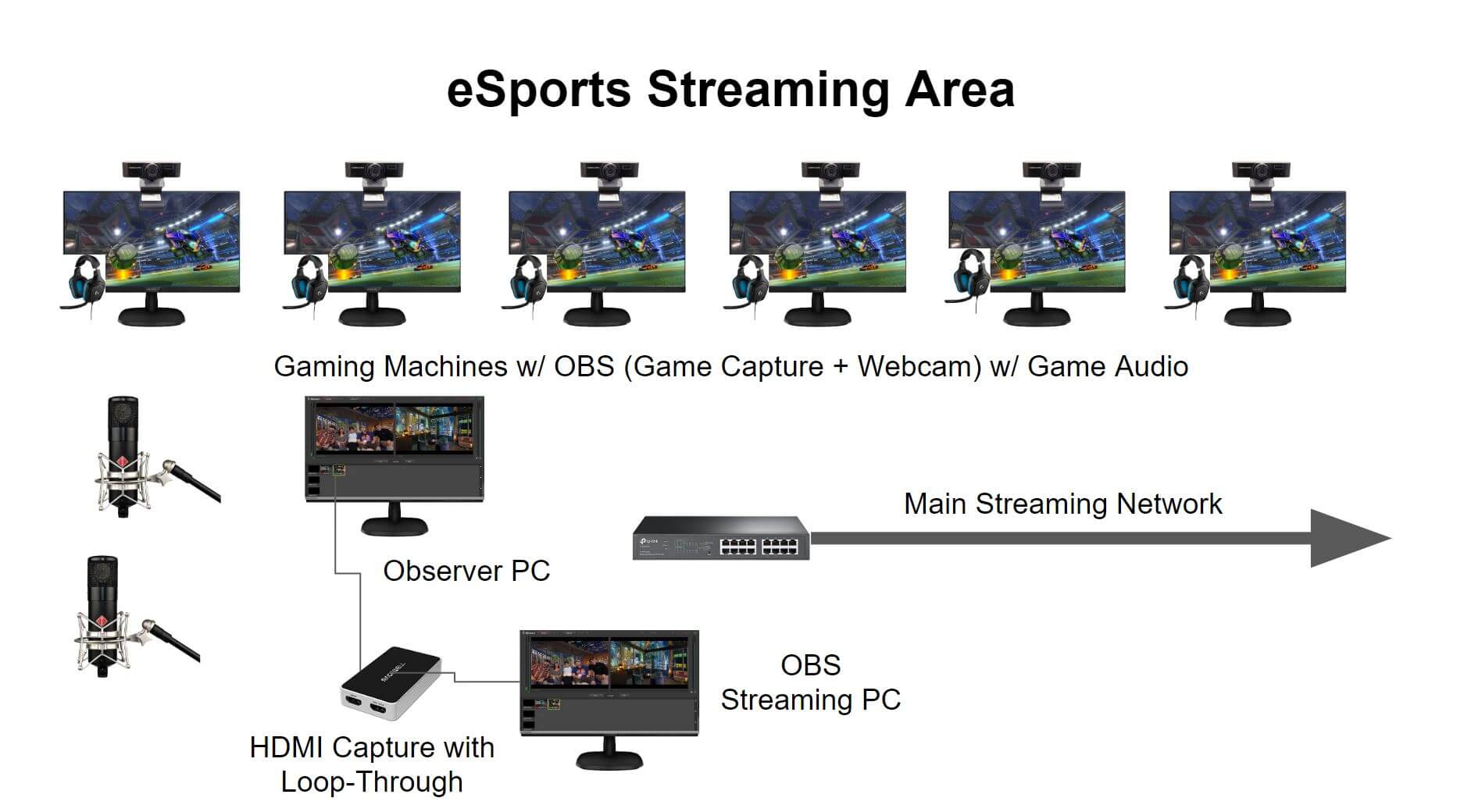 The Play by Play Announcers
Play by play announcers makes the live stream more exciting. Keeping with our student-run broadcast theme we will also have students from Hofstra University on camera and announcing. These announcers will be able to see the "Observer PC" and provide commentary on the gameplay. This audio will be captured with our USB audio interface and mixed into the production which will include the gameplay audio and the microphone pickup from our team microphones. Each team will have its own LAN (Local Area Network) connected TeamSpeak setup. Therefore each team will have USB headsets connected to quickly strategize and talk together. From a production stand-point, we will also have microphones available to capture the team's banter and cheering. Take a look at our audio setup in the following diagram to get a better grasp on the audio setup. Keep in mind that NDI video can also include audio and it will be used as optional audio inputs for our streaming systems. Each PTZOptics Webcam can provide 1080p video and audio into our NDI streams coming from each Esports computer.
As you can see the audio setup is not too complicated. We are using a Behringer USB audio mixer with six inputs. Two microphones for our play by play announcers, one microphone for each team and two audio inputs from the main house audio system. The main house audio system is being used for the on-stage panelist. At some point, as the Esports tournament wraps up we can switch to this audio feed and allow our presenters a chance to use the audio feed. Todd Conley from HighSchool.GG and Paul Richards will talk about the technology being used in this audiovisual setup during the second half of this Esports tournament live stream.
Wirecast and OBS working with LiveU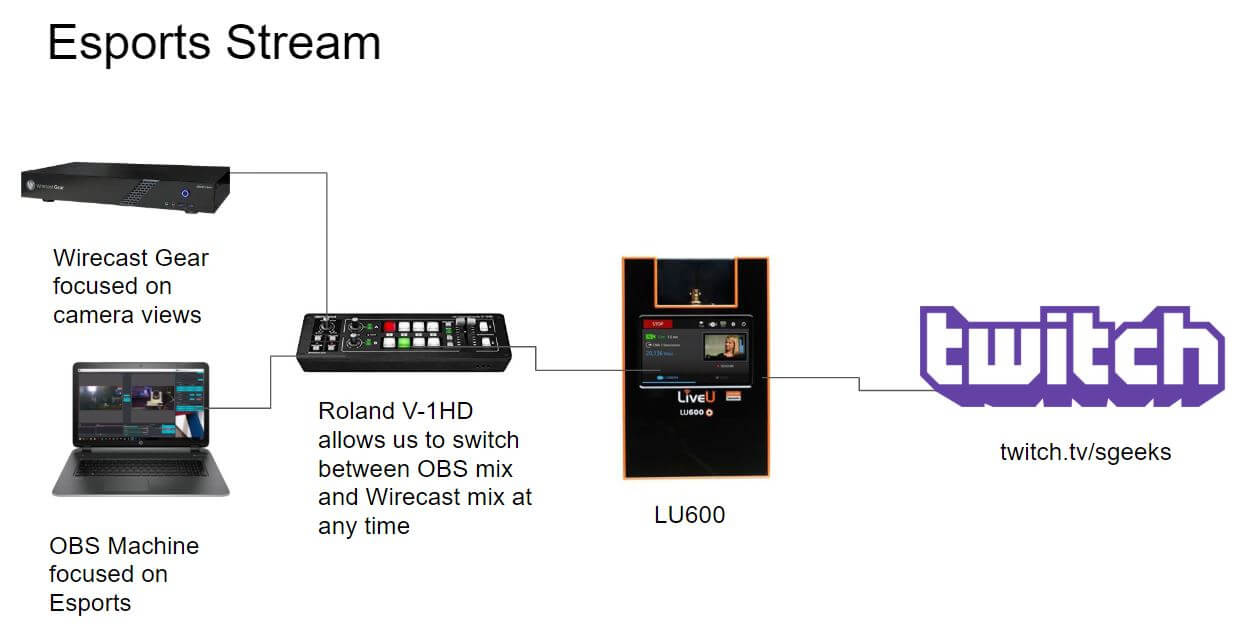 So we came up with a very interesting idea to use two video production systems in a single Twitch stream which leverages a LiveU streaming setup and a Roland video switcher. If you are unfamiliar with the LiveU LU600, this is a cellular bonding system that can send out high-quality RTMP video streams in remote locations. In our case, the LiveU LU600 is more reliable and affordable than the event venue (Dream Downtown Hotel in NYC) and therefore easier to work with. From a production standpoint, we will be connecting a Roland V-1HD to the LiveU LU600 which will allow us to seamlessly switch between the HDMI output of the Wirecast Gear and the OBS streaming setup. This is important because we can now have the students focus on the cameras and "In Real Life" production of the esports tournament. Then we can have the OBS production focus on the gameplay. This way we can have two producers working together like a DJ would have two records spinning that they can switch between. We can switch between either video feed at any time, or incorporate video outputs from either system into each. For example, the OBS production system could take the NDI video output from the Wirecast system and the Wirecast system can take the output of the OBS system. We also have the ability to switch the video output going to the LiveU and therefore Twitch instantaneously during the broadcast.
NDI IP Address Table Management
Finally, it's incredibly important to realize a few things about NDI. First of all, every computer will have the latest NDI 4.0 drivers installed. Next, it's always a good idea to create an IP management table that lists all devices you plan to use NDI with on your network. As you can see all of our PTZOptics NDI cameras are listed out with static IP addresses. Each camera has an IP address, a friendly name, and some notes to help our production experts know which cameras they have access to, how to access them, and finally who should take primary PTZ controls. As you can see, even though we have SDI cabling running to our Wirecast Gear and TriCaster systems, we are still giving each producer access to the IP addresses of the PTZ cameras. This way they can quickly choose a camera they would like to remotely control and confirm they have the correct camera by cross-referencing the NDI friendly names with our NDI IP address table. Furthermore, each live streaming computer system including the Wirecast Gear, TriCaster TC1 and OBS system has been given a static IP address as well. We are also, using a router with DHCP to manage additional equipment that we are connecting to our local area network. For example, each gaming PC will be set to DHCP and they will receive an IP address from our router. Since we are only sending out NDI video sources from these systems we do not require a static IP address.
With our PTZ cameras, we do need static IP addresses because we want to come prepared knowing the exact address needed to control each camera. In fact, we pre-label each camera with its friendly name and static IP address to make life even easier. A print out of this IP address table will be given to each production manager. If you have any additional questions about our Esports NDI streaming setup let us know! We love to receive questions via our Facebook page at https://facebook.com/ptzoptics.
Device
Friendly Name
IP Address
Notes:

PTZOptics 20X-SDI

Left Stage

192.168.1.90

Controlled by Tricaster TC1

PTZOptics

20X-SDI

Right Stage

192.168.1.91

Controlled by Tricaster TC1

PTZOptics

20X-SDI

Center Stage

192.168.1.92

Controlled by Tricaster TC1

PTZOptics

20X-SDI

Rear Stage Left

192.168.1.93

Controlled by Wirecast Gear

PTZOptics

12X-ZCAM

GAMER ZCAM

192.168.1.94

Controlled by Wirecast Gear

PTZOptics

12X-SDI

Rear Stage Right

192.168.1.95

Controlled by Wirecast Gear

Tricaster TC1

Main Stream PC

192.168.1.200

Main Broadcast Area

WIRECAST GEAR

ESports Stream

192.168.1.201

Student-run Broadcast Area

Observer PC

Rocket Leauge

192.168.1.202

Esports Area

NDI Arcade #1

Camera Operator

192.168.1.203

NDI Studio Monitor w/ Xbox controller

NDI Arcade #2

Camera Operator

192.168.1.204

NDI Studio Monitor w/ Xbox controller

Wolfvision Cynap

Presentation PC

192.168.1.205

Wireless Presentation & Annotation & CrowdPurr

OBS Production PC

Student Broadcast

DHCP

3 monitors + PC from helix

RocketLeague Observer PC #1

Client

DHCP

3 monitors + PC from helix

RocketLeauge PC #1

ESports

DHCP

1 monitor + PC from helix

RocketLeauge

PC

#2

ESports

DHCP

1 monitor + PC from helix

RocketLeauge

PC

#3

ESports

DHCP

1 monitor + PC from helix

RocketLeauge

PC

#4

ESports

DHCP

1 monitor + PC from helix

RocketLeauge

PC

#5

ESports

DHCP

1 monitor + PC from helix

RocketLeauge

PC

#6

ESports

DHCP

1 monitor + PC from helix