The State of Remote Education
Secondary schools, colleges, and universities are doing their best to adapt to remote learning. Educational professionals are following the stay-at-home orders mandated by governments throughout the world for the safety of students and educators. While some have executed this mission more fluidly than others, now is the time for all schools to assess their technology needs and plan for the future.
The State of Remote Learning
With remote learning likely here to stay in some form, adapting learning environments today will be critical to education. School administrators have been tasked with satisfying students and instructors with a better experience in the Fall semester of 2020. Online offerings should continue to enable equity of experience, regardless of a student's location. Rounding out that experience is the on-demand aspect that is at the forefront of today's learning environments.
Everyone knows that Covid19 completely shifted in-person education to fully remote. This had massive, worldwide implications for Higher Education and K-12. The changes have new implications for both students and teachers. 
Challenge

: Being ready for remote learning, access to technology, planning

Advantage

: On-demand access without fear of exposure to people during a pandemic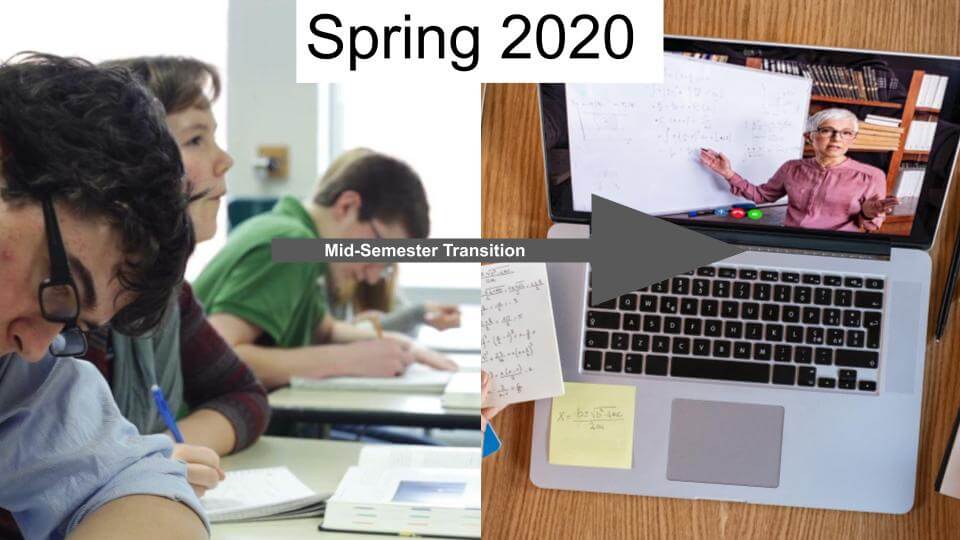 What's working with online learning?
Hybrid learning is giving students more opportunities to learn in many ways says Christine Hagedorn a professor at Rosemont College in Pennsylvania. Hagedorn says that she can tell her students are engaged with the online lectures, activities, and assignments by watching the amount of time they are spending interacting with the online learning content. Yet, with so much change going on in Higher Education Hagedorn noticed that every teacher was handling their online learning time with students differently. In fact, The Chronicle of Higher Education study finds that 70% of school administrators are investing in education for teachers specifically about online education.
Another teacher, Drake Finney from Lake Havasu High School who shared his insights during the "State of Remote Education 2020" live panel, said students are learning. There was a moment Drake shared with us about a mother who asked her son to stop watching his phone at the dinner table only to find that he was watching an online course. Drake has been using a green screen and virtual background setup for his Zoom calls with his high school students. Drake says the background is more than just fun to look at, it keeps the students engaged. Drake is also using the Google Classroom online setup to organize his courses. Drake says the online learning system from Google keeps everything organized for students. on
New study on the State of Remote Education
The Chronicle of Higher Education surveyed instructors on some of the challenges they faced shifting to a remote model. The statistics below help to illustrate some of the changes happening in higher education. 
More than 60% of instructors said students' lack of access to technology or wifi was a challenge to their remote teaching

Roughly 37% of instructors said they were challenged with technical obstacles, including being unfamiliar with learning platforms

More than 50% of instructors said they were challenged juggling work and personal needs
An Example look at Fall 2020
As an example, you can check out West Chester Universities latest announcement about the Fall 2020 return to class announcement. West Chester University is a state school in Pennsylvania. West Chester University has announced that it will resume classes in the fall starting early and transition to remote learning. 
All students and employees must wear face masks. 

On-campus fall classes will feature both in-person and remote components.

Transition to remote learning beginning Monday, November 30

th

Planning on transitioning all faculty office hours and student advising to remote interaction (i.e. Zoom meetings).

All non-instructional meetings among faculty, staff, and students will be conducted remotely (i.e. Zoom meetings).
Conclusion
In the presentation and live video recording available on this page, we look at the current state of remote education, including survey results from a recent Chronicle of Higher Education study. We'll discuss some of these trending topics and what schools will need to consider for the fall. Of the most important, enabling lectures to be both recorded and live-streamed will be key for students' accessibility on their own time frame.
Robotic tracking cameras such as HuddleCamHD's SimplTrack2 will allow instructors to focus on curriculum, while camera operation can be automatic. Similarly, PTZOptics cameras can allow lectures to be recorded and live-streamed with just one operator controlling the cameras via IR remote or joystick. With both camera brands being ready for network connectivity, schools' IT departments will find the workflow efficient and practical.
Just a few schools we're working with include the College of Education & Communications at Indiana University of Pennsylvania and Case Western Reserve University. IUP is using the HuddleCamHD SimplTrack2 as part of an advanced lecture capture audiovisual system. The University is using Zoom Video Conferencing software to connect their classrooms to the world allowing professors the ability to bring in remote guests and classroom participants.