PTZ Camera Control with Roland Video Switchers
Control These Roland Video Switchers
In this video, you will learn how to set up the Elgato StreamDeck to control PTZOptics cameras and Roland HD Video Switchers. This will work with any network connected PTZOptics camera and any Roland V-600HD, V-60HD, VP-42H, XS-62S, or XS-84H. You can also integrate controls with many software video production systems that you may be using such as vMix, OBS, ProPresenter and much more. 
Setup Process
You will need a couple things to get all of this working. You will of course need a PTZOptics camera and one of the Roland Switchers that are compatible with the Elgato StreamDeck and the Companion Add on Software. You will also need an Elgato StreamDeck connected to a computer running the Companion Software which is used for connecting to the PTZOptics cameras, Roland Switchers and Elgato StreamDeck. 
Start by connecting your PTZOptics camera and Roland Video Switchers to the same local area network as your computer. You will want your PTZOptics camera and Roland Video Switch to have IP addresses on the same range. In this demonstration our PTZOptics camera has the IP address of 192.168.1.67 and our Roland Video Switcher has the IP address of 192.168.1.199. These IP addresses are used by the Bitfocus Companion App to communicate to each device. Next plug your Elgato streamdeck into your computer using the USB 2.0 cable. Next download the Bitfocus Companion App here –https://bitfocus.io/companion/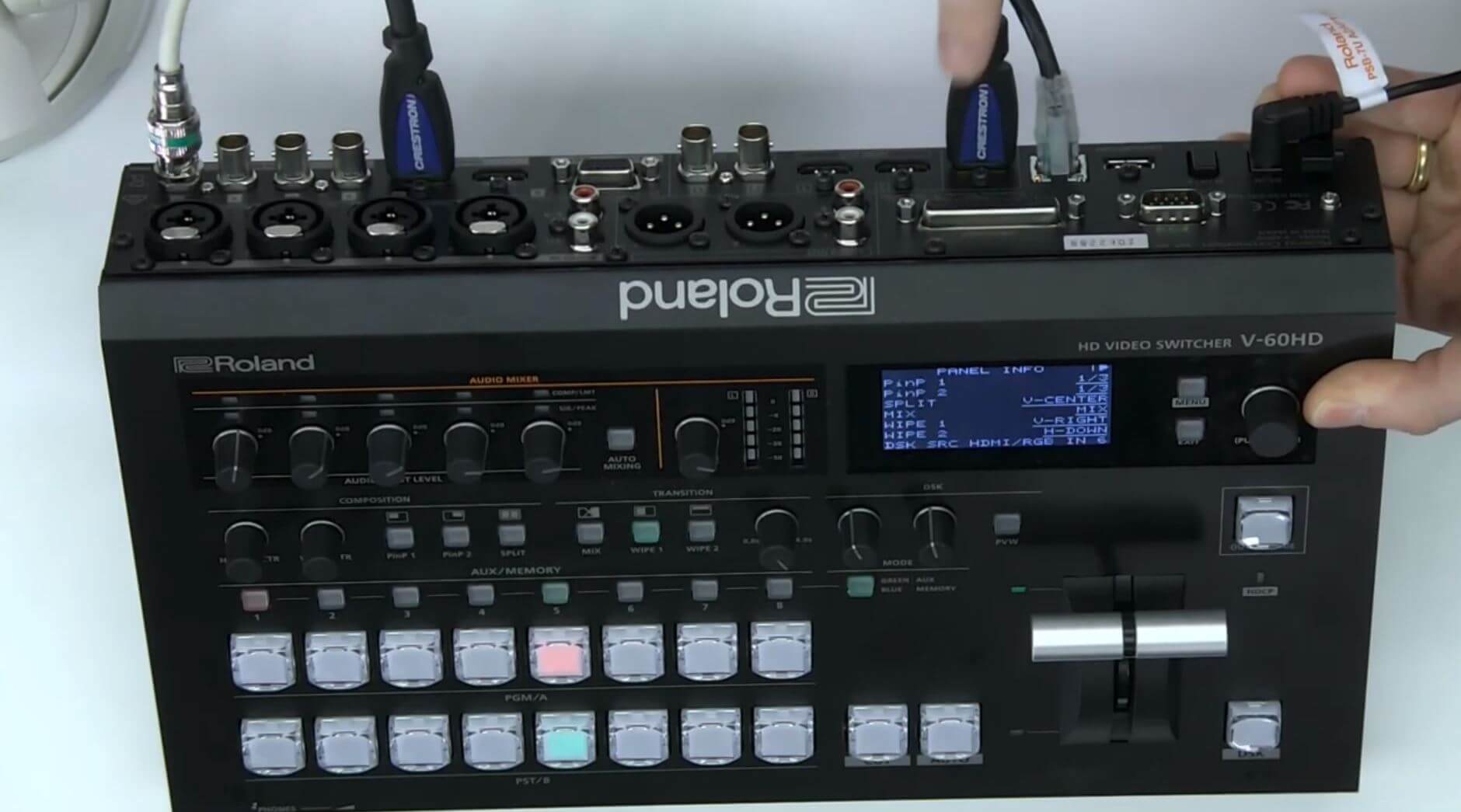 Once you have downloaded Bitfocus Companion you can launch the GUI. The GUI will allow you to select your Roland Video Switcher. Go ahead and enter your switchers IP address into Companion. Next add your PTZOptics camera and enter the IP address. If you have multiple cameras you can continue to add more cameras with unique IP addresses. 
Now for the fun part. You can select the buttons tab to start customizing your button controller to operate your PTZ cameras and Roland Video Switcher. Let's start with simple Up/Down/Left/Right pan tilt and zoom commands. Start by selecting one of the Elgato StreamDeck Buttons. From the dropdown menu for the Key Down Section select visca: Tilt Up. Then from Key Up section select visca: P/T Stop.
You can do this for each button that you want to control for Pan and Tilt up, down, left and right. Next let's program some buttons to control the Roland Video Switcher. On the right hand side you can select a button to add a preview button. Select "v-60hd: Select channel for preset video (PST/PVW)". By the way, you can use the "set button style" drop down to add PNG files or simply enter text for these buttons. Next let's enter a program out button. Select your next button and use "v-60hd: Select channel for final video output (PGM)".
So you can use this setup to control your Roland Switch and PTZ cameras very easily from any computer on your network. This is a great way to make video camera controls and video switching easier for volunteers. 
Check out our more in-depth video on Elgato StreamDeck Camera Controls at the link below. Enjoy and don't forget to subscribe. You won't become a video production overnight and checking out the videos we produce may help you on your journey. Bye!