PTZ Camera Control Software
Having robust, consistent, and reliable control over your PTZ camera setup is just one of the many things that live streamers look for in an app. PTZOptics Camera Control App could be the answer to that issue and it's finally been released out of BETA.
PTZ Camera Control Software
The PTZOptics Camera Control App originally started out as a beta project among users of the PTZOptics Facebook group and its features and functionalities have largely grown out of that origin. Some of the key features created by the developers include the ability to control up to 8 cameras simultaneously over an IP or USB connection to a PTZ camera.
Application Camera Controls
Users can control cameras via the included compact remote, a Microsoft Xbox controller, or using hotkeys in what is one of the most varied and robust selections of inputs around. In compact mode, users can control up to 8 cameras with presets and image preview functionalities all within a small windowed unit on your screen. In "Advanced mode," users can select camera pan, tilt, and zoom speeds. Exposure, luminance, and white balance settings are available for color matching multiple cameras for a live video production system. In fact, they recommend that you use the advanced OSD controls to permanently store your camera settings. The settings area includes the interface for up to 8 PTZOptics cameras that can be "discovered" via their static IP address or a user-specified customized name.
Available for Mac and Windows
So far, only the Windows version of the app supports camera control over USB. You can control a camera by selecting it from a list of available cameras. The "Additional Input Settings" area of the app allows you to access your Xbox controller as well as hotkey input settings. A dynamic "live preview" mode includes the ability to view the video in either SD or HD depending on whether or not your need to save bandwidth. You can take the preview feed to a full-screen view at any time.
Simple PTZ camera controls
One new feature that the developers are proud of and which is still somewhat in beta is the panorama feature. This allows users to link cameras together, each with their own individual presets, for a coordinated functionality that makes the Camera Control app one of a kind. This feature is being developed with convenience and ease of use in mind. It is intended to make panoramic productions easy and high-quality on a consistent and reliable basis.
By allowing quick access to presets as well as robust previews of camera views, this is a powerful and soon-to-be indispensable tool in the producer's set. Image preview map settings can be displayed to the user via a custom file or a live feed depending on what works best.
You can not only customize the thumbnails for each, but also the names for the 9 presets. Because the app is still in a beta stance, many features are being added and changed all of the time. Primary frontline support for users of the Camera Control App can be found back on the Facebook group where it started in the PTZOptics Pals group. While some people might be wary of using an app in beta, the promise of constant refinement – and addition – of features should keep this app relevant.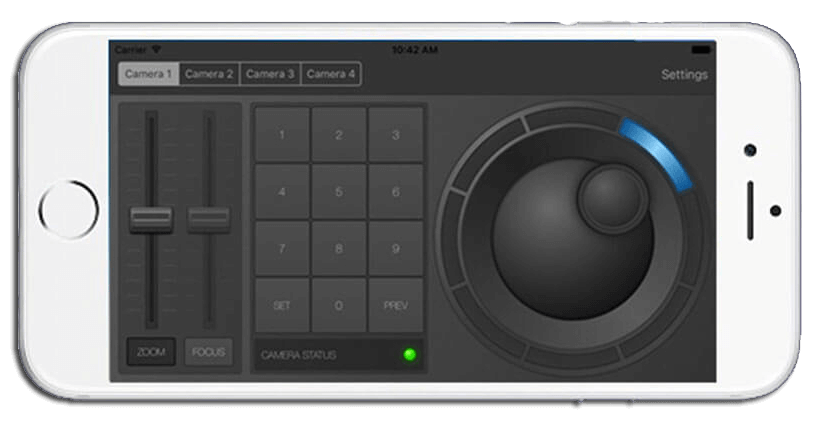 What about Smartphones?
PTZOptics cameras can also be control by almost any smartphone including iOS, Android and Kindle devices. You can learn more about those applications here. Smartphone applications for PTZ camera controls allow you to use a WiFi connection to wirelessly control your camera. This is a great way to extend camera controls to places that you cannot run a cable to. This type of PTZ camera control does require a network connected camera. So think about running an ethernet cable to your camera and setting up a static IP address.
[xyz-ihs snippet="Camera-Control-Software"]