PTZOptics OBS Plugin
Control Cameras, Integrate Hotkeys, and much more!
Download Here



OBS Plugin Guide OBS Dockable Modules Guide
Note: You must have the most up to date firmware to use these apps
You can check to see if your camera is running the latest (v6.2.50 or later) version of our firmware. You can download the latest firmware here
PTZOptics OBS Plugin & Dockable Controllers
About the OBS Plugin:
Download the PTZOptics camera control applications available for both Mac or PC here (An OBS plugin is also available) for Open Broadcaster Software on Windows machines. These stand alone PTZ camera control applications have the following features:
Control up to 8 PTZOptics cameras over an IP connection (LAN)
xBox Joystick Controller Support (PC Only)
Compact, Advanced and Preview Modes
Live Video Preview Mode with automatic camera switching (Windows Only)
Full Screen Camera Preview Modes (SD & HD Options for bandwidth conservation) (Windows Only)
Name each unique camera
Set up to 9 camera presets
Name each unique preset & capture image representations
Pan, Tilt and Zoom Speeds
Pan & Tilt Speed Locks
Iris Controls
Focus Controls (With Focus Speed)
Selectable exposure modes (Auto, Manual, SAE, AAE, and Brightness)
Advanced image controls for Contrast, Luminance, and Hue
Select between exposure modes
Flip and Mirror camera image
On Screen Display Controls
Real-time reporting of camera options status
About the Dockable Controllers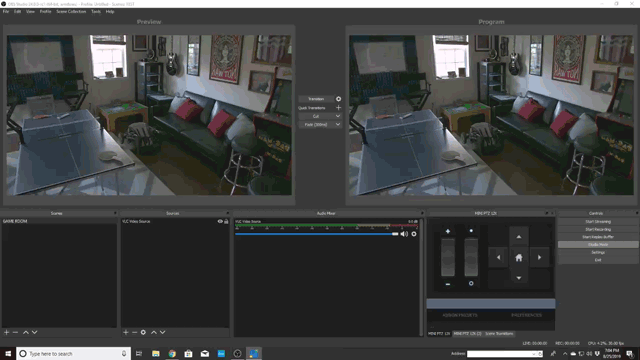 Using versions of OBS 24.0 and newer you can set up dockable PTZ camera controls inside of your OBS interface. Once you have downloaded the latest 24.0 (or greater) version of OBS, you can install it and find a new feature for "Custom Browser Docks".
The new feature used to create custom dockable PTZ camera controllers are called "Custom Browser Docks" and it can be found under the main "View" dropdown menu nested in the "Docks" area. You can download our pre-designed PTZ camera control modules for use with OBS or customize your own with the downloads on this page.