How I Choose Cameras for Live Streaming at my Church [Guest Post – by Will Rice]
How I Choose Cameras for Live Streaming at First UMC Boerne
I tend to spend more time these days writing about church technology than installing it. However, when my friends at First UMC, Boerne, Texas, asked for some help, I decided to lend a hand. Like many churches, when the pandemic forced them to move services online, they were looking to upgrade their live streaming capabilities. Previously, they were streaming to Facebook Live from an iPod. It worked, but it wasn't enough when suddenly everyone would be joining worship online. They moved to pre-recording services with a camcorder but wanted a long-term, scalable solution that would allow for live streaming and recording.
Making the Shift – Online Worship + In Person Worship https://t.co/TzxlqOvAeF pic.twitter.com/gpEIxktXsY

— Will Rice (@pastorwill) July 2, 2020
Assessing the Need
They didn't really know where to start, so I asked a number of questions about what they were trying to achieve, what they had in mind for the budget, and what concerns they had. They shared some examples of what other churches were doing and explained what they liked and didn't like. 
I could tell that they wanted something broadcast quality with multiple cameras. They had a reasonable budget in mind, but like with most churches, they needed to keep costs down. 
Their main concern was about volunteers. We still have no idea how long it will be before people are in the building on Sunday morning, so they need something that can be run with as few people as possible. They also needed me to know that most of their volunteers weren't technologically savvy, so simplicity was key.
Another concern was aesthetics. They have a beautiful sanctuary and have done an excellent job over the years of installing projectors, screens, and speakers in ways that don't detract from the aesthetics of the room. 
The Obvious Choice
I have worked with many different setups for church live streaming, from single-camera rigs to three-camera installations with live operators and wireless headsets for communicating with the director. Their vision, budget, and concerns actually made the camera decision pretty clear. They wanted it to look great, be affordable, be easy to operate with as little as one operator, and not detract from the beauty of the space. 
PTZ cameras seemed like an obvious choice. They are small enough to be easily kept out of view and can be operated remotely, eliminating the need for multiple camera operators.
Once I had settled on a form factor, my next thought was choosing the right PTZ cameras. There were three issues at play in my decision, zoom level, connections, and price.
Zoom Level
This church has a balcony that is 60 feet away from most of the worship activities on their chancel. I did the math to determine that it would take 20X zoom to get head and shoulders shots from cameras mounted at the front of the balcony. Fully zoomed out, these cameras would still be able to get a nice wide shot of the entire sanctuary.
Connections
In traditional church buildings, cabling can be the trickiest part of a live stream setup. With any camera, you need to think about getting power to the camera, and video from the camera. With PTZ cameras, you also need a connection for controlling the pan, tilt, zoom, and focus. For this installation, I chose PTZOptics SDI cameras due to the flexibility they offer in terms of connections. 
My original plan was to use SDI cables for video, and ethernet for power and camera control. The PTZ Optics SDI cameras offer three simultaneous video outputs, SDI, HDMI, and RTSP/RTMP over ethernet. I felt a lot better with cameras with that type of flexibility since things at church are always changing. Once I received and set up the cameras, I decided to go with a single cable installation to handle video, control, and power over ethernet. But still, if things change, I can power these cameras from the included power adapter and control them using the included remote or app. I can also still connect them to my streaming computer via SDI or HDMI.
Price
It is a strange time for many churches. The COVID-19 pandemic has caused so many churches to move to online only. For a lot of them, this has negatively impacted giving at the same time that they need to invest in new resources for online worship. I am really thankful for the PTZOptics cameras. You really can't find the broadcast quality and versatility anywhere else in this price range.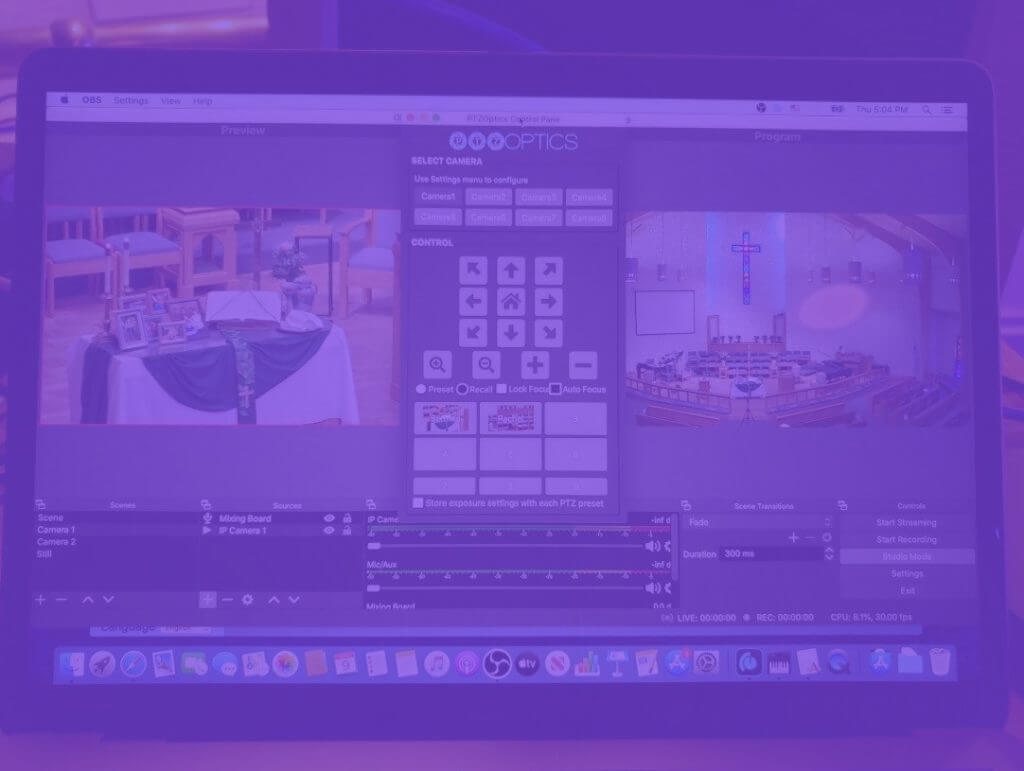 Next Steps
Once the two PTZOptics SDI 20X cameras were in place, it was time to set up the rest of the system. I will talk about some of the next steps, including the choice of OBS and the integration of RSTP and camera control in the next post.
Testing a new live stream setup with two @ptzoptics cameras and @OBSProject pic.twitter.com/fz6nQLIhyy

— Will Rice (@pastorwill) July 9, 2020