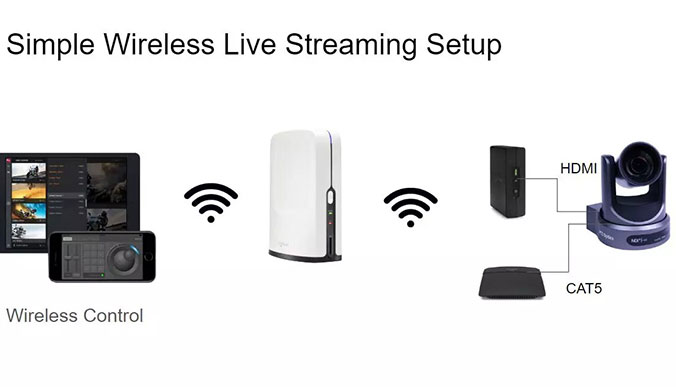 Setting Up The Sling Studio
With A Ptzoptics Camera
In this video, the PTZOptics team confirms compatibility with the Sling Studio Wireless Live Streaming System. We demonstrate how to live stream with the Sling Studio and PTZOptics cameras with a completely wireless setup (except for power which we cover in our blog post). The wireless Sling Studio Camera Link and WiFi Router used in our demonstration provide wireless video and wireless PTZ camera controls. This system is an easy to use live streaming setup on its own but remember there's still LiveU Solo! The LiveU Solo unit uses wireless cellular bonding technology to broadcast from any location with a cellular signal with reliable bandwidth strengths.
Setting up the Sling Studio with our PTZOptics cameras was incredibly easy! The Wireless Camera Links used with the Sling Studio allowed broadcasters to place cameras with a wireless range of up to 300 feet outdoors. This is a great way to place PTZ cameras in remote locations and allow pull the feeds into a single broadcast for video production and live streaming. For PTZ camera control we used the PanTiltZoom app available on iOS or Android (shown with iOS). This app can connect to the PTZOptics cameras for advanced camera controls wirelessly over a LAN (Local Area Network) created by our WiFi Router.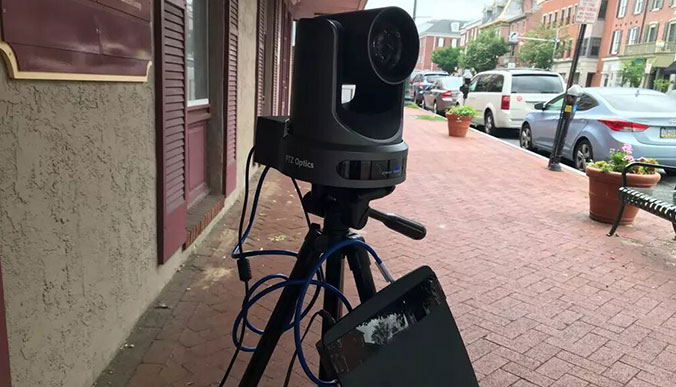 The Wifi Networking For Wireless Camera Control
Wireless PTZ Camera Sling Studio
In our video, we have our PTZOptics camera connected via HDMI to the Sling Studio Camera Link. This link provides a wireless connection for video but no PTZ camera controls. Using a standard WiFi router is quite easy but if it's your first time let's review some of the basic networking knowledge. First,  you can buy 3 in 1 WiFi routers to act as routers, access points, and WiFi extenders. Every local area network should have a network router and this router, set to DCHP by default, is what assigns all of the devices on your network IP addresses.  This affordable WiFi router can manage the connection from your PTZOptics camera and wireless or hardwired devices. With multiple PTZOptics cameras, plug each one into a wireless network switch or router with available Ethernet ports. Then, connect your iOS, Android, Mac, or PC computer to the wireless network to cameras wirelessly.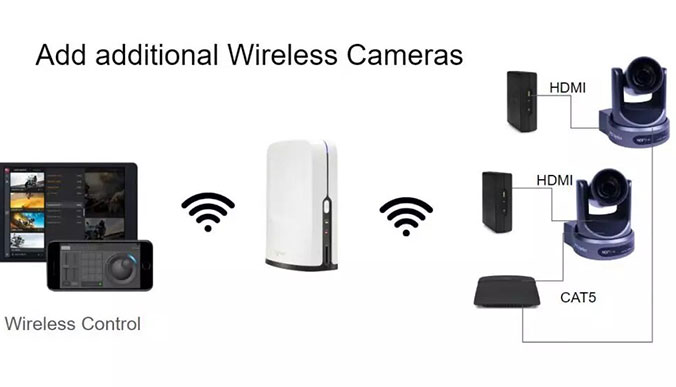 Going Completely Wireless With
Cellular Bonding From Liveu
Using Multiple Cameras with Sling Studio
What's the point of all of this wireless technology if we can't take it where we need to go?  The LiveU Solo is the perfect product to pair with the Sling Studio because it takes a simple HDMI output from the Sling Studio and uses a best-in-industry cellular bonding technology to stream to just about any RTMP location. RTMP is the live streaming protocol used to send video and audio to CDNs (Content Delivery Networks) like YouTube and Facebook. LiveU Solo lets broadcasters live stream from just about any remote location and it provides Sling Studio users a great way to connect with their audiences in unique locations.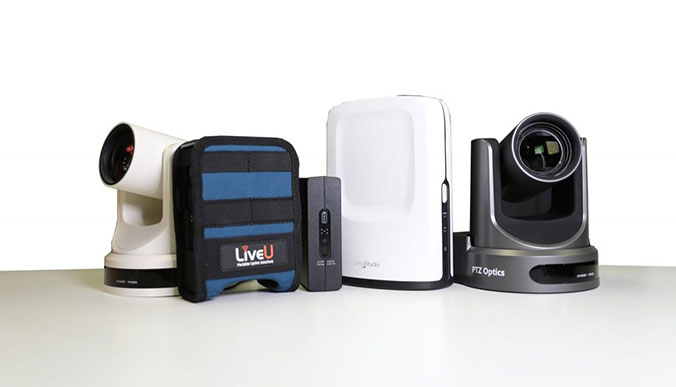 Conclusion
Sling Studio, LiveU, PTZOptics
Using PTZOptics cameras with the Sling Studio is a home run! Adding the LiveU Solo makes broadcasting from any remote location a reality. Put these technologies together to open the doors to video production and live streaming around the world. The only thing we didn't explore is power requirements. The LiveU Solo and Sling Studio both have options for battery-powered operation but the PTZOptics cameras do require either PoE (Power Over Ethernet) or a power supply.  If you plan to go completely wireless you can consider bringing an auxiliary portable battery to power your WiFi router and PTZOptics cameras. We demonstrate this setup in another YouTube video here: https://www.youtube.com/watch?v=7U4g7I6_kaU
Download more information about this camera integration at https://ptzoptics.com/sling
More on Affordable Live Streaming Systems
More on Live Streaming Studio Setups with PTZ cameras