Beyond the Classroom: How Schools are Bringing Live Productions to the Community
As technology continues to evolve and become more accessible, schools are finding new ways to engage with their communities beyond the traditional classroom setting. One exciting trend in recent years has been the use of live production technology to bring school events and performances to audiences both inside and outside the school. With high-quality audio and video equipment, schools can now produce professional-level broadcasts of concerts, plays, sporting events, and other performances that allow remote viewers to experience the excitement of these events in real time.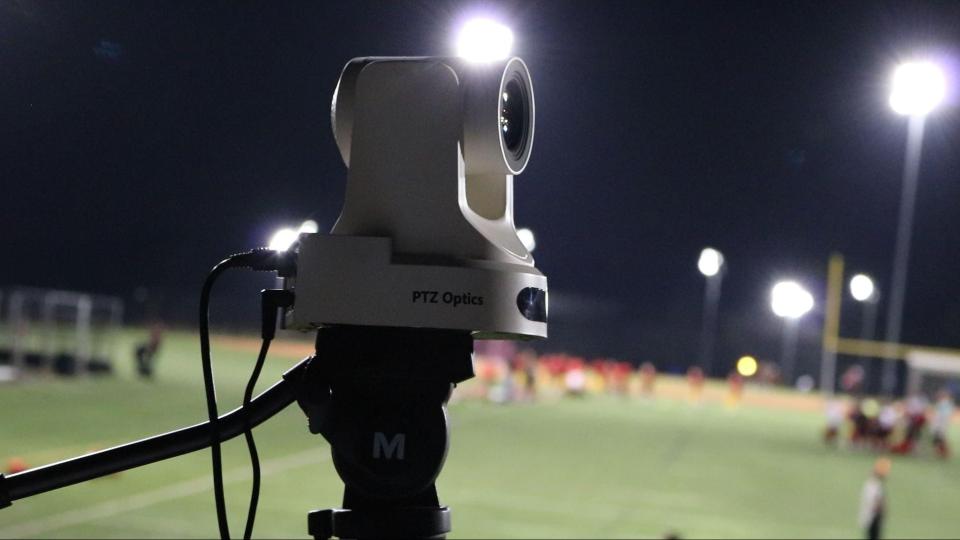 This approach not only enhances community engagement but also provides valuable learning opportunities for students interested in broadcasting, media production, and related fields. In this article, we will explore some of the ways that schools are using live production technology to bring their events beyond the classroom and into the wider community.
Here is a list of educational spaces discuss in our blog post:
Video Services Lab or Broadcast Media Room

Uses include broadcasting school board meetings and community events. Often used for student-run morning broadcasts. In higher education, these spaces are used for intern meetings and career building.

Production Studios

Uses include student training in the broadcast club. Video creation for student and teacher projects.

Staged Auditoriums

Uses include theatrical performances are often recorded and broadcast in stage areas. School presentations and town halls are often recorded and live-streamed for remote students and parent viewing.

School Sports

Uses include recording videos for students and coaches to use to improve sports analytics. Broadcasting school sports for parents to watch from home, especially for away games.
Video Services Lab and Broadcast Media Rooms
Educational spaces known as Video Services Labs or Broadcast Media Rooms are becoming increasingly popular in primary and secondary schools, as well as higher education institutions. These audio-visual (AV) labs provide a space for students to learn about video production and broadcasting while also serving practical purposes such as broadcasting school board meetings and community events. In higher education, these spaces are being utilized for presenting research materials, conducting intern meetings, and career building. Additionally, some universities are even using broadcast media rooms to recruit new students by creating high-quality promotional videos that showcase their campus and academic programs. As technology continues to advance, it's likely that we'll see more educational spaces like these in the future.
One of the key features of Video Services Labs or Broadcast Media Rooms is their flexibility in serving a variety of needs. These spaces can be used as conference rooms, faculty development areas, or traditional production studios depending on the specific needs of the institution. In addition to broadcasting school board meetings and community events, these rooms are also being utilized for distance learning, staff development, and other 1-to-1 or 1-to-many presentations. With the ability to switch between various setups and configurations quickly, these spaces can adapt to changing needs with ease. This makes them an ideal investment for educational institutions looking to provide high-quality video services while maximizing their resources.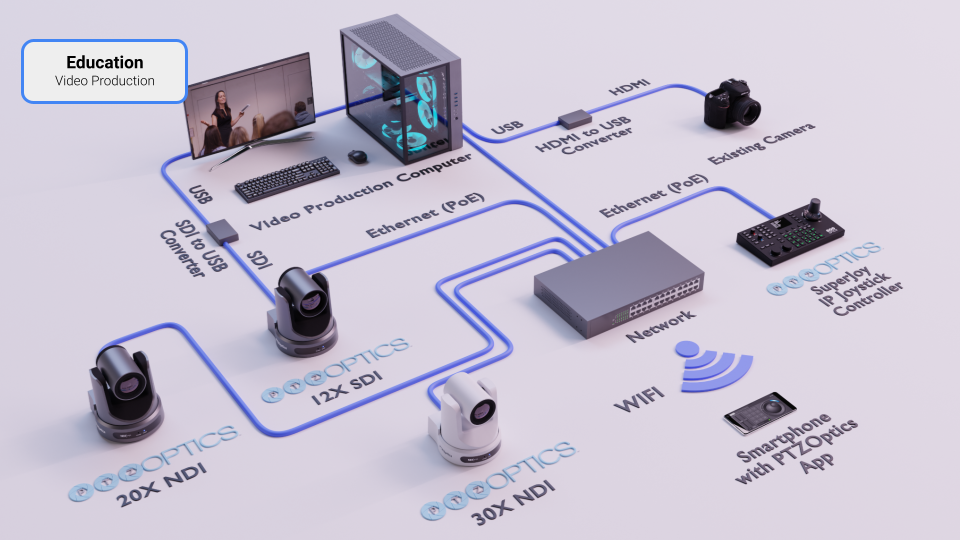 When you are planning out a space like this, ease of use is generally a top priority because users need to be able to quickly customize their needs. In spaces like this, a cloud-based video communications software solution such as Zoom Room or Microsoft Teams environment is an ideal part of the system allowing users to easily connect the audio and video from the room to the cloud and other users. The audio-video connection diagram shown above outlines how a video production computer can be set up with multiple audio-visual resources including PTZ cameras, joystick controllers, and existing camcorders for video. This system would assume an audio system is also connected to the virtual production computer via a USB connection. These audio and video connections can then be used with lecture capture software, distance learning, and video communications such as Zoom and Teams.
Video Production Studios
The next logical step beyond Video Services Labs or Broadcast Media Rooms is the full-blown production studio. These studios require a higher level of equipment and expertise to produce broadcast-level content. When working with a school to select equipment for a production studio, it's important to consider the specific needs of the institution. One key piece of equipment to consider is a PTZ (pan-tilt-zoom) camera, which can provide high-quality video footage while also allowing for remote control operation. When selecting a PTZ camera for studio use, it's important to consider factors such as resolution, frame rate, zoom capabilities, and low-light performance. Additionally, it's important to ensure that the camera is compatible with other equipment in the studio setup such as lighting, microphones, and editing software. By carefully considering these factors and working with an experienced AV specialist, schools can create a highly functional and effective production studio for their students and staff.
Some of the technology shown in the audio-visual connection diagram above include a dedicated video switcher, tally lights, PTZ cameras, and a joystick controller. In this diagram, Network Device Interface (NDI) is used as a core connection technology that leverages the Local Area Network (LAN). NDI can be used as a simple way to add multiple cameras, manage Tally Lights, and display video content on a confidence monitor. In this sample diagram, a NewTek TriCaster is used as an IP-based video switcher which is connected to the LAN. Each PTZOptics NDI-enabled camera is capable of sending FullHD (1080p) or even UltraHD (4Kp) video to the TriCaster for video switching. Each camera also includes a Tally Light which allows the on-camera talent the ability to quickly see which camera is either live or "up-next" in preview. NDI video decoders are used to convert the IP-based NDI video into an HDMI video output that can power a display and show low-latency video from the production to other areas of the production studio or school campus.
The Auditorium and Stage Performances
There are many cool things that can be done around a school with a live production studio at its core. One obvious place to utilize such a studio is in the staged auditorium, which is a key venue for events such as plays, concerts, and assemblies. The configuration of cameras used in an auditorium will differ depending on whether it's a secondary school or higher education institution. In secondary schools, it's common to have fixed cameras placed throughout the auditorium to capture wide shots and close-ups of the stage. On the other hand, higher education institutions may opt for more advanced camera configurations such as robotic cameras mounted on tracks or cranes to provide dynamic and engaging footage of performances. Regardless of the specific setup chosen, having a live production studio at the center allows for seamless switching between camera feeds and real-time editing to create high-quality recordings of school events that can be shared with students, families, and the broader community.
In the audio-visual connection diagram above you can see two live-streaming computers that are used together in a campus environment. Using two computers for a live production allows the students to share responsibilities and spread video-related tasks across a team. For example, one computer here is used for the main video production switching with vMix. The second computer is running software called ProPresenter which is used to display graphics and power multiple monitors that are on stage. You can see here that three PTZOptics NDI-connected cameras are available for control with a joystick controller but also a smartphone device. Video departments can control PTZ cameras remotely from anywhere on campus and one easy way is to use a PTZOptics SuperJoy controller because it provides an HDMI video output to display the video of the camera being controlled. This is particularly useful if the user is remote to the auditorium or camera location. You can also see that additional monitors outside the auditorium are showing the video output using an NDI decoder. NDI decoders are able to take an NDI video stream and output it via HDMI. The nice thing about NDI decoders is that they can be managed remotely and you can easily choose the NDI video source on the network that you would like to show on LCD tvs on your network.
School Sports: Indoors
This same technology can also be used to connect indoor sports areas with audiences both inside and outside the school. With a live production studio, schools can broadcast games, matches, and meets in real time using multiple cameras and professional audio equipment. This not only allows for remote viewing by family and friends who cannot attend in person but also provides opportunities for students to learn about broadcasting and production. In addition, schools can use live streaming as a way to generate revenue through sponsorships, advertising, or pay-per-view access. By investing in the necessary equipment and working with experienced AV professionals, schools can create engaging and high-quality live streams of their sports events that enhance school spirit and community engagement.
Because schools often have a lot of sporting events going on simultaneously, it can be difficult to record videos for every event. This is where centrally managed audio-visual systems with IP network connectivity can come in handy. PTZOptics cameras for example can live stream directly from the camera to Content Delivery Networks (CDN) such as Facebook or YouTube. PTZOptics cameras can easily turn off and on streaming to these networks with the click of a button in the cameras web interface.

Tip: If you want to live stream directly from a PTZOptics camera, you should make sure to connect a line level audio source to the 3.5mm audio input.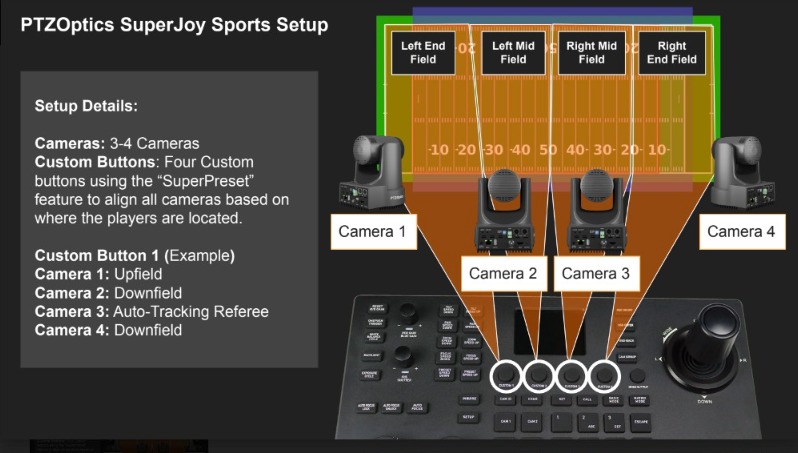 If your school has moved to IP-based video production techniques such as NDI, you should be able to remotely control and produce a video from indoor sporting areas such as Basketball courts and swimming pools. This allows a central production team to remotely control the cameras, graphics, and production elements. In these cases, using a PTZOptics SuperJoy with SuperPresets is a good way to keep multiple cameras in sync during remote production. SuperPresets work by issuing multiple PTZ camera preset commands with a single button press. As you can see from the diagram above, this is ideal for moving cameras up and down a sports field during production.
School Sports: Outdoors
When schools start live streaming one sport, you can bet that students and parents will hope the schools capture and broadcast outdoor sports events as well. However, there are some additional challenges when working in an outdoor environment. One key consideration is the need for extension-cabling to bring power and network connectivity to cameras and other equipment located far from buildings or other sources of electricity. Once again, this is where IP-based video production technology really helps because a PoE-enabled network switch can extend connectivity for multiple devices including audio systems, cameras, and computers. Additionally, protective outdoor enclosures may be necessary to shield equipment from weather conditions such as rain or extreme temperatures. At PTZOptics, we highly recommend the Dotworkz D3 enclosures for use with our cameras here. Examples of outdoor sports that can benefit from live-streaming technology include soccer, football, track and field, and lacrosse. By using multiple cameras strategically placed around the field or arena, schools can provide viewers with a comprehensive view of the action while still maintaining a professional-quality broadcast. Overall, the use of live streaming technology for outdoor sports events requires careful planning and preparation but can provide many benefits for schools looking to enhance their athletic programs and engage with their communities.
Conclusion
In conclusion, live production technology is a powerful tool that schools can use to engage with their communities and enhance the educational experience for students. By bringing school events and performances to remote audiences through high-quality audio and video broadcasts, schools can increase community involvement and provide valuable learning opportunities for students interested in media production. Whether it's a concert, play, or sporting event, live productions allow schools to share their successes with a wider audience while also providing a platform for students to showcase their talents. As technology continues to evolve, we can expect to see even more innovative uses of live production technology in the classroom and beyond.

Consider reaching out to one of our dedicated professionals at PTZOptics for help designing a video production system. You can email [email protected] to get the conversation started or fill out our contact form at https://ptzoptics.com/contact