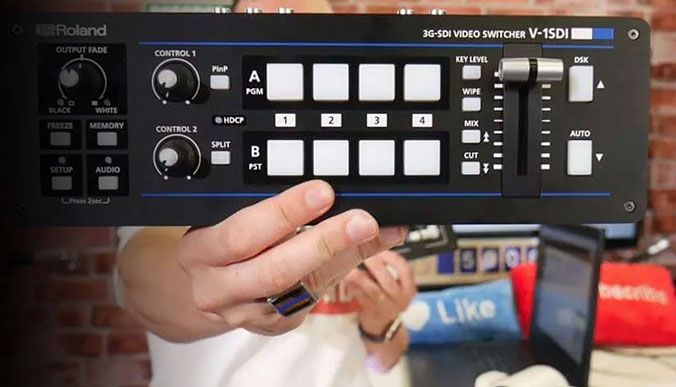 Welcome to this tutorial on how to use Rolands video
switchers with PTZOptics cameras!
We tested the compact and portable Roland V-1HD and V-1SDI four-channel video mixers with PTZOptics Pan, Tilt, and Zoom cameras. These mixers are ideal for live video production.  Mix, cut, fade, and apply effects to multiple video sources, and provide live multi-view video outputs and output the entire production at resolutions up to 1080p at 60 frames per second.  The switcher offers a wide variety of ways to produce your production, including hands-on buttons, a T-Bar, and remote control from any tablet, phone, or computer on your network. Here we explore hands-on control as we set up our Roland video mixers with multiple PTZOptics cameras. Each PTZOptics camera is connected to the video switchers via HDMI or SDI and connected to the HC-JOY serial joystick controller for pan, tilt, and zoom control.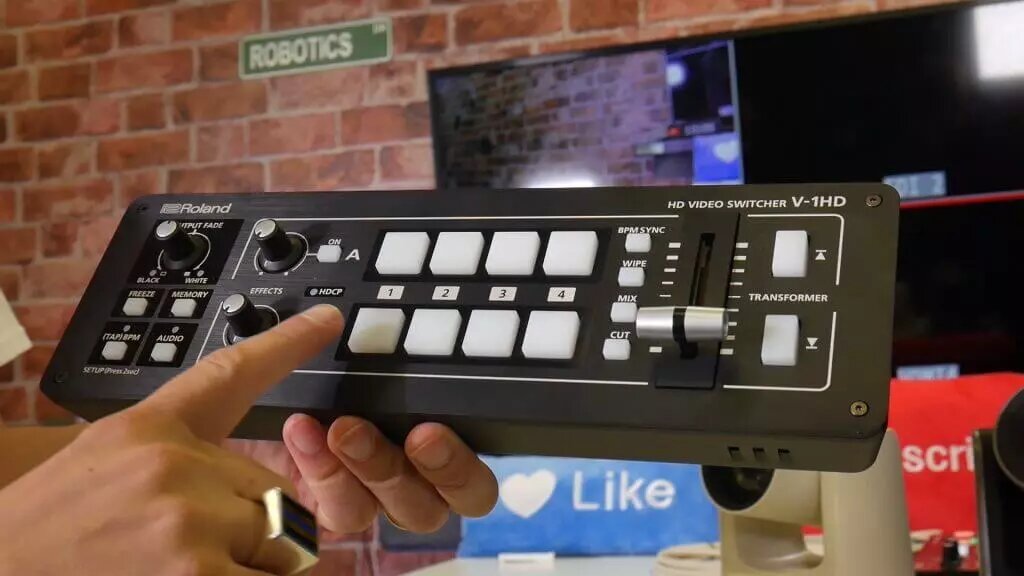 The first step in setting up this switcher is to plug in the included power supply and power the unit on with the black power button next to the power cable input. Each Roland video switcher has 4 inputs and 2 outputs, one of the outputs is designed to preview shots and the other can be used to output video production to a live streaming encoder like OBS to a large screen display system. In this example, we take the HDMI program output from the Roland V-1HD and connect it to our computer using an HDMI to USB capture card. We  use the free and open-source OBS Studio software to live stream our content to websites like YouTube or Facebook Live. Note: You can also install the PTZOptics Camera Control Plugin for OBS to control your cameras inside of OBS. Check out our video here to learn more about PTZ camera controls inside of OBS.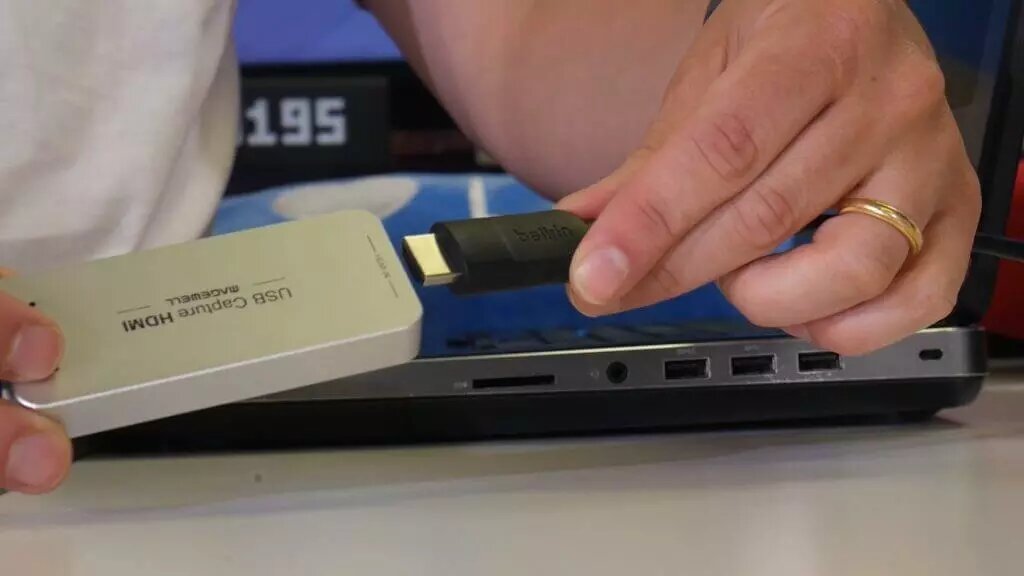 Live Streaming with
Roland Video Switcher
Note: The Roland V-1SDI features SDI program and preview outputs. You may need an SDI to USB capture card to bring the video feed into a computer encoder.
We also set up the video preview to see a live multi-view screen of all of the cameras. The Roland V-1HD is an HDMI Switcher. For this switcher, we will plugin HDMI inputs. Using the Roland V-1SDI  connect cameras via SDI and still have extra inputs for HDMI to be used for computers or other HDMI devices. SDI cabling is generally used for long cable runs to remote cameras. The locking SDI connectors ensure a secure connection preferred by most professionals. PTZOptics 12X, 20X, and 30X SDI camera models include both HDMI and SDI. Besides the cable type. Setup is the same for both video switchers.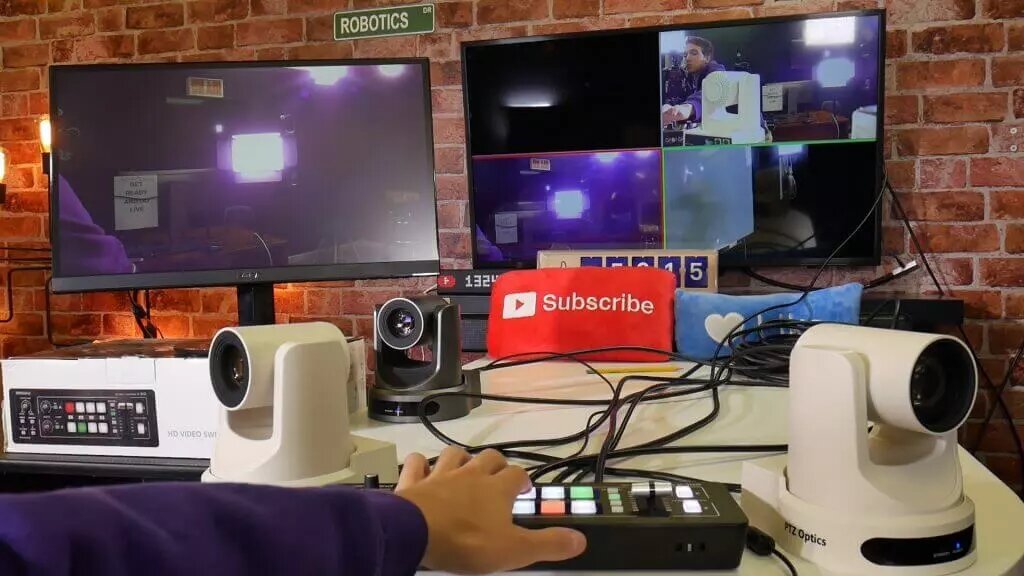 Cameras for Roland
Video Switchers
We begin adding inputs using 2 PTZOptics cameras 12X and 20X SDI cameras, however, there are 4 input slots. The Roland V-1HD features 4 HDMI inputs and the Roland V-1SDI features 3 SDI inputs and 1 HDMI input. PTZOptics cameras can output 16 different resolutions and frame rates which can be set with the yellow resolution dial on the back of the camera. We test each of the resolutions for compatibility with the V-1SDI and V-1HD for compatibility.
Note: If you are using the V-1HD there is a switch on the back panel to set the switcher up for either 1080p, 1080i, or 720p. Make sure to set this switch to the resolution type you are going to be using before setup.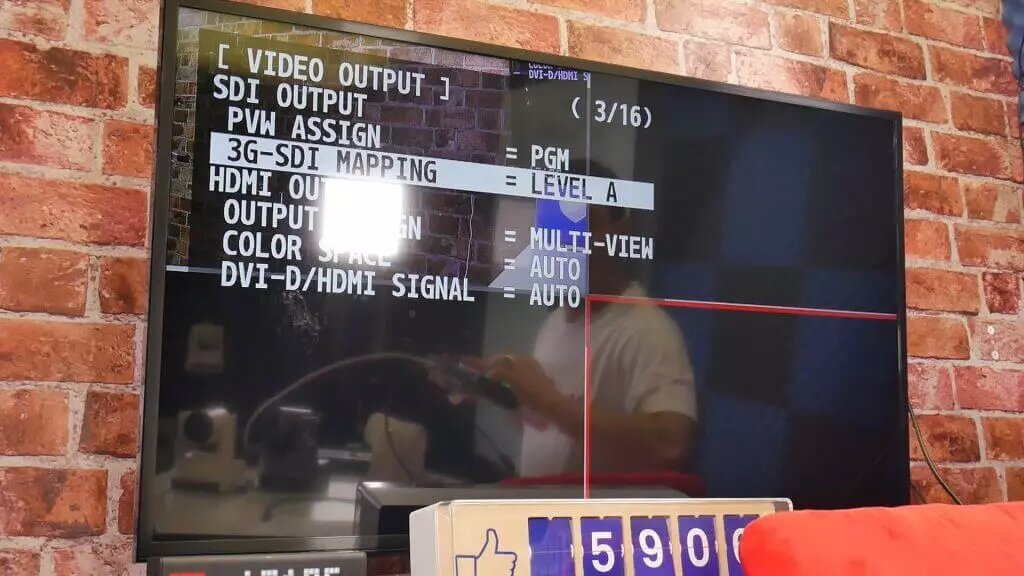 Note: The Roland V-1SDI supports both Level A and Level B SDI inputs. PTZOptics cameras output SDI Level A. Navigate to the Roland V-1SDI menu by holding down the Menu Button for 2 seconds. Use the DSK and Auto buttons to navigate the menu and use the T-Bar to switch the settings. Change your frame rate settings here as well. After making settings changes you will need to restart your switcher.

PTZOPTICS VIDEO SWITCHER
COMPATIBILITY WITH ROLAND
After testing all the available resolutions and frame rates for the PTZOptics cameras and Roland V-1HD and V-1SDI, we found that the following resolutions are compatible. Reference the charts on our included blog post linked below.
Once inputs are in place we use an HC-JOY joystick controller to set up our shots. PTZOptics cameras can store hundreds of camera presets which can be recalled with a single button on a joystick controller or inside software like Wirecast, OBS, or vMix. These PTZ presets can be set up to view locations on a stage for performers and then quickly repositioned to other locations providing your team with multiple camera angles using a single joystick operator. Use the various switching functions on the V-1HD or V-1SDI to switch between cameras and also add video effects.
You will notice 8 square white silicone buttons in the center of these video switchers. These buttons can be thought of as our input matrix. The bottom 4 buttons are used to select the input you would like to switch to next, while the top 4 switch inputs immediately. Therefore the bottom buttons queue up your preview screen and the top for buttons control the program output.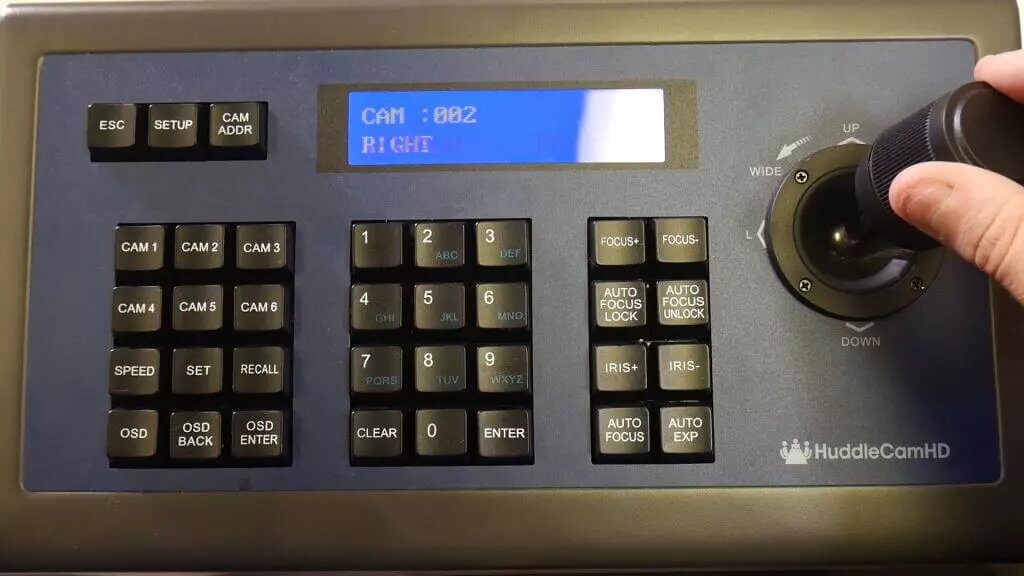 PTZ Joystick with
Roland Video Switcher
When an input is selected it will turn Green, this means the input is in preview. Red means the input is live. There are many ways to cut between video inputs with Roland switchers. A built-in T-Bar is used to fade in-between your preview and program inputs. Remember that fade transitions are usually reserved for artistic shots, popular for introductions and endings of a production.  The cut function is generally the workhorse of most live productions. The 2 rectangular silicone cut buttons on the far right-hand side of the device are the go-to buttons here. Notice multiple cut transition options next to the T-Bar where one push buttons immediately cut to whatever input is selected in preview.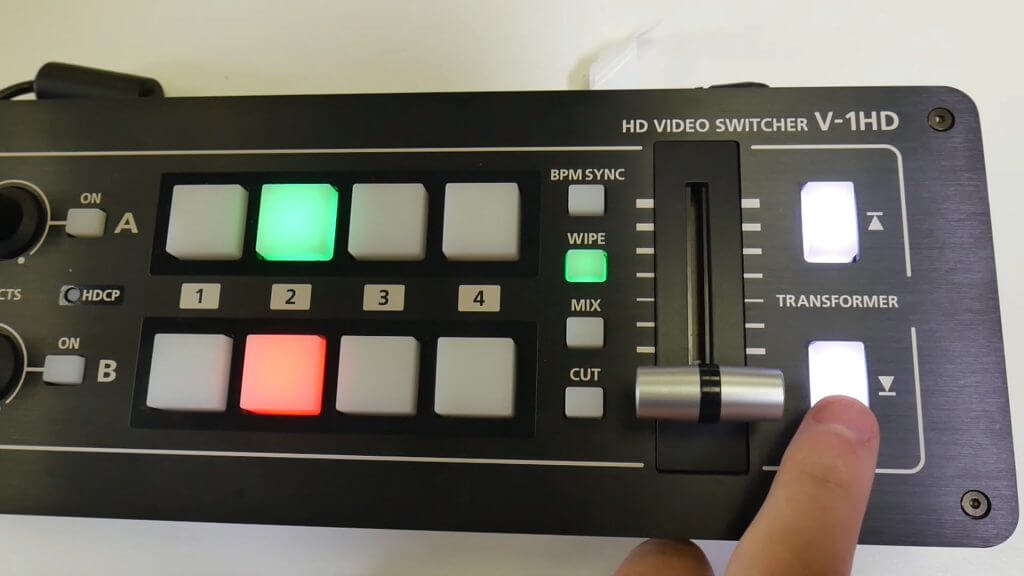 Roland Video Switcher
Buttons and T-Bar
The T-Bar slider can be customized in the Roland settings to optimize your video production. Effects knobs and toggle buttons to the left of the input matrix are used for adjusting effects. The knob and buttons to the far left of the Roland video mixer control output fade, freeze, and BPM sync. These affordable and portable video mixers are a great way to create powerful video production on a budget, especially when paired with PTZOptics cameras capable of capturing multiple PTZ positions for your next event.