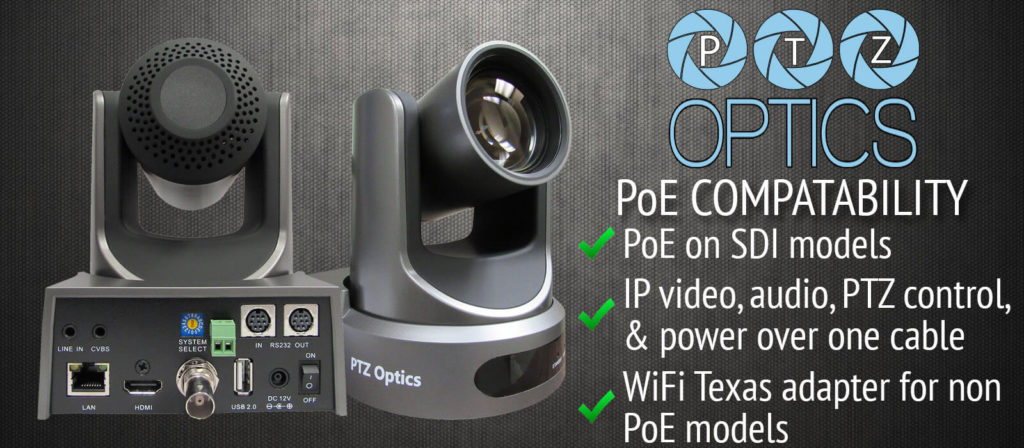 PoE compatibility
playlist
USB or older SDI G2 model PTZOptics cameras require a Texas WiFi adapter for Power over Ethernet. This device is an inexpensive and reliable option for running 12V power to your PTZOptics camera.  This adapter lets you run up to 100m (328 feet) and power to be carried on 10/100/1000 networks with either 802.3af,or passive injectors and switches with a CAT5e, CAT6 or CAT7 Ethernet network cable. And, it couldn't be an easier install. Simply connect an EIAJ-04 DC cord to your camera, then connect the RJ45 male to your camera. Use a factory Ethernet cable to connect to the RJ45 female to your PoE switch up to 100 mtr distance and you're done.
In this video series, we review how to set up multiple PTZ cameras powered over ethernet. We use a PoE switch (Air Link ASW408POE) provided by Texas Wifi and a few PoE 12V break out cables (WT-AF-PTZOptics) to provide ethernet and 12V power (for the cameras) coming from a single PoE switch.
This active PoE solution negotiates with a PoE switch to activate and power PTZOptics camera. A compact and cost effective solution, the switch supplies 48 or 56 volts DC at the source. Higher DC voltage means the current is reduced by a factor of 4, and then carried with less loss over the 10BASE-T or 100BASE-T network cable. A splitter extracts the DC voltage from the network cable and reduces it to 12v, increasing the available current by the same factor to power the camera on the EIAJ-04 splitter DC plug. Unlike simple injector / splitter sets, this combination of a 48v source and 12v converter lets you extend distances to up to 328ft or 100 meters.