Free Virtual Sets for Church Streaming & Recording
Download a ton of great Virtual Sets specially made for Houses of Worship
Free Virtual Sets for Houses of Worship
Download our free pack of Virtual Sets built for live streaming and recording specially for Churches & Houses of Worship. These include various specially made church virtual sets, backgrounds, and foreground items. Use with vMix, Wirecast or other live streaming solutions! These are only free for PTZOptics Customers.
These Virtual Sets are Perfect for:
Community Announcements
Inspirational Messages
Organizational Videos
Educational Recordings
Holiday Thank You Recordings
Recreational Fun Recordings
"Church Angled" Virtual Set – Perfect for quick community announcements or educational recordings. Great for introduction / commencement speeches and pre-live show announcements.
"Church Front & Center" Virtual Set – This house of worship virtual set has sweeping views and is perfect for church streaming and organizational videos.
"Church Modern Artistic" Virtual Set – This house of worship virtual set is angled for low-key, informative live streams and recordings. With beautfil last supper views this is a great up close and personal virtual set
"Inspire Island" Virtual Set – Inspire Island is the perfect way to deliver your inspirational message from your Church. Using this background is perfect when you working with children, teenagers or adults.
These Virtual Sets can be used for live streaming and recording. Take your productions to the next level with these free virtual sets!

Paul Richards
Director of Business Development, PTZOptics
You might also like…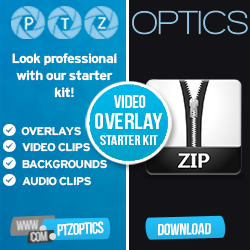 Download our Video Overlay Starter Kit with some great ideas for spicing up your next live stream!
Video Overlays
Green Screen Backgrounds
Audio Files
Adobe Photoshop files