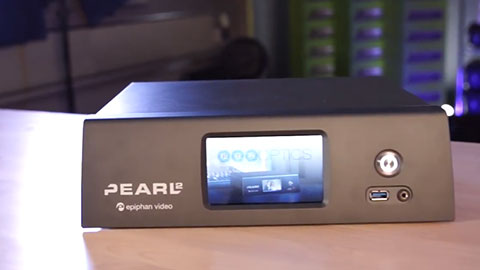 PTZOptics Epiphan
Integration Videos
The following videos outline how PTZOptics strives to provide integration with the latest Zoom software as we demonstrate during our Friday live streams. In these video, lead support technician Andrew Chatfield reviews the compatibility and limitations of the PTZOptics cameras. In general, PTZOptics cameras connect via USB to a Mac or PC for video conferencing and control of the camera using  Zoom. For more information, visit our Knowledge Base.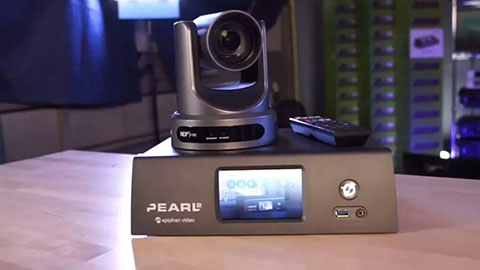 How to use the PTZOptics NDI HX
camera with Epiphan Pearl-2
The Network Device Interface (NDI) protocol is a powerful way to transmit and control video over IP (Internet Protocol). It is perfect for live video production as it provides for high-quality video and low-latency transmission. This guide covers setting up the PTZOptics NDI HX camera with the NDI protocol using the Epiphan Pearl-2 all-in-one NDI production system.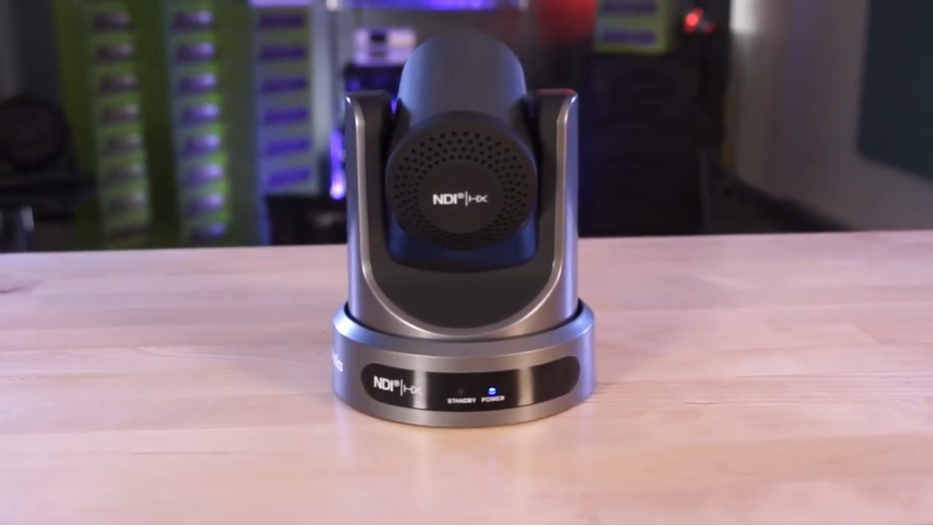 1. SET CAMERA RESOLUTION
The recommended resolution is 1080p at 30 frames per second. For scenes with a lot of fast-moving action, such as sporting events, 1080p at 60 frames per second is recommended.
2. ATTACH EXTERNAL MONITOR
For initial setup, you will need to use an external monitor to access the onscreen menu. You can either connect to a studio monitor using the built-in HDMI or SDI output, or use a capture device to send the video to a laptop.
3. FIND THE CAMERA'S IP ADDRESS
Set the camera to use DHCP. Do this using the camera's IR remote control and the code #*4. Reveal the camera's IP address using *#4 on the remote.
4. ADJUST THE NETWORK SETTINGS FOR THE CAMERA
We recommend you set up your camera with a static IP address. Dynamic addresses can change periodically, making it challenging to manage. If you have multiple cameras, you configure sequential IP addresses to make setup cleaner. Just be sure to choose IP addresses in the same range as any additional devices connected via NDI. The address must also be on the same subnet. Another option is to make a MAC address reservation for the camera on your DHCP server.
5. SET UP A NAME FOR THE CAMERA
Enter a unique name for the camera in the settings window. When configuring multiple cameras, it is best to develop a naming convention to easily identify each camera later in the Pearl UI.
While in the camera's UI menu, ensure that NTP time sync is enabled. This is essential for the connection to the Pearl-2
7. CHOOSE QUALITY SETTING
Depending on your camera model, you may have two or three quality presets. These settings will either be high and low or high, medium, and low. Choose your setting and click the Apply button to reboot the camera. This is an essential step as, ideally, NDI traffic should not exceed 75 percent of the bandwidth of your network.
Each device on the network adds to the total of bandwidth usage. You may add a device at a bandwidth well within what's available on the network, however, when it combines with other devices, together, they may exceed the 75% maximum.
8. SELECT CAMERA IN THE PEARL UI
Open the Add Input panel from the list of inputs. The Pearl should automatically detect the new camera and other NDI sources on the network. Since you will know the name of the camera you've configured, you can select it from the lists.
9. MANAGE ADDITIONAL SETTINGS
Add a custom "no signal" image and adjust the audio delay if needed.
10. ADD THE CAMERA TO WORKFLOWS AND LAYOUTS
Now you're ready to go with your PTZOptics NDI HX Camera with the Pearl-2!
Network Device Interface (NDI) is a powerful protocol for video over IP. This offers an ideal combination of high-quality video and low-latency transmission for live video production. In this quick-start video, we show you how to use the PTZOptics NDI HX camera with our Pearl-2 all-in-one production system. We go over networking and bandwidth requirements, how to add an NDI input to your Pearl-2 workflows and layouts, and more.
Epiphan Systems has released a brand new video reviewing the integration between PTZOptics cameras and the Epiphan Pearl. This solution is so robust that a unique video was made to review the powerful live streaming applications for lecture capture. Epiphan Pearl is used as a live streaming and video management device with multiple PTZOptics cameras connected as video sources. The Epiphan Pearl has the options to connect (2) cameras via HDMI and (2) cameras via HD-SDI. In this video Epiphan is demonstrating the PTZOptics 12X-SDI and 20X-SDI cameras and connecting them to the Epiphan Pearl for 1080p 30fps video. Once the cameras are connected you can simply layout your video with overlays and important pieces of supporting media such as PowerPoint slides and images
Integration is key…
This is where PTZOptics shine!
From live streaming to HD frame grabbing
Epiphan Systems creates some of the industries highest quality video frame grabbers along with a new innovative live streaming product called the Epiphan Pearl. PTZOptics has performed extensive testing with Epiphan along with using the AV.IO every Friday for our
live webinars!
Enter Live Webcasting… Emerge Victorious
Whether broadcasting on location, streaming from a flight case, or driving a big screen from backstage, live event producers need to be able to deliver high-quality, professional results from wherever they are—and get quickly to wherever they're going next. With built-in support for PTZ controls for PTZOptics cameras.
Live stream conferences, concerts, interviews and more. Wirecast provides everything you need to stream professional live events. Add multiple cameras, including iOS devices; create composite shots with graphics and transitions; and live encode and stream to your favorite streaming destination. Plus integrate PTZOptics camera over the network or USB!
Affordable Web Conferencing
Zoom is one of the most affordable and power online video conferencing services. That's why PTZOptics is giving away a free Zoom Pro license with every camera sold! Check out the far end camera control options using our USB camera models!