Hello PTZOptics Followers!
You might be wondering why PTZOptics, a PTZ camera manufacture, is live streaming with DJI drones? Well PTZOptics is known for bringing products and solutions to market faster and more reliably then the industry giants we grew up. It's our goal to test our cameras compatibility with every major video conferencing/mixing software and hardware system in the industry. We are working with everyone from BlackMagic to NewTek in the broadcast industry and Acano to Zoom.US in the web conferencing industry. We plan to release the industries first h.265 live streaming PTZ cameras before the end of the year!
When you make PTZ cameras with HDMI, HD-SDI, USB and IP streaming that means you most likely integrate with the majority of hardware and software manufactures. So it has become our job to test out technology that our end users are integrating together (Yeah, it's a fun job). Today we are taking that initiative further by integrating a proven live streaming configuration with the Epiphan Pearl and adding the popular DJI Phantom 3 to s live streaming mix we send to YouTube Live. It's a fun video and who doesn't love HD aerial footage during a live broadcast?

Join Our Live Streaming with Drones Webinar October 8th!
Example Use Cases:
In the following use cases live broadcasting may not be required. But video conferencing will improve communications. Stay tuned for our video conferencing with Drones blog post coming soon. And sign up for our webinar which will include both topics.
Education

Graduation Ceremony
Environmental Studies
Sporting Events
Aeronautical Engineering and Studies
Robotics Studies and Engineering

Live Broadcast

Aerial Footage for Live Performances
Weddings
Golf Courses Events
Live Sporting Events
Traffic Reporting
Manufacturing

Reviewing work site from aerial vantage points

Corporate

Reviewing production lines and/or operations from aerial vantage points

Government

Disaster Response
Marine Research and Rescure

Many other uses are available. We would love to hear your thoughts in the comments area!
Insurance

Inventory / Asset Management

Engineering

Civil Engineering Design Mapping
Asset monitoring (Bridge maintanace needed?)

Mining / OIL & GAS

Oil Spill Tracking
Pipeline Monitoring

Mapping

Land Cover Mapping
Agricultural/Forestry Mapping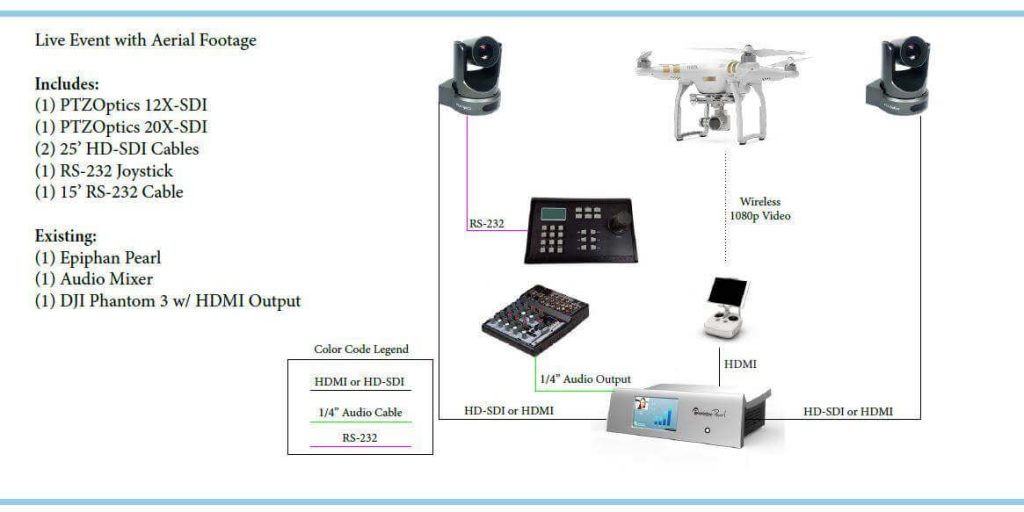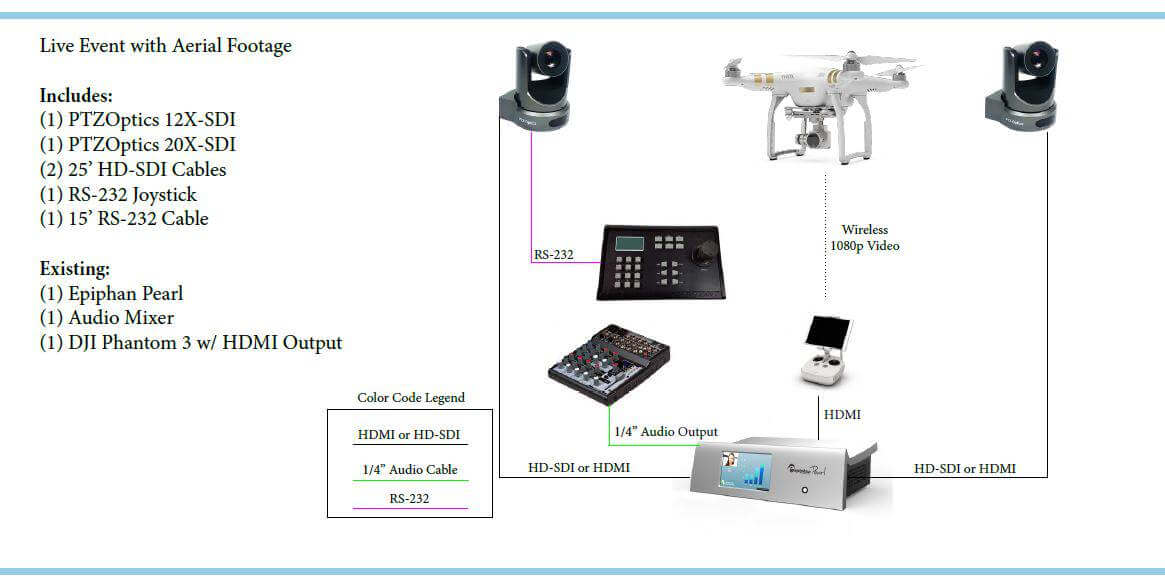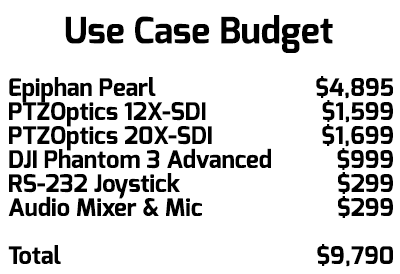 The use case scenario is live broadcast and professional recording. We have a PTZOptics 12X-SDI and a PTZOptics 20X-SDI connected to the Epiphan Pearl to get our wide and zoomed in shots of the live show. For those of you who are not familiar with the Epiphan Pearl, it can live stream and mix up to 4 HD video sources. In this video, we are streaming to YouTube Live with branded content and multiple pre-configured layouts that we switch between during the broadcast. As far as the Epiphan Pearl is concerned the DJI Phantom 3 is just another HDMI input (You will need the Phantom 3 Advanced or Pro w/ the HDMI output card). To control the PTZOptics camera we are using our RS-232 Joystick controller. We chose the "old school" RS-232 joystick for a quick and easy set up. If we had more time to set up the system with a PC we would use our PresetVisualizer software for control over the network of both cameras. In fact, let's take a look at the same scenario using VMix, Wirecast or Wowza.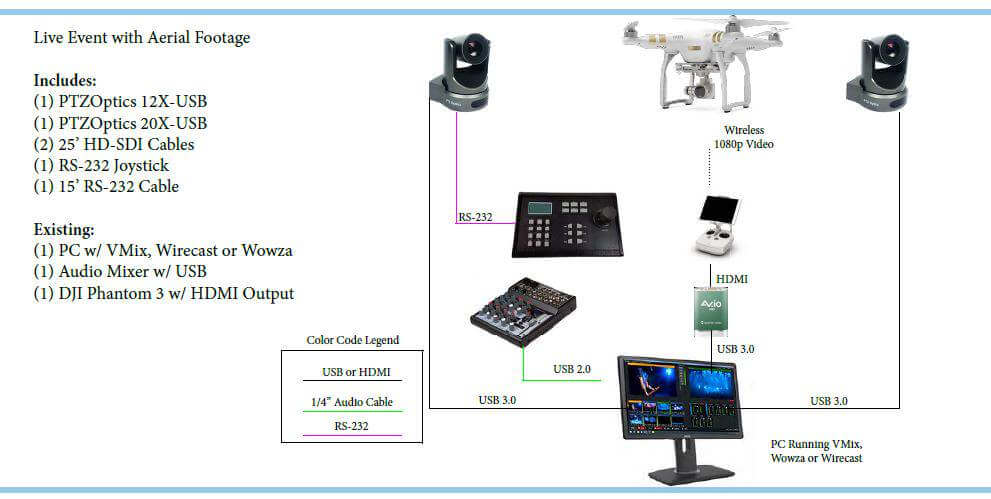 When we use a PC based streaming service like VMix, Wowza or Wirecast, we have switched our camera models from the SDI models to the USB models. Our desktop PC can now run our UVC control software and we have the camera preset/control software available right through our computer. Because we have HDMI coming out of our DJI Phantom 3 we will have to use the Epiphan AV.IO to convert HDMI to USB 3.0. Desktop live streaming services are extremely popular for small production studios and broadcasters who like the flexibility and low start up budget. Software streaming services also offer a lot of bells and whistles but they don't offer the easy mobility or touch screen that the Epiphan Pearl offers.
As you can see the live stream to YouTube Live and the HD recordings of the PTZOptics cameras and the DJI Phantom 3 camera out great. The Epiphan Pearl actually recorded each input independently for professional post production. All told we have a live broadcast solution that anyone can use to take professional HD video footage and stream to any major CDN.
PTZOptics Live Streaming with Drones
Use your favorite live streaming CDN or mixing software which includes:
Akamai
LiveStream
Moodle
ScaleEngine
SmartStream
StreamGuys
UStream
Who's Next
VMix
Wirecast
Wowza
Epiphan Pearl
YouTube Live
StreamZilla