Black Magic ATEM Television Studio HD
The new Blackmagic ATEM Television Studio HD includes an array of video production features such as 4 HDMI and SDI inputs, multi-view, talkback, DVE, an audio mixer, flash media players and a software control panels for Mac and Windows. This unit is perfect for broadcasters using PTZOptics 3G SDI or HDMI inputs.
The purpose of our testing today is to confirm compatibility with our PTZOptics PTZ and ZCam cameras connected via either 3G SDI or HDMI. PTZOptics 2nd generation SDI cameras now support broadcast frame rates with a firmware update adding 1080p 59.94, 1080i59.94, 1080p29.97 and 720p59.94 resolutions and frame rates. After testing compatibility via both HDMI and 3G SDI we have found that the Blackmagic ATEM Studio supports the following resolutions via HDMI. You are reading this correctly. We support every resolution on our chart.
As you can see if you are planning to connect your PTZOptics camera to a Blackmagic ATEM video switcher via HDMI, any video resolution that PTZOptics supports will work. You can select your PTZOptics cameras resolution and frame rate at any time by using the yellow resolution select dial on the back of the camera with a tweaker. You can always reference the video select chart on the bottom of your camera or inside your manual.
When you connect your PTZOptics camera to the ATEM video switcher make sure that you navigate to the settings menu and select the video format that you would like to use. This is done by pressing the menu button and using the dial to find the settings page. Press the set button to enter the settings area and use the wheel to choose "video format." By clicking set again, you will have the option to choose from all of the supported ATEM video resolutions.
Note: The ATEM does not feature an option for 1080p at 60 frames per second. If you would like to use your PTZOptics camera set to 1080p at 60 frames person choose the 1080p 59.94 option in your ATEM.
As you can see there is a limitation on supported resolutions when connecting a PTZOptics camera to an ATEM Television Studio HD via SDI. This is because of a compatibility conflict between SDI Level A from PTZOptics cameras and SDI Level B from the Blackmagic ATEM. Therefore 1080p at 60 and 50 frames per second will not work via 3G SDI. 1080p at 59.94 also will not work with the Blackmagic ATEM via 3G SDI. All other supported resolutions have been tested and do work.
PTZOptics is actively working to improve our SDI compatibility with Blackmagic Products. Stay tuned, because good things are coming…
So what about PTZOptics ZCams? Yes, we tested them! And check out that new 12X ZCam on a slider. Yeah, it looks pretty amazing. PTZOptics ZCams support the same resolutions as our SDI camera models except that they do not yet support broadcast frame rates. Let's check out the chart.

Note: In order to change the resolution of your ZCam camera you must use the on screen display menu. You can click the button on the back for the ZCam to open up the OSD Menu. Navigate to the settings menu and select the video format you would like to use. Once you have done this you still need to reboot your camera for the resolution change to take effect. Again you should double check to make sure your ATEM unit is set to the corresponding resolution and frame rate.
PTZOptics Review of BlackMagic ATEM Television Studio Compatibility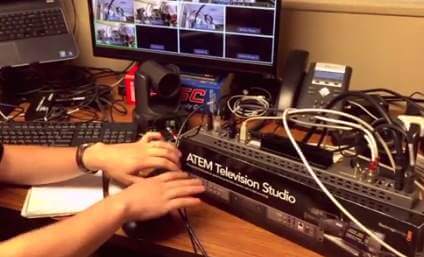 Paul Richards review the PTZOptics 12X-USB, 12X-SDI, 20X-USB and 20X-SDI compatibility with BlackMagic and the BlackMagic ATEM Television Studio. The BlackMagic ATEM Television Studio is a perfect video mixer which is super affordable. We have had so many customers ask about compatibility we made a knowledge base entry here which outlines our compatibility testing for video resolutions and configuration. Andrew Chatfield, PTZOptics lead support technicians review the entire compatibility integration in our knowledge base. When asked "Is the PTZOptics camera line compatible with BlackMagic ATEM TeleVision Studio" Andy quickly set everything up and tested the compatibility noting…
"Yes they are. The ATEM Television Production Studio is an entry level hardware piece that, as per it's name, takes the place of an actual TV studio. The only thing to keep in mind when setting up your ATEM is that you will not get an image out of the device if the resolution and framerate settings are not the same on both your camera, and your ATEM. "
If you have further questions or compatibility inquiries regarding any video mixer or conferencing device please let us know and we will investigate compatibility 🙂