The all new PTZ Producer Kits from PTZOptics are complete turn-key live streaming systems built around the groundbreaking Intel NUC Skull Canyon Micro-PC. These systems available with 12X and 20X optical zoom 3G-SDI cameras, finally make television quality video production affordable. With hundreds of potential video angles made possible with PTZ cameras and the included 3D PTZ Joystick this system will make any venue your next live streaming destination.
Please note that each SKU includes one (1) camera.
Top Features:
Systems built around the Intel NUC "Next Unit of Computing" Skull Canyon Gaming PC
Open Platform Windows 10 PC includes 6th generation i7 Processor, 32 GB of Ram, 256 GB SSD and 802.11ac WiFi
Works with all the latest live streaming and video production software applications
Included 2nd Generation PTZOptics 3GSDI Cameras provides 100's of possible streaming angles
Included 2nd Generation RS-232 Joystick provides seamless camera control switching and preset selections
Kits include 100′ of HD-SDI Cabling and RS232 Serial Control cables for each camera
NewTek Connect Pro App – Bridge established and emerging production workflows, accommodating new gear, existing equipment, and future investments

New: This system now includes the NewTek™Connect Pro App ($995 Value) a four-channel software application supporting any combination of formats and standards to include NDI™, ASPEN, and SMPTE 2022, NewTek Connect Pro allows you to use a standard PC to serve video across your network to and from hundreds of compatible systems and devices for switching, streaming, display, and distribution.
NDI is a trademark of NewTek, Inc.
Use with your favorite software
PTZ Producer Pro Tips
Intel NUC Skull Canyon Pro Tips
Field of View Calculator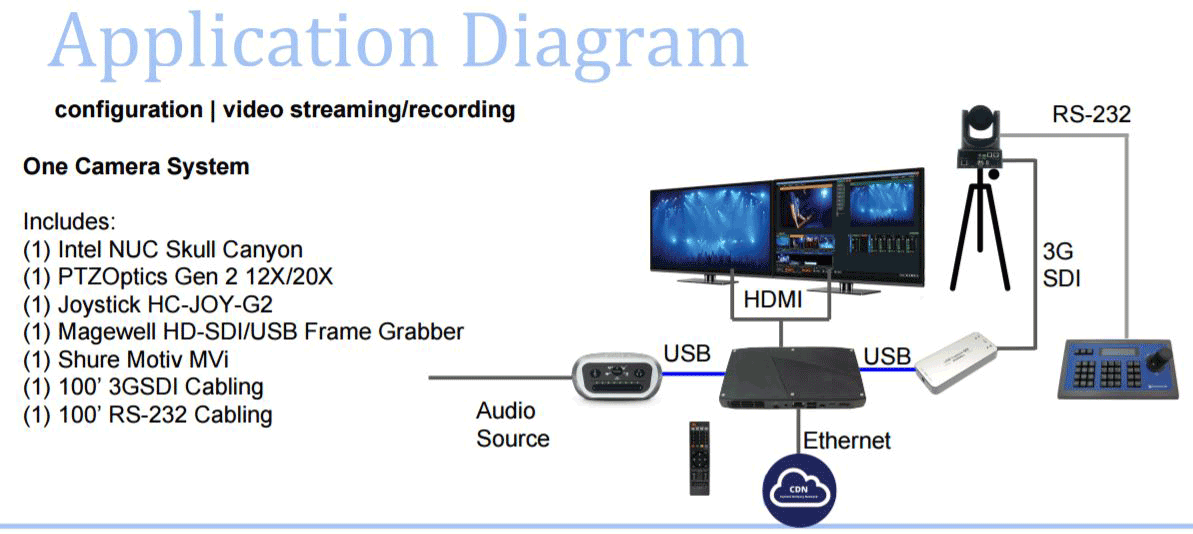 Comparison Chart
Come see our new complete systems!
Designed for medium sized conference rooms with users in mind.
TEAM VCS designed for conference rooms with 4-10 users
Designed for large sized board rooms with users in mind.
TEAMPLUS VCS designed for conference rooms with 4-12 users