Hello PTZOptics Users!
As many of you know every PTZOptics camera provides pan tilt zoom controls over TCP/IP for far end camera control. The following tips are strategies that you can use to gain far end camera control from IP cameras with type of control. PTZOptics now provides camera control to the far end using both RS-232 (VISCA) and UVC Controls over a USB cable using our new UVC Camera Control Software (or the VISCA version of this software) which will be include in this review.
**Please consult your IT team to determine the best way to gain remote camera control access. You may find your IT team knows exactly what to do to accomplish these simple and secure networking strategies.
Using IP Control TCP/IP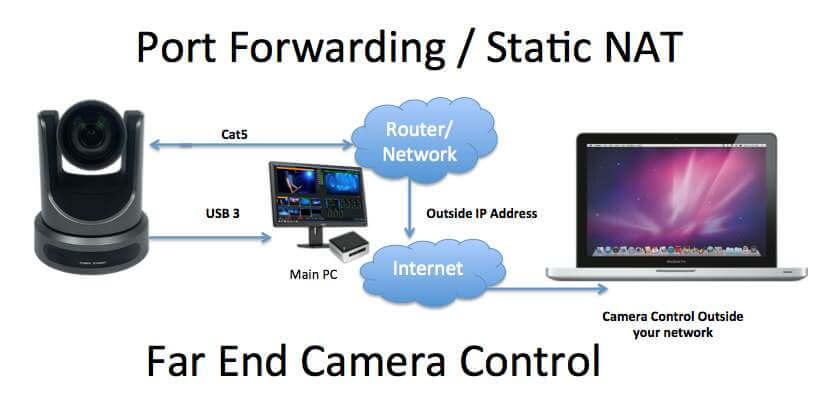 TCP/IP stands for Transmission Control Protocol/Internet Protocol, which is a set of networking protocols that PTZOptics uses for camera control. You can use a Static IP Address on your internal network to control the camera's Pan Tilt and Zoom plus view a live video stream at the same time. PTZOptics offers open source control codes developers can use to take control of multiple cameras with live video (using a VLC plugin).
Let's look at three ways to get IP camera controls available to users outside your network on "the far end". After all, local camera control over your network using a "internal IP address" will most likely not be accessible to far end users of a video conference call.
One example of a far end user would be a broadcast camera operator on a mobile device using 4G network. With open source camera controls you can serve up secure control with ultra-low bandwidth requirements with or without video. The open source code available can be stripped down to basic HTML and JavaScript which can quickly be loaded by any modern web browser. You can keep your hosted controls safe with a multitude of security protocols in your network and firewall. Plus every PTZOptics camera includes a default user name and password protection process for basic security.
Router Configuration Tip: In its default state, the Router blocks all external users from connecting to or communicating with the network, making it safe from hackers who may try to intrude on the network and damage it. However, the network can be exposed to the Internet in certain limited and controlled ways to enable some applications to work from the local network (game, voice, and chat applications, for example) and to enable Internet access to servers in the network. Port forwarding (sometimes referred to as local servers) supports both of these functions.
Using UVC/VISCA Camera Control Software

The UVC camera control software allows control of PTZOptics USB cameras using UVC protocols to control PTZ over just one USB cable! This is ideal for small conference rooms or multiple camera set ups where you only want to run a single USB cable to each camera. Inside the software there is the ability to host a external IP address. With a little configuration to your router you can open this IP address to the outside. The VISCA software works the same way. The only difference is how you connect to your PTZOptics cameras. With the VISCA software you have to connect your final RS-232 cable to your computer using a RS-232 to USB adapter.
UVC Camera Control Software

Best for easy set up. This software uses a single USB cable and provides advanced camera presets, preset visualizer, controls multiple cameras and much more.

VISCA Camera Control Software

Best for longest cable runs. You can use RS-232 cabling for distances greater than 1,000 feet. The VISCA version of our UVC Control Software has all the same features but instead of using a USB 3.0 connection we only require RS-232 and a USB 2.0 adapter.

A UVC Compatible Conferencing Software

VSee is currently capable of PTZ camera control with the PTZOptics USB camera models. This is ideal for tele-medicine applications and simplify's camera controls for doctors. Because VSee has built the camera controls directly into the VSee client "far end" users with PTZOptics cameras can control the PTZ operation of the camera using just one USB connection to "far end computer". VSee is using absolute UVC 1.0 protocols which could be used in the future to also build in camera presets.